Volta a Catalunya 2019 – Stage 4 Preview
By David Hunter
LLanars – La Molina 154.3km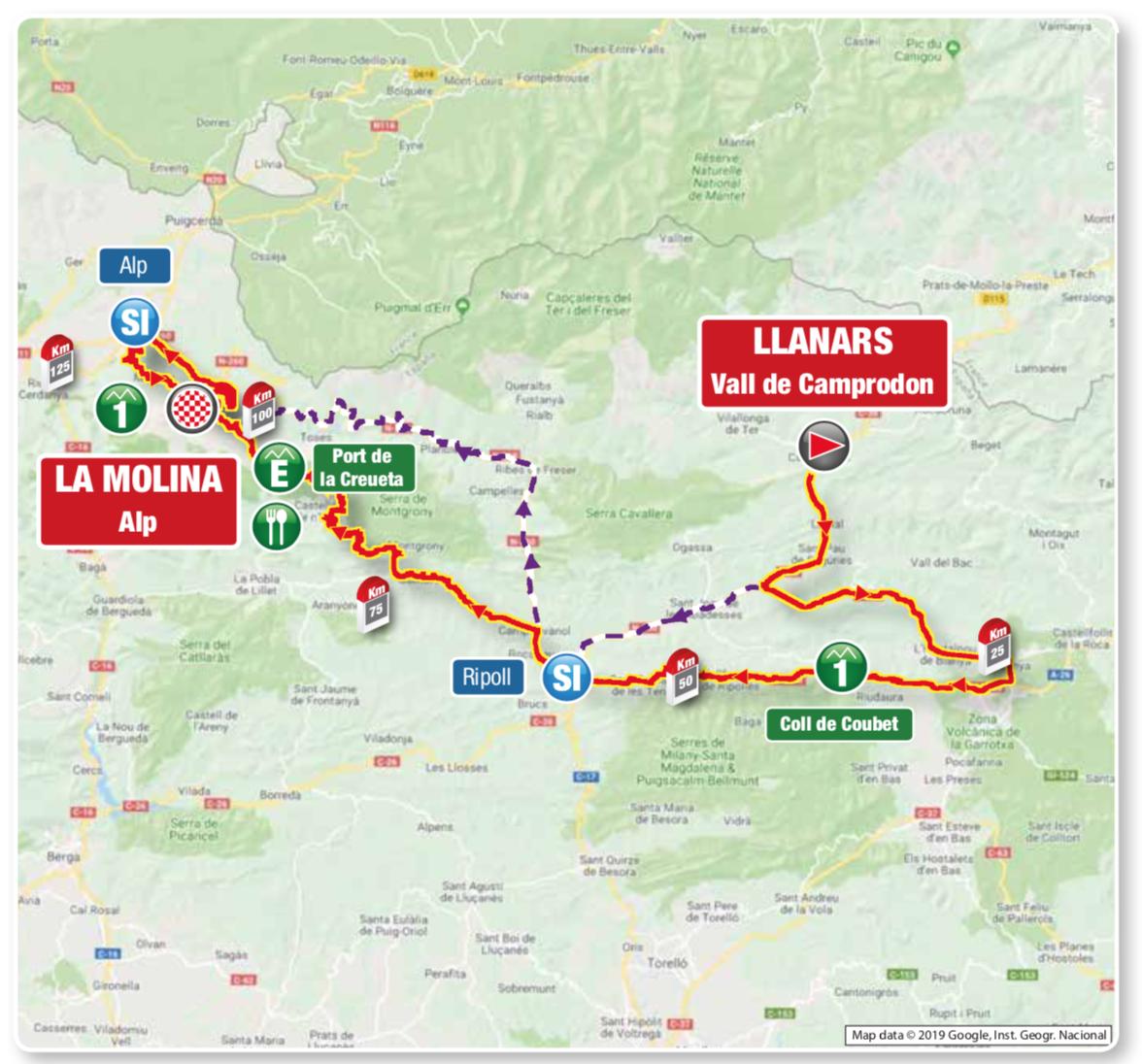 Another big day in the mountains.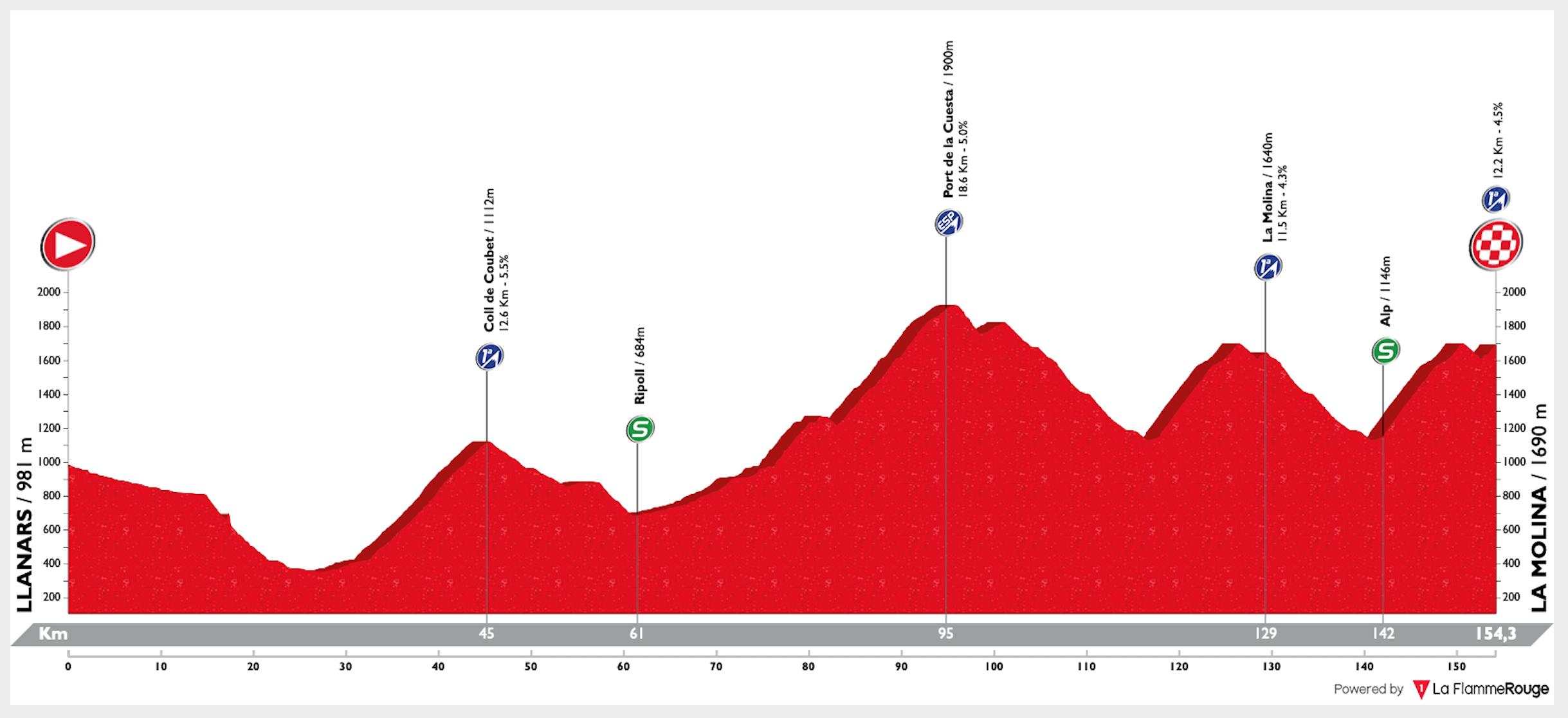 This stage has been mocked for a number of years, mainly due to negative racing, but that all changed last year. Movistar showed what can be done on La Molina, I wonder if Sky will try and do something similar last year.
La Molina
 8.4km at 6.3%, not the hardest climb in the world. The riders have to tackle this on two occasions, before they have a little kick-up to the finishing line.
The climb does have a difficult 4km section, which can be used to split the bunch and launch attacks. This is exactly what Movistar did last year with Soler, Quintana and Valverde. After today's stage, it looks like Sky have what it takes to be the dominant team. They know that Movistar have a lot of quality, but by setting a brutal pace, they eliminated all but Quintana. As bonus seconds are going to be important, they would again like to drop Valverde and let Bernal sprint for glory. I'm really not sure what happened to Valverde today, but the La Molina climb is one that is usually perfectly suited to him, he'll expect to challenge for the win.
Valverde going for the stage is interesting for Quintana. The finish isn't ideal for Nairo to win, that means he'd lose bonus seconds to his rivals, a win for Valverde would see the 10 seconds disappear, which would be a good thing. On the other hand, Valverde riding as a domestique would help to put pressure on Bernal, although, Valverde the domestique isn't often seen.
Sitting back and letting Movistar and Sky fight it out will be Mitchelton-Scott. Adam Yates took a sensational win today; he now leads Bernal by 3 seconds. The Brit will need to keep a close eye on Bernal, Dan Martin and López, he won't lose any sleep about Valverde taking the win. This really is an interesting situation Movistar find themselves in, I wonder what they'll do?
Finale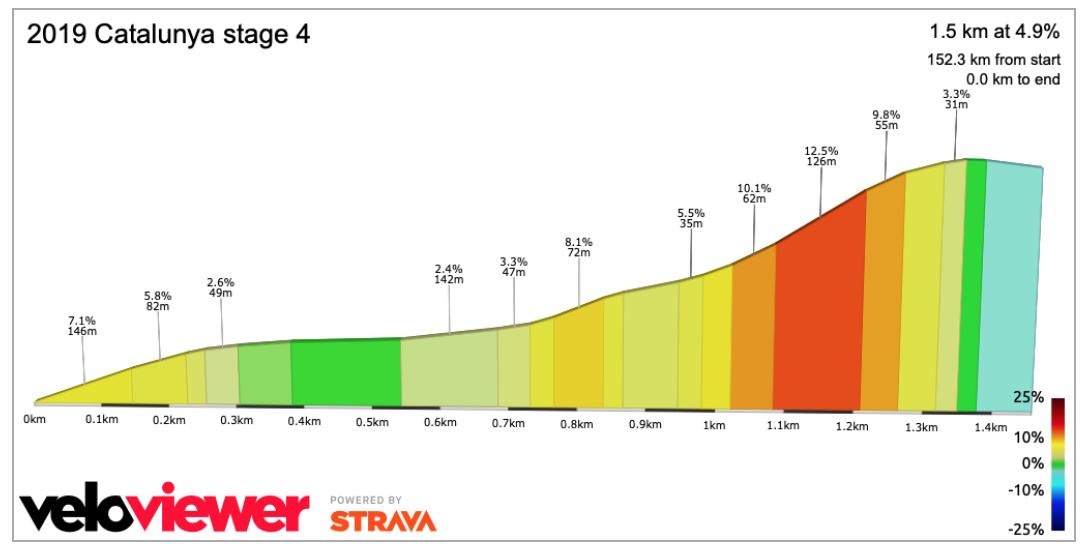 It's a finish we know well. With 200m of double digit climbing just before the end, it's one for climbers with punch in their legs.
Weather
Another nice day, with a light wind coming from the south. This means a gentle headwind on the climb.
Contenders
Alejandro Valverde – the world champion has won here for the last two years, despite an awful ride today, he still starts as the favourite to make it three. As I've mentioned, how he approaches this stage will depend on team tactics, but given his status, I still expect him to be given freedom to chase the stage. Now sitting over 2 minutes behind the main contenders, he might even get freedom from the GC riders. The problem for Valverde is that Team Sky will be keen on trying to win the stage, Bernal really needs the 10 second bonus. Valverde is an incredibly experienced rider; he will sense if the right move is to attack early or wait for a sprint.
Egan Bernal – needs bonus seconds before the Barcelona stage. Team Sky will notice the intermediate sprint which comes at the foot of the final climb, this is a chance for Bernal to claim 3 seconds and move level with Adam Yates. Once onto the final climb, no doubt we'll see them hit it very hard and try to make it a battle between a handful of riders. Normally, I think Bernal would beat Yates in a sprint to the line, but the other riders forced him into doing far too much work today. The young Colombian was too eager to chase down moves and he was taken advantage of, which meant he has a little less energy for the sprint. Saying that, I've no idea why he started it from the back of the small group. This is another chance for him to claim a stage win.
Adam Yates – a fantastic performance. After initially being dropped by Bernal and Quintana, he fought his way back after a riding solo for a kilometre. Once back at the front, he never looked in danger and timed his sprint to perfection. I was worried that such a tough Tirreno Adriatico would have taken it out of him, but that isn't the case. This is the best I've ever seen him ride, it's clear he's enjoyed a fantastic winter. The finish isn't ideal for him, he needs to try and beat Bernal to the line, something that won't be easy.
Dan Martin – boy did he fight hard today. Despite being dropped on a number of occasions, he still managed to fight back and claim 3rd place. Moving into this stage, he'll be happy that the climb isn't as hard, he shouldn't be getting dropped on La Molina. The finish is one he has fond memories of, he won here in 2016. He has the kick required to win again, something the others will be worried about.
Nairo Quintana – looked very strong today, he certainly seems to be back near his best. This isn't a finish that suits him well, I can't see him winning.
Miguel Ángel López – climbed well today, but sprinted like an old man. To be gapped in the closing metres and lose 2 seconds was almost unforgivable. He won't be very confident if this stage finishes in a sprint.
Max Schachmann – lost 2 minutes today, now he has some freedom. The German has already shown he wants to attack in this race, but today's climb was simply too hard for him. La Molina is a different story and he should be capable of challenging for the win.
Prediction Time
It all depends on Alejandro Valverde. Why was he so bad today? Will he ride for Quintana? Will he chase stage glory? Despite what happened today, I still can't see past him for this stage. The fight to grab the other bonus seconds will be fierce and I do think Bernal will beat Yates to the line.
Remember I've now got a podcast too. Go and give it a listen
David Hunter
Follow us on @CiclismoInter
Join us on facebook: Ciclismo Internacional
Copyright © 2012-2019 Ciclismo Internacional. All Rights Reserved