Volta a la Comunitat Valenciana 2020 – Stage 4 Preview
By David Hunter
Calp – Sierra Bérnia 167.5km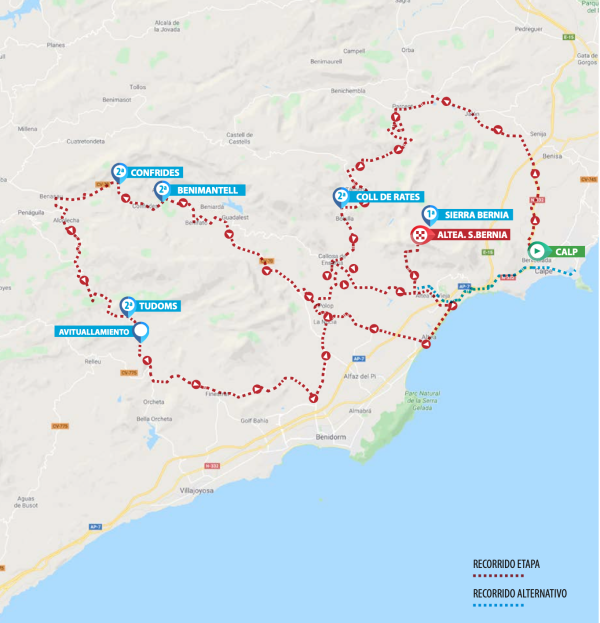 The one we've all been waiting for.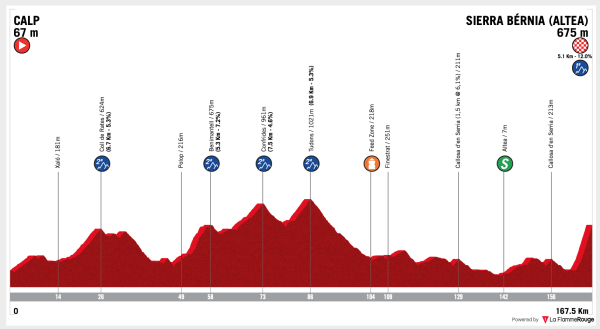 Forget about the fact we're barely into February, this would be one of the hardest finishes in the year no matter when it arrived. The organisers love a steep climb, and this time they've gone out of their way to find a recently tarmacked goat track. The inclusion of this climb has certainly caused some controversy with many riders thinking that it's simply too hard at the very beginning of the season.
The climb can be categorised in many ways, I like to look at the final 3.6km which averages 14%. There is no resting point for the riders, the gradient simply refuses to drop, and we could well see a number of riders walking. This is a climb that suits a very particularly type of rider, one with incredible core strength and a light frame. If you weigh over 70kg, it's going to be impossible to challenge for the top spot. Thursday's finish has given a good indication of which riders are currently in form, but do not be fooled, that climb pales into insignificance compared to this one.
Weather
A nice sunny day.
Contenders
Tadej Pogačar – the Slovenian is an outstanding talent. His neo-pro year was bordering on the ridiculous, and it looks like 2020 could be even better. UAE have done something that most others don't, they've already had a long training camp up at altitude. The reason they've done this is that are desperate to win the UAE Tour, understandably so. This camp has put Pogačar ahead of many of his rivals, his sprint to win stage 2 was very powerful, it's not often Valverde loses one of those. The 2019 Vuelta showed us that he loves the steep stuff, do you remember his brilliant win on Los Machucos? It's probably too far to say he'll enjoy the climb, but he certainly won't dislike it as much as others. Given his preparation before the race and his performance on Thursday, he has to start the stage as the favourite.
Alejandro Valverde – finished 2nd on Thursday, but don't go writing him off. This is a climb that suits Valverde, his torque power is very impressive. He knows that Pogačar is a massive threat to him, I wonder if Movistar will be able to use Marc Soler as an attacking threat. The peloton will blow apart very early on this climb, having a rider to attack will force the other team leaders into defending and potentially wasting vital energy. Whenever Valverde doesn't win, questions are asked about his age and is he eventually slowing down. Age is inevitable, Valverde will slow down at some point, is this it?
Dylan Teuns – another rider who is brilliant on steep slopes. The Belgian manages to produce a huge amount of seated power, which is very important on this type of climb. Due to the gradient, it is much better if you can remain in the seat and power up the hill, getting out of the saddle can actually be a little dangerous. Bahrain have a very strong team at this race, they will have multiple options in final kilometres. If they can use Bilbao and Poels as attacking options, Teuns will be able to follow wheels and hopefully save as much energy as he can for the final kilometre. Will having the strongest team pay dividends?
Rubén Fernández – he took the brave decision to move away from Movistar and join Fundacíon – Orbea. His story is one of potential not realised, a common story in the world of cycling. He won the Tour de l'Avenir back in 2013, but has never won a race since turning pro. After spending many years working as a domestique for the likes of Valverde, he now steps out of the shadow and into the spotlight. His new team will hope he seizes his opportunity, as they have shown a lot of faith in him and he's their big star. Winning the stage will be tough, but finishing in the top 5 is within his grasp and that would be a great result.
Anyone else – we could see a "surprise" win on these slopes. The likes of Dan Martin, Jack Haig and Ion Izagirre have a chance, but not a very big one.
Prediction Time
Maybe I'm stuck in the past, but I still believe in Bala. This is a climb that really does suit him well, the presence of Pogačar won't scare him, it will motivate him. When the dust settles I think we'll see Alejandro Valverde cross the line first to win the stage and GC.
David Hunter
Follow us on Twitter and Instagram
Join us on facebook: Ciclismo Internacional
Copyright © 2012-2020 Ciclismo Internacional. All Rights Reserved