Vuelta a Andalucía Ruta Ciclista del Sol 2020 – Stage 5 preview
By David Hunter
Mijas 13km ITT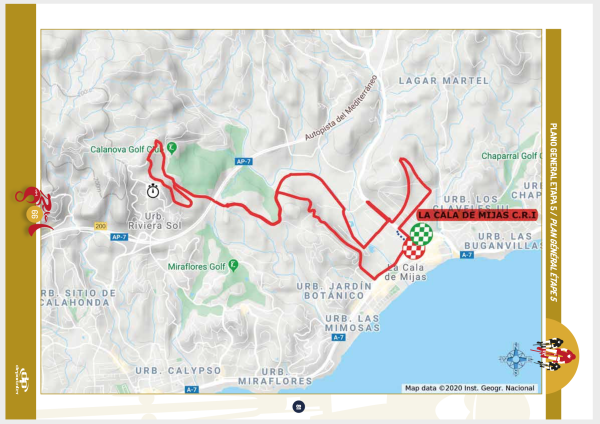 The race ends with a time trial.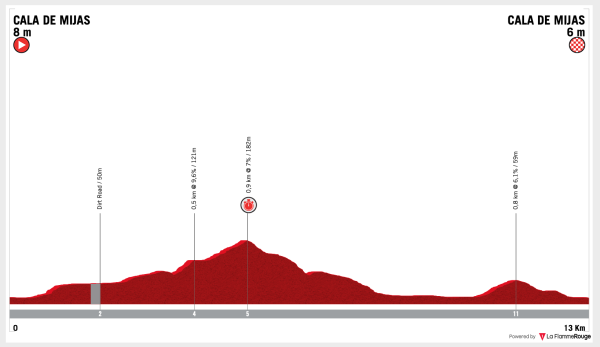 This isn't a straightforward race against the clock, as it features a couple of steep pitches and many twists and turns. It's one of days when the profile doesn't really do it justice. The opening 5km is tough going, with lots of little lumps and bumps for the riders to tackle.
This is the section roughly from 3km until 5km, you can see the several steep ramps contained within. We then have a fast descent, before two kilometres of flat, before the next little climb. This one is close to 900m at 7%, and from the top there is only 2km left. This is not a time trial for the specialists.
Weather
Another nice day, but the wind will be a little stronger than it has been all week. The good news is that it should be consistent for all the riders.
Contenders
Ion Izagirre – on paper, he is the best TT rider in this group. The problem is that he wasn't particularly good in this discipline last year. Today's stage also showed that he's not climbing as well as the big three in this race, and as I've mentioned this TT has a few hills. He'll be challenging for the win, but I don't think you can say he's the favourite.
Jakob Fuglsang – leads Landa by 14 seconds and 35 to Haig, the Dane has a firm grip on this race. He doesn't have a wonderful track record in this discipline, but he was 2nd in the TT in this race back in 2019. That day he just lost out to Tim Wellens by 2 seconds, and the route was quite technical. Winning the GC is more important than taking this stage, so he won't be taking any unnecessary risks, but that doesn't mean he can't challenge for the win. We've all seen just how strong he's looked this week.
Jack Haig – he told you in my overall preview that he's spent time on his TT bike this winter. The Aussie took a deserved win today and he'll now have 2nd place in his sights. He should be very confident of overhauling Landa, but he knows that Fuglsang is too far ahead. I would be surprised if he didn't finish in the top 5.
Pello Bilbao – a very good TT rider, but he doesn't look at 100%. This is a short effort, so there is still every chance of a good result, but I wouldn't be putting any money on it.
Dylan Teuns – good on his TT bike, but not great. He should be targeting the top 5, the podium would be a bonus.
Brandon McNulty – was a junior world champion in this discipline and has twice finished 2nd in the under 23 competition. As he focused on turning into a GC rider, his TT power decreased, which is very understandable. He's looked impressive in this race and will hope for a good performance to round off an impressive week.
Nelson Oliveira – the Portuguese rider is very strong in this discipline. He will have had this stage marked in his calendar since the start of the season, it's a big opportunity for him to win his first TT race aside from his national championships. Judging by his results this week, he's been saving lots of energy and should be considered one of the big favourites for this stage.
Edoardo Affini – 2019 was a good year on his TT bike, winning in the Tour of Britain and finishing 2nd in the Binck Bank Tour. If this was a flat TT he would start as the favourite, but I'm not sure he'll handle the hills in Mijas. I might be wrong; we'll have to wait and see.
Prediction Time
The hills give the GC riders a big chance of winning the TT, but I think they'll be disappointed. Looming large in my mind is Nelson Oliveira, I expect him to win for Movistar.
David Hunter
Follow us on Twitter and Instagram
Join us on facebook: Ciclismo Internacional
Copyright © 2012-2020 Ciclismo Internacional. All Rights Reserved