Vuelta a Burgos 2021 – Stage 2 preview
By David Hunter
Tardajos > Briviesca 175km
The first of the proper sprint stages.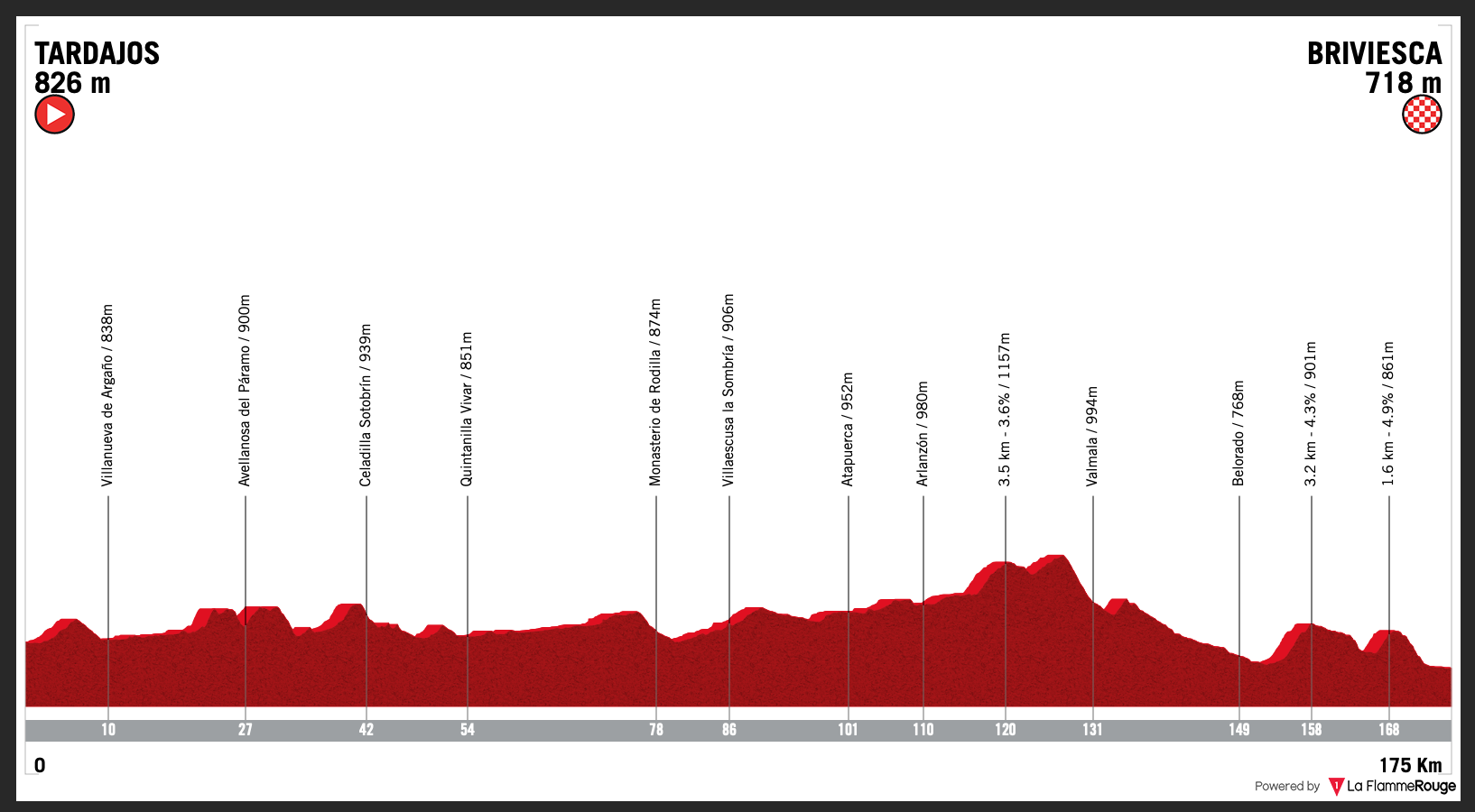 It's an easy day to control, I would expect a small break to get away and then everyone can settle in for a likely sprint finish, but I still think we'll see attacks in the final 20km. The problem for those wanting a sprint is the lack of sprint teams at the race, we'll see teams not used to controlling things having to try and do so. When only a handful of teams want a sprint, we can sometimes see a surprise happening.
Key Points
This little lump crests with 7.8km to go. Some will see it as a launchpad, but the riders will be climbing into a headwind, which is bad news for the attackers.
The final 5km is relatively straightforward. There's a small rise as the peloton head off the main road, but it's over in a second. There aren't many corners either, this is an easy finish for the sprint teams.
Weather
A nice day for the bunch.
Contenders
Jordi Meeus – the young Belgian will start the stage as the man to beat. His debut season has already been a success, thanks to a win in the Tour de Hongrie. He's spent most of the year learning the ropes and working as a domestique, but he's now ready for opportunities in what's left of the season. Bora arrive with only six men, and they don't have many who can operate well in a sprint train. Daniel Oss will be very important in the closing kilometres, a man who regularly does the job of three for Peter Sagan. If Meeus gets into a good position, he has the speed to finish it off.
Marc Sarreau – the Frenchman's move to AG2R hasn't been a success, he's only been on the podium on two occasions in the whole season. When Sarreau was with FDJ he was always delivered into a brilliant spot for the sprint, he's found out that hard way this doesn't happen very often with AG2R. Their line up at this race is another example of this, they have lots of average climbers and Sarreau will only have Damien Touzé as help. This isn't enough, he's going to struggle to take the win.
Alberto Dainese – his career has stalled quite significantly. As he progressed through the under 23 ranks, the Italian was touted as one of the stars of the future, but his pro career has been disappointing, so far. This race is a huge chance to get things back on track, but it all depends on his attitude and motivation. He won't have a huge amount of support in the closing stages, but he has the speed required to win.
Thomas Boudat – every so often he pops up with a surprise result. He does have a few riders to help position him in the closing kilometres. They might not be big names, but they could surprise the bigger teams who arrive with little support. If he gets in a good position, Boudat could take his first win in over two years.
Jon Aberasturi – rarely starts a sprint from a winning position. The level of sprint trains is lower at this race, but I still don't think we'll see him win.
Rob Stannard – I doubt he has the top end speed to beat some of the pure sprinters here.
Itamar Einhorn – after recently winning a 1.2 race in Poland, the young sprinter will be given a chance to shine against the big boys. He might not be a household name, but with Würtz and Vanmarcke to lead him out he'll start the sprint from an excellent position. It wouldn't surprise me if he managed to hang on for a spot on the podium.
Prediction Time
I'll take the fastest man in the race, a win for Jordi Meeus.
David Hunter
Follow us on Twitter and Instagram
Join us on facebook: Ciclismo Internacional
Copyright © 2012-2021 Ciclismo Internacional. All Rights Reserved