Vuelta a España 2017 – Stage 2 Preview
By David Hunter
Nimes – Gruissan. Grand Narbonne. Aude 203.4km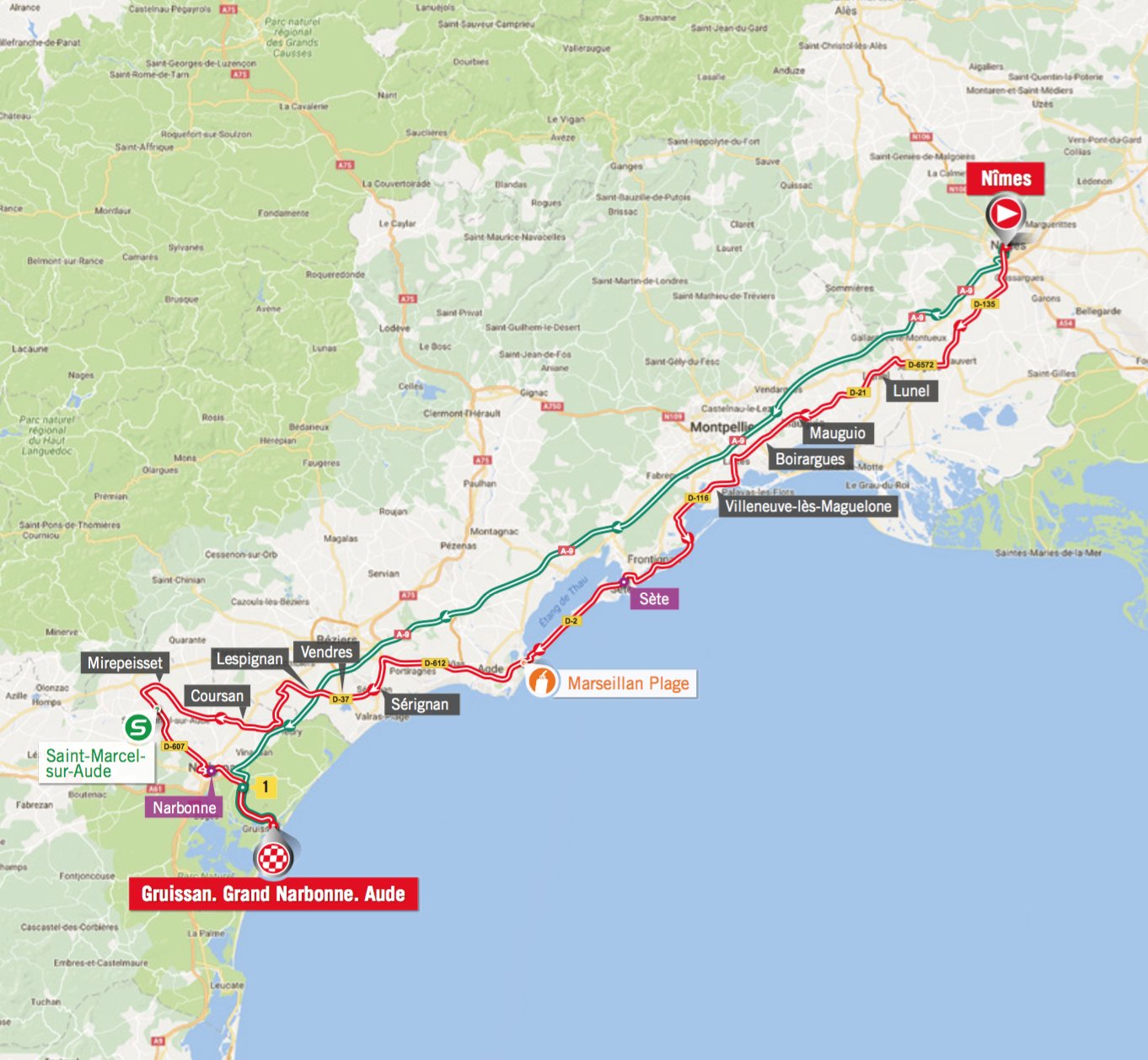 The second stage is one for the sprinters, with a gentle ride along the coast.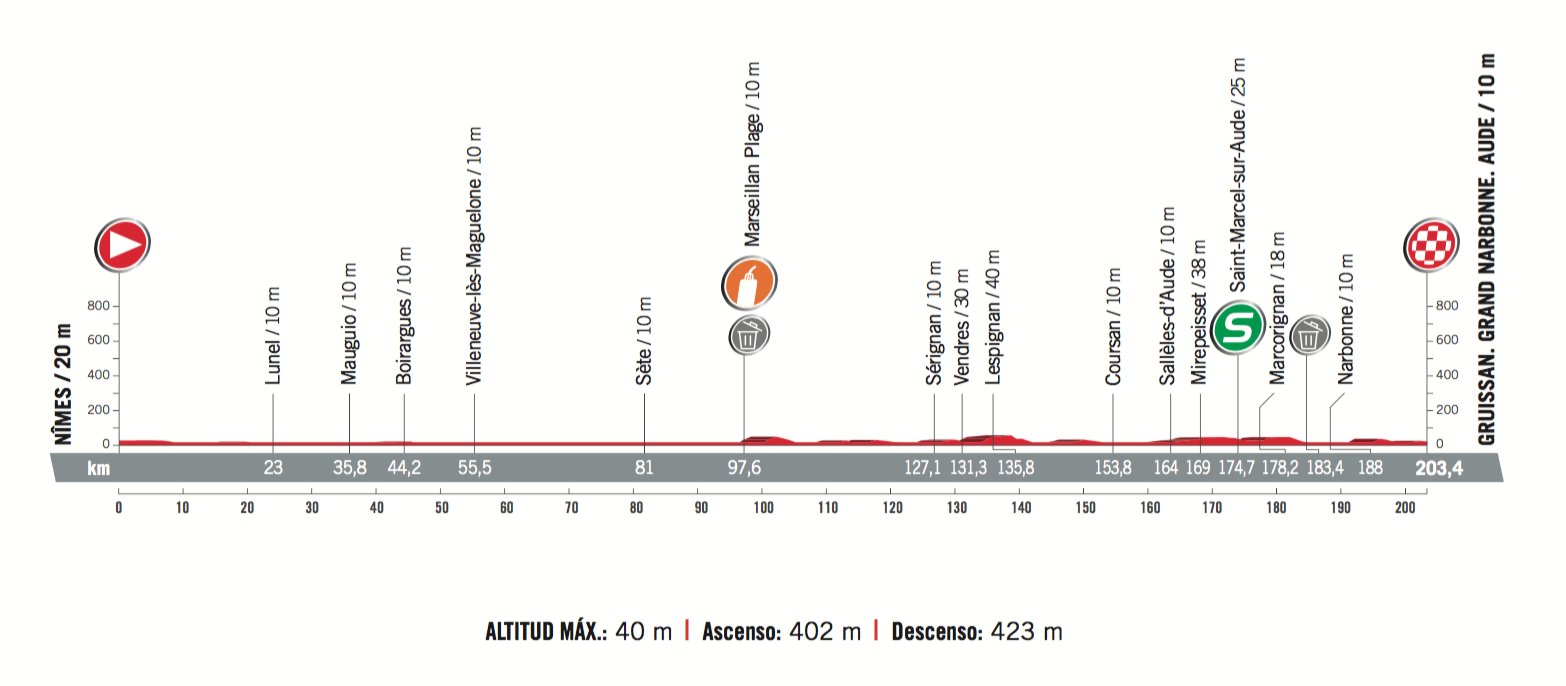 With just 402m of climbing, the riders are getting eased into this Vuelta!
Finale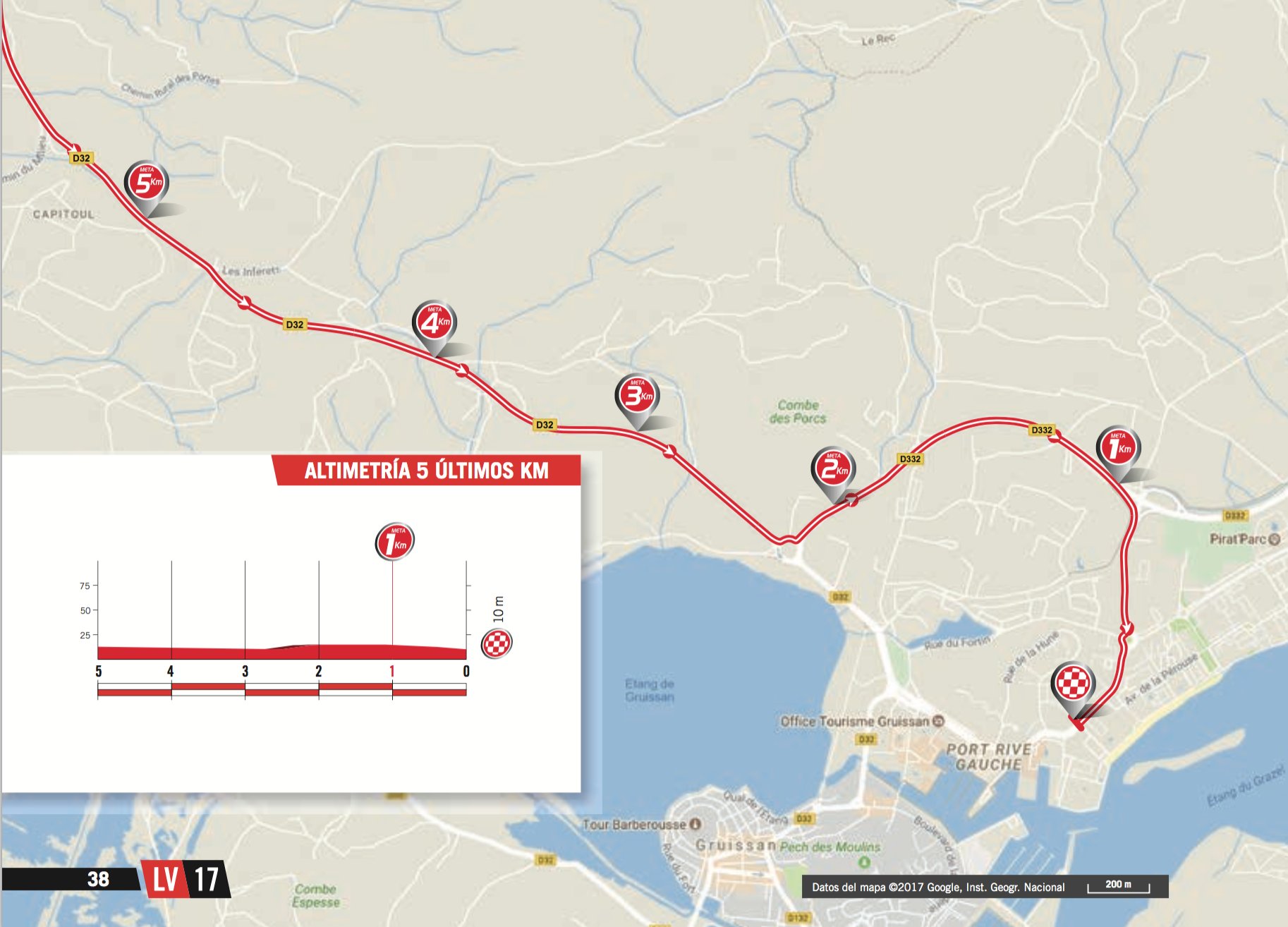 The only difficulty is the roundabout with 400m to go. Only half of it will be open, but it's still not ideal to have such an obstruction, so close to the finish. With long straight roads, the sprint teams have lots of time to get into position, but expect a nervous peloton, this is a grand tour!
Late Break
This is not the Tour, we are not blessed with teams arriving with lots of support for their sprinters, most teams have a much reduced sprint train. That means we have opportunities for riders to attack in the closing kilometres, something that will become common practice in the sprint finishes. To hold off the pack you need to be capable of holding a ridiculous amount of watts for around four minutes.
Weather
Lots of sun and no rain. We have a wind coming from the north, something that will worry the majority of the GC riders. The wind isn't overly strong, but the riders are on the coast for the whole stage, there is a chance of echelons.
Sprint Trains
QuickStep – Jungels, Terpstra, Alaphilippe, Trentin.
This is strong, despite the fact the don't have any of their normal sprint train here.
*****
Bora – Schillinger, Pfingsten, Kolar, Schwarzmann.
Solid from one of the best sprint teams in the world. No matter the race, they also seem like on of the best sprint teams.
****
Trek – Irizar, De Kort, Theuns, Degenkolb.
The good people at Trek have a big decision to make, which of their two sprinters do they  go for. Theuns is in the form of his life, Degenkolb hasn't raced since the Tour, but Theuns is going to Sunweb next year.
***
UAE – Mohoric, Zurlo, Modolo.
Modolo isn't used to a long train. Just as well really!
***
Orica – Tuft, Bewley, Juul-Jensen, Cort.
With the squad mainly focused on keeping their GC stars safe, it remains to be seen what help Cort will actually get, especially as he leaves for Astana at the end of the year.
**
Lotto – Wallays, Marczynski, Debusschere.
Not a long train, but Debusschere can look after himself in the sprints.
**
Aqua Blue – Koning, Kreder, Gate, Blythe.
Might just be the surprise package.
**
We also have many sprinters who arrive without a recognised lead out train, they might only have one rider to drop them off and the rest is up to them.
Contenders
Matteo Trentin – having the best sprint train will be a massive help for Trentin. Normally a lead out man, he is a very fast sprinter, in his own right. He'll be confident of taking his first win in the Vuelta, the Italian already has wins in the Tour and Giro, quite an achievement coming his way! He was in good form in Burgos, taking a comfortable sprint victory. He starts the stage 6 seconds behind Rohan Dennis, if Trentin takes the stage, he'll also take the red jersey. That will be a huge motivation for him and the team.
Sacha Modolo – his recent win in the Tour of Poland would have been a massive confidence boost for the Italian sprinter. His season had been going well, but his Giro was a massive disappointment. Despite being 30, this is his first appearance at the Vuelta. He'll start the sprint stages as one of the favourites.
John Degenkolb – it seems likely that Trek will go with their German sprinter. His Tour de France wasn't what he had expected, but he does have a good history with this race. Already with 10 Vuelta stages to his name, he'll start the stage with huge confidence.
Jens Debusschere – it is rare to see the Belgian getting many chances as Lotto's top sprinter, so he better take it! He was their man in Poland, but didn't enjoy the chaotic sprints over there. With fewer sprint teams, this should be more his style. When he gets it right, he is more than capable of winning.
Magnus Cort – will have been disappointed with his performance in the BinckBank Tour. Despite being put into good positions, he wasn't able to convert the positions into victories. I'm unsure what level of support he will get in the Vuelta, the team have two GC leaders to look after in the closing stages. On his day, he is fast enough to win this stage.
Lorenzo Manzin – I was quietly impressed by him in the Tour of Poland. Still just 23 years old, I think he is a rider that still has a lot of improving to do. FDJ don't have a great team at the Vuelta, but if Daniel Hoelgaard has good legs, the two of them will form a strong partnership.
JJ Lobato – confidence is very important for most sprinters, it is even more true for Lobato. After a tough season, he finally found some form in the Tour de l'Ain. I think this will have really helped his mental state and he'll be ready to contend in the Vuelta. Positioning has always been a problem for him and it doesn't look like he'll get a lot of help from his teammates.
Tom Van Asbroeck – was sprinting well in Poland, before having to work for Wippert in the BinckBank Tour. The Belgian is a solid sprinter, who is used to working as a lead out man. Considering we might have messy sprints, this will work in his favour. It is unlikely he'll have the speed to win the stage, but good positioning could see him reach the podium.
Prediction Time
With the chance of taking the red jersey, QuickStep will go all guns blazing. For Trentin to win the stage, he needs a good lead out and I think he'll get it. Matteo Trentin to win the stage and take the red jersey.
David Hunter
Follow us on @CiclismoInter
Join us on facebook: Ciclismo Internacional
Copyright © 2012-2017 Ciclismo Internacional. All Rights Reserved