Vuelta a España 2017 – Stage 4 Preview
By David Hunter
Escaldes – Tarragona 198.2km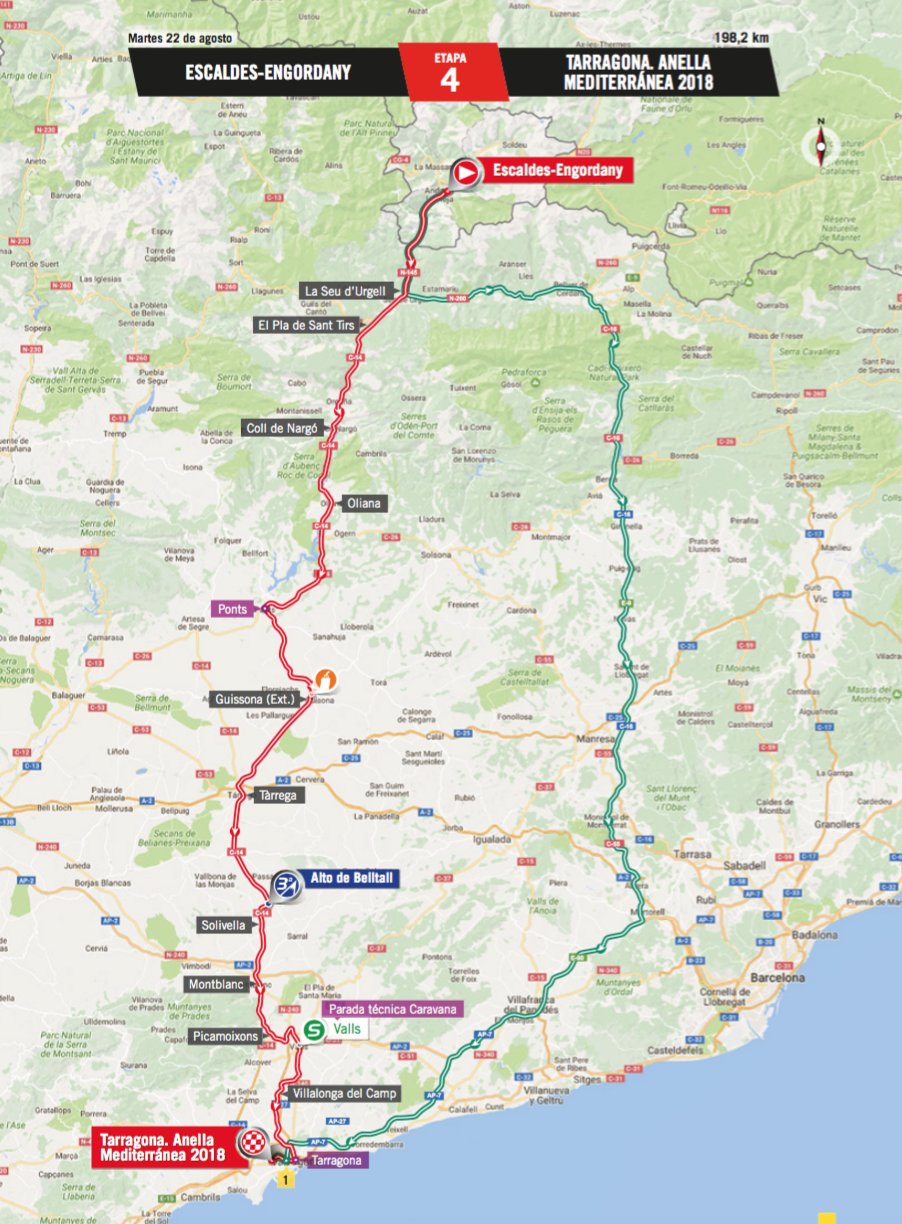 We head to Spain and it should be a day for the sprinters to battle for glory.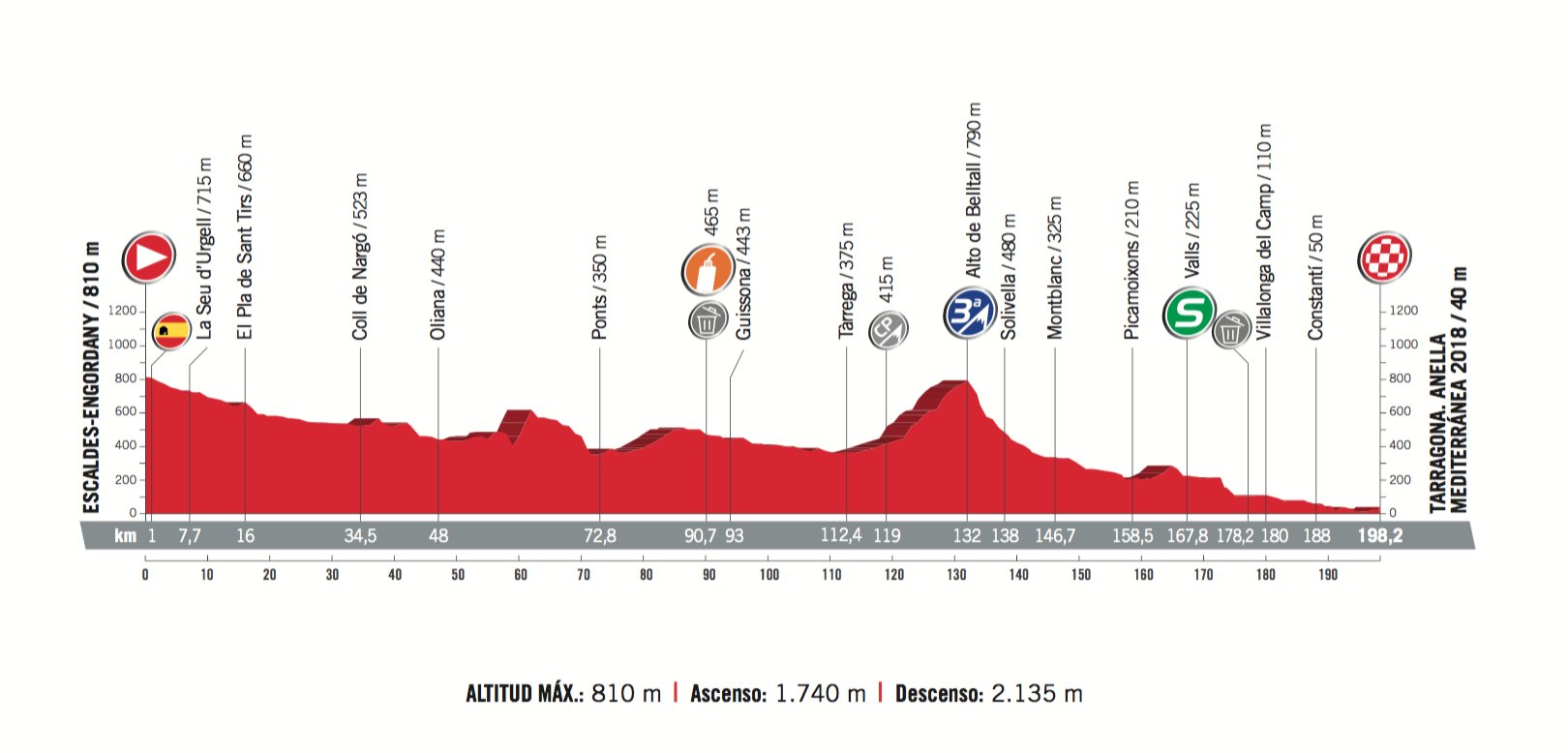 We do have a cat 3 climb, 12km at 3.3%, but it shouldn't be anything to worry about. This is a day for the quick men, something that doesn't happen very often in the Vuelta!
Finale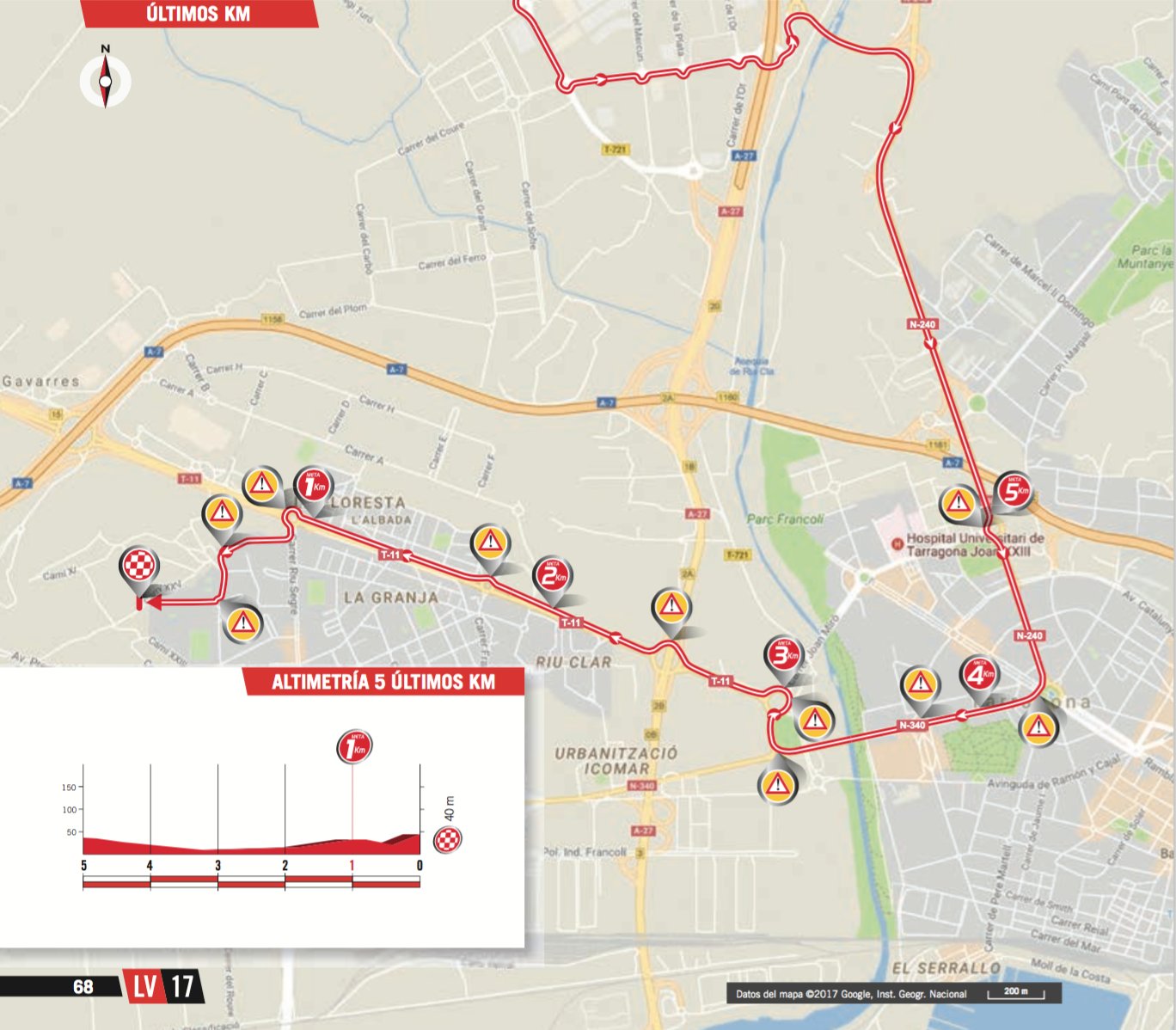 The finish is slightly uphill, but it's only around 2.5% for 400m, so it's nothing to worry about. What the riders do need to concern themselves with is the rather technical finish. Whoever thought it was a good idea to have a roundabout with 300m remaining needs to be fired! The end of this stage is simply crazy, it seems to have been put together without any thought for the riders.
Lead out trains are going to be very important, as a rider who doesn't have a great position, with 3km to go, doesn't stand a chance of winning the stage. It is also good for a rider who wants to try a late attack. All the street furniture will make it hard for the bunch to bring them back.
Weather
Hot and a headwind all day. I pity the riders that go in the early move.
Contenders
Matteo Trentin – arrives with the best sprint train, plus he has lots of confidence. He won the sprint behind Lampaert, on Sunday, something that the other sprinters will be concerned about. Trentin is not what you'd call a pure sprinter, but he certainly has a turn of speed. 99 riders have won stages in all three grand tours, could Trentin be the 100th? He certainly starts the stage as one of the favourites.
Edward Theuns – was an unlucky 4th on Sunday. He had to put in a big effort to make the front selection, burning some crucial energy that he needed for the finish. Going into this stage, there should be no argument about who Trek supports. With Degenkolb seemingly short of form, they must support the Belgian. He is another sprinter full of confidence just now, thanks to taking his first ever world tour win. He might not have a long train, but De Kort should be able to put him into a great position.
Sacha Modolo – looked good on Sunday, easily making the front selection. He said that his legs felt a little dead in the sprint, he is a rider that is very hard to predict. His team don't have a great sprint train, they will look to place him at the front of the race with 3km remaining. From that point, it will be up to the Italian to hold his position, something he is brilliant at.
Adam Blythe – I was really impressed by the Englishman, on Sunday. His team did a great job of putting him into position, something that the "bigger" teams failed to do. Blythe has a fast sprint, but he isn't really a pure sprinter. To make up for a lack of top end speed, he needs to have a great position in the last 500m.
Jens Debusschere – of all the other sprinters here, I think Debusschere has the best chance. He'll have Hansen, Wallays and Marczynski to help position him in the finale and the Belgian does pack a fast sprint. He seems a little short of confidence just now, he just needs to trust in himself, he is fast enough to contend.
Prediction Time
Has to be Edward Theuns. Full of confidence and sprinting incredibly well just now. Vamos Eddy!
David Hunter
Follow us on @CiclismoInter
Join us on facebook: Ciclismo Internacional
Copyright © 2012-2017 Ciclismo Internacional. All Rights Reserved