Vuelta a España 2017 – Stage 5 Preview
By David Hunter
Benicassim – Alcossebre 175.7km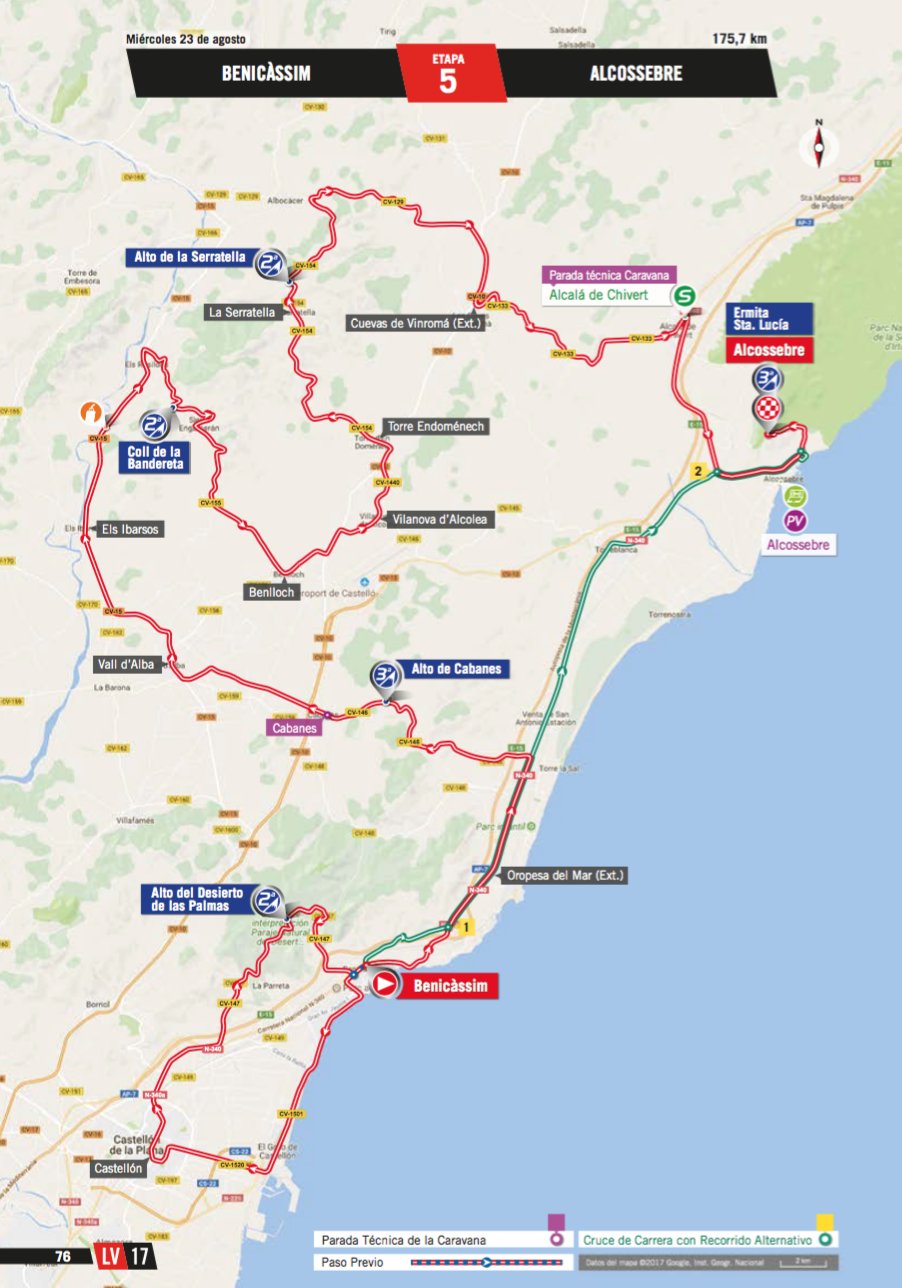 Wall finish alert!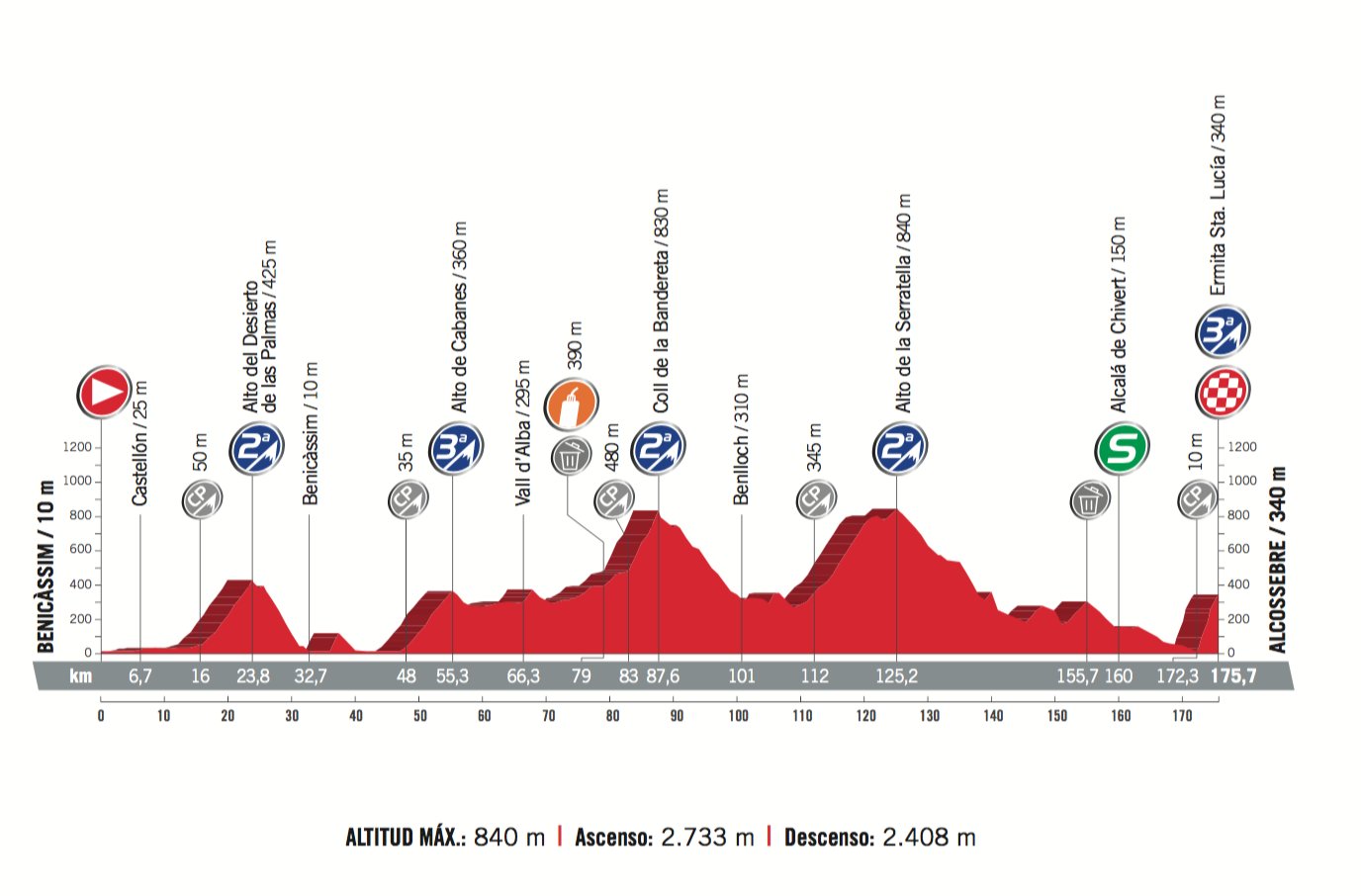 Certainly not an easy day in the saddle, with four categorised climbs inside the opening 125km, and then we have a wall finish. The climbing starts after just 16km, with the climb of Alto del Desierto, it is 7.8km at 4.8%.
Next up is Vall d'Alba, 7.3km at 4.4%, before the cat 2 ascent of Coll de la Bandereta. This time it's 4.6km at 7.8%, the first proper climb of the day. This will certainly hurt many riders and they still have another cat 2 climb to go. Alto de la Serratella is 13.2km at 3.8%, the longest climb of the day. Once over that, the peloton have time to recover, before the brutal finish.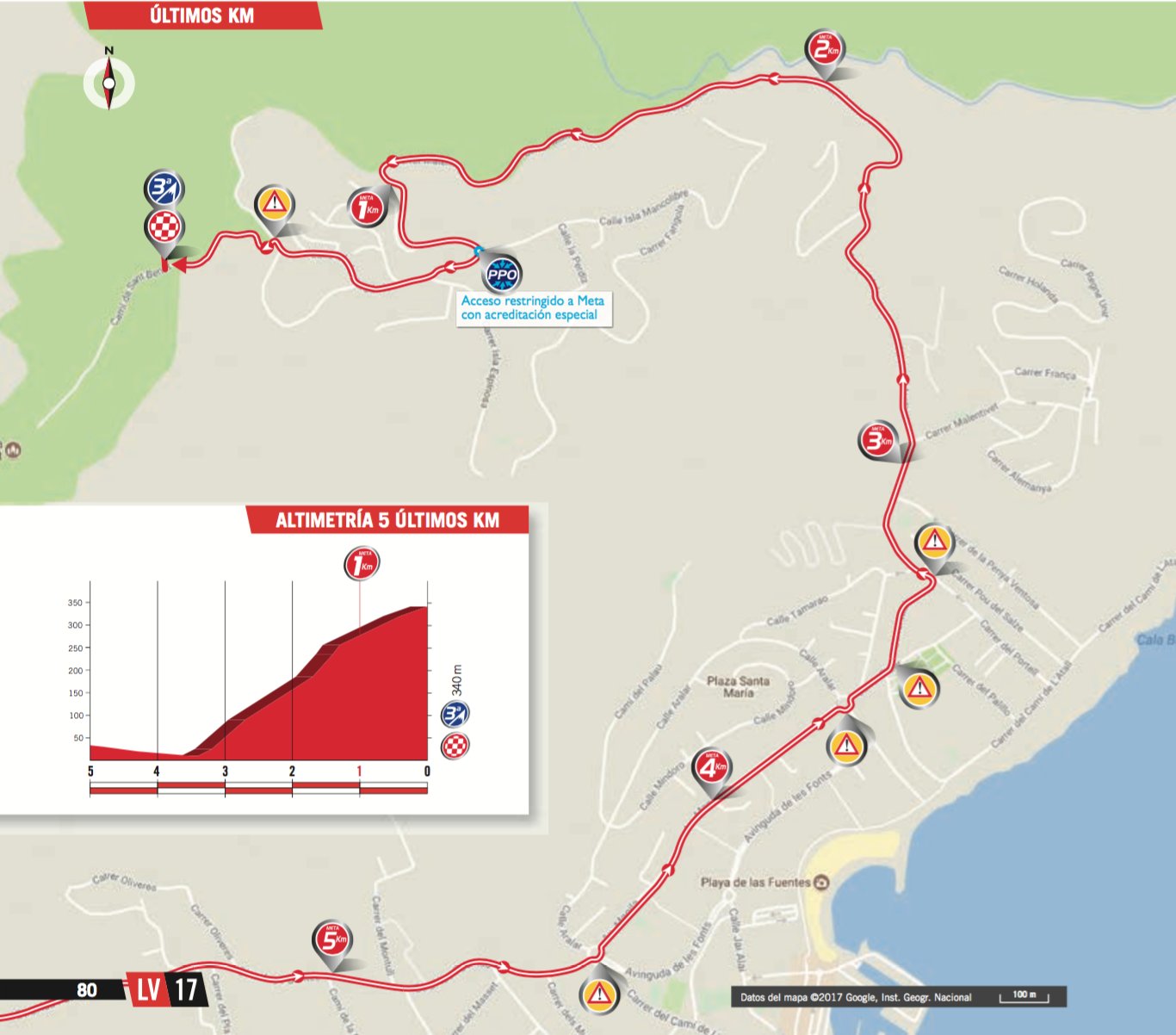 To end the stage, the riders have to negotiate 3.4km at 9.7%, although, there is a little dispute about the actual gradient of the climb. The climb is one of those horrible efforts that seems to go up in steps, with plenty of double digit sections. This is a tough finish.
Weather
Hot! This is going to be a difficult stage for some to manage.
Breakaway Hopes
The attackers have a good chance today, but it depends on who makes the break. A couple of teams will fancy taking this stage, particularly Orica, QuickStep, UAE and Cannondale, but they won't want to control the break all day. Expect a crazy start to the stage.
The early climb means that we'll see plenty of strongmen in the move. The hill isn't that hard, making it good for those who can grind up, in the big ring. It is a break for the powerful riders, but the finish is perfect for the climbers!
The attitude of Team Sky will be interesting. Froome is already climbing very well, but will they risk letting others take bonus seconds? In the Tour, Froome lost time on a very steep finish. Will Sky chase the break and back Froome to do better in Spain? It's a risky strategy, but he did look in great form on Monday.
Contenders
Rui Costa – looked in good climbing form on Monday, but seemed to waste energy with a silly attack. He is only 1:58 down on GC, that means he'll have to win from the main group. He does climb very well, but I have a feeling the final climb is just too hard for him.
Julian Alaphilippe – is he on form? We have seen him work hard for his teammates, his role in their wins cannot be underestimated. You would normally say that this is his type of stage, but the final climb could be a little long for him. The Frenchman is way down on GC, he could try and win the stage from the breakaway, but that is a risky strategy.
Michael Woods – the Canadian enjoyed a good Giro, but never managed to take a stage. He seems to love these types of tough finishes. Despite some impressive performances, Woods only has one pro win to his name, back in the 2015 Tour of Utah. He is a good cyclist, but doesn't seem to have a winning mentality, either that, or he's just unlucky!
Dani Moreno – this finish is perfect for him, but he crashed today. A real shame, but he didn't look to have any serious damage. If he is okay, he'll have a big say in the outcome of this stage. If not fit, Movistar will turn to Betancur.
Esteban Chaves – we saw his brilliant form on Monday, this stage is perfect for him. Chaves has a great record in this race and Orica should be willing to pull back the break, in order for him to challenge for the stage. This is a chance for him to move into the red jersey, as he will be confident of being able to drop Froome, this finish is more the style of the little Colombian.
Chris Froome – see above! Yes, he is climbing very well, but these finishes are not his strength. Froome is much better on longer climbs, but he did perform very well on Monday. My head says this finish is tough for him, he'll be watching for Chaves. It will be interesting to see how Sky approach the final climb, it would make sense to go as fast as possible. That would mean blowing out a number of rivals, before the tough finish.
Romain Bardet – it looks like he's managed to hold his Tour form, that certainly makes it a challenger for this stage. His fantastic win on Peyragudes will be fresh in his mind and he knows he can beat Froome. I can't wait to see him making Froome sweat!
Maxine Monfort – breakaway hopeful number 1.
Omar Fraile – breakaway hopeful number 2.
Dani Navarro – breakaway hopeful number 3.
Darwin Atapuma – breakaway hopeful number 4.
Prediction Time
Although the final climb is similar to Monday, the stage is not the same. This is a much easier day for the peloton, meaning that the bunch will arrive fresh for the final climb. That is very good news for those that are explosive, but not serious GC contenders. The only problem is the break, something that the teams will be worried about. The outcome of the stage depends on the attitude of Orica, they seem to have the most to gain, but they are famous for sneaking riders into breaks.
For that reason, I think this is a day for the breakaway. It looks like a perfect stage for Omar Fraile.
Back in the GC group, I think the red jersey will change hands and the little Colombian will be smiling.
David Hunter
Follow us on @CiclismoInter
Join us on facebook: Ciclismo Internacional
Copyright © 2012-2017 Ciclismo Internacional. All Rights Reserved