Vuelta a España 2017 – Stage 6 Preview
By David Hunter
Vila Real – Sagunt 204.4km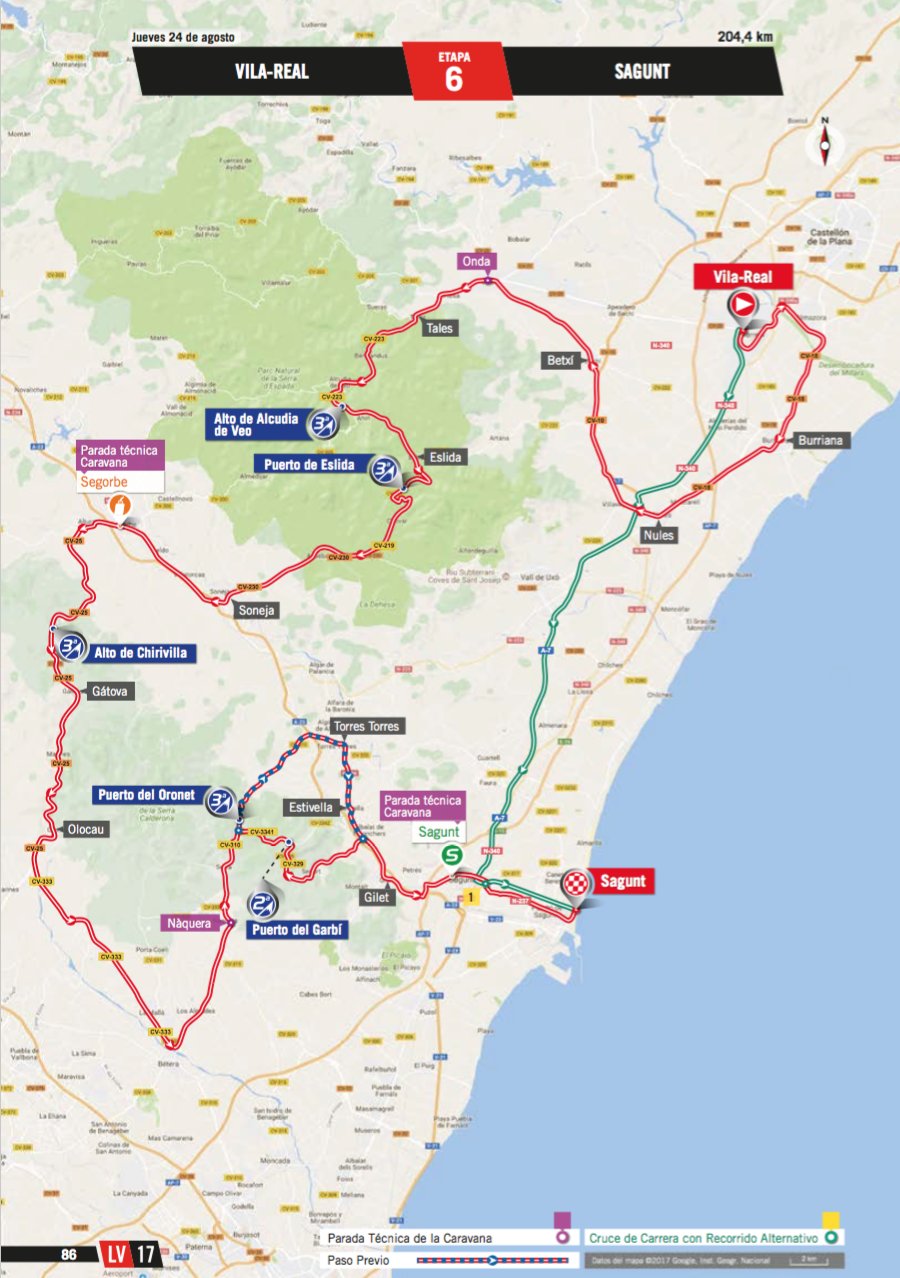 This screams transitional stage to me.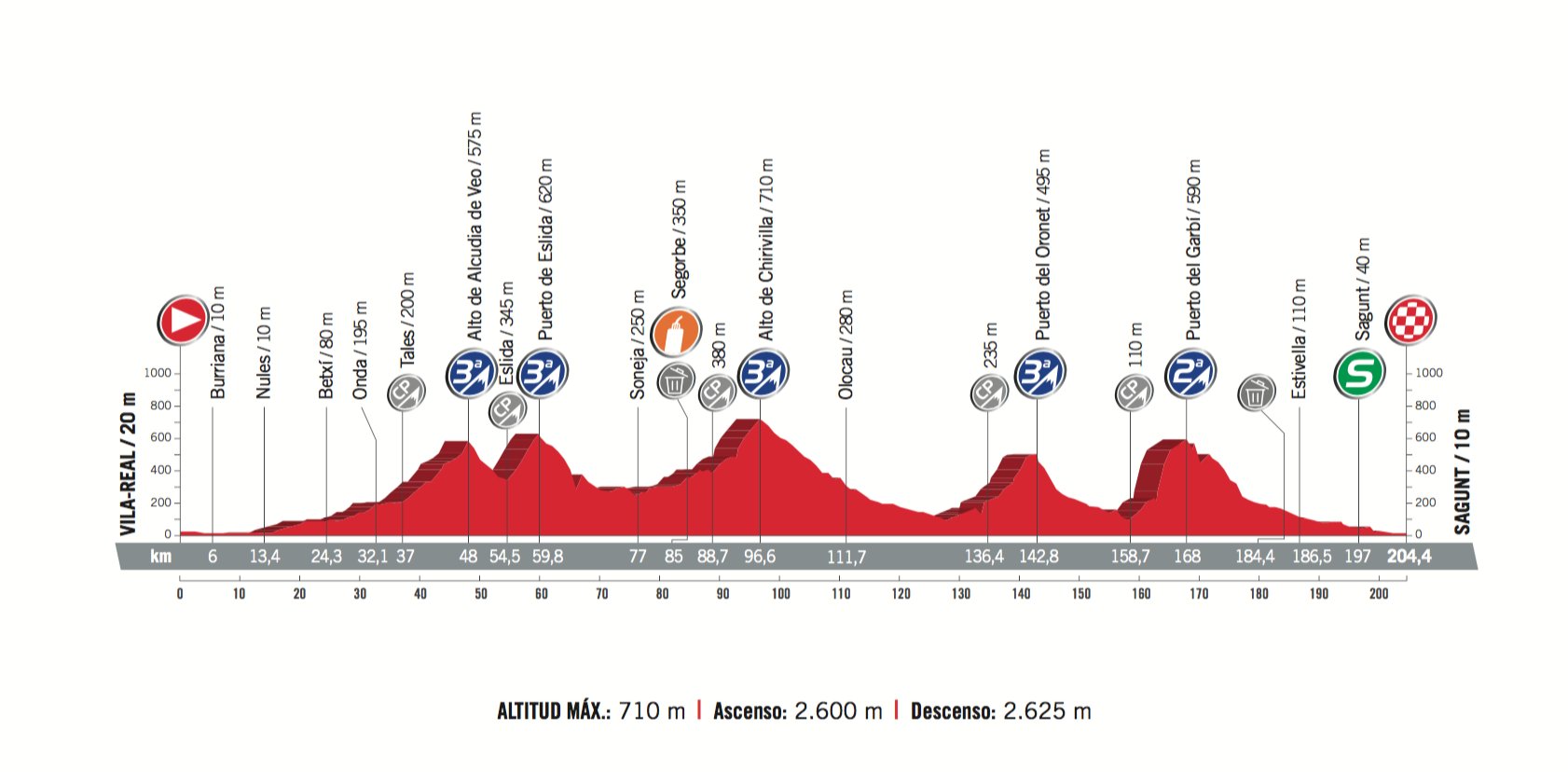 We have 5 categorised climbs, none of them too difficult, but it is impossible for any of the sprinter teams to control. Do these teams really believe that their sprinter survives this stage? This is a day for the breakaway riders to get excited.
The cat 3s are not the problem, they should be easy for the sprinters, it's the final climb of the day. Puerto del Garbi is 9.3km at 5.1%, with a final 5km of 6.3%. This climb is too hard for the sprinters. Even if a few of them think they can survive, it is still a huge ask for their team to control this stage.
Finale
Nice and easy, no problems here.
Weather
Another roasting hot day with no cloud or wind. Some riders will already be suffering due to the heat, it's not going to get an easier for a long time!
Breakaway Types
With 37km of relative flat to begin the stage, I wonder if the break will form here. That is closely followed by two cat 3 climbs, they are 11km at 3.4% and 5.3km at 5.4%. With a descent of just 6.4km between these climbs, this will be harder than you think. Next up is another cat 3 climb, this one is 7.9km at 4.2%. The penultimate climb of the day is 6.4km at 4%, with the final climb just another 16km up the road.
Look at the gradients of the climbs, this is not a day for a break full of climbers, expect to see similar riders to today. To make this break you need to be able to churn a big gear, for the vast majority of the day. Having a fast sprint would also be a bonus!
Contenders
Julian Alaphilippe – made the break today, but never really looked like himself. It looks like the hugely talented youngster is still searching for his best form. Considering his injury plagued season, this isn't a huge surprise. The problem for the rest of the peloton is that he's going to improve with every stage. I doubt he'll go for the break, instead, he'll wait and hope for a reduced bunch sprint. He packs a very fast sprint, faster than some of the sprinters here!
Edward Theuns – can he survive the climbs? Given his current form, it wouldn't surprise me. If he can hang tough on the final climb, he'll have a number of kilometres to try and recover some energy. His first grand tour win would be a good reward for all his hard work.
Rohan Dennis – breakaway, late attack, reduced sprint. Rohan Dennis can win this stage in a number of ways! After a brilliant TTT, he's been saving some energy for particular stages. Looking at these climbs, this is a stage where he can shine. BMC will want representation in the break, he could be their man.
Rui Costa – continues to impress in this race. The former world champion is still a little close on GC, but Sky might be happy giving away the red jersey, but I doubt it! To win this stage, Costa will have to hope the break doesn't succeed and he wins the sprint. Problem is, I think there will be faster riders present at the end.
Bob Jungels – falls into the same category as Rohan Dennis. The QuickStep rider can win this stage in a number of ways and given the recent stages, you would expect to see a QuickStep rider going close. Will Jungels be their chosen rider?
Simon Clarke – breakaway hopeful number 1.
Omar Fraile – breakaway hopeful number 2.
Thomas De Gendt – breakaway hopeful number 3.
JJ Rojas – breakaway hopeful number 4.
Prediction Time
It's the breakaway v QuickStep. I don't see any other team wanting to bring this back together. If the Belgians put a rider in the break, it's not coming back. I think we'll see them continuing a wonderful race and Bob Jungels will take the win.
David Hunter
Follow us on @CiclismoInter
Join us on facebook: Ciclismo Internacional
Copyright © 2012-2017 Ciclismo Internacional. All Rights Reserved