Vuelta a España 2017 – Stage 7 Preview
By David Hunter
Lliria – Cuenca 207km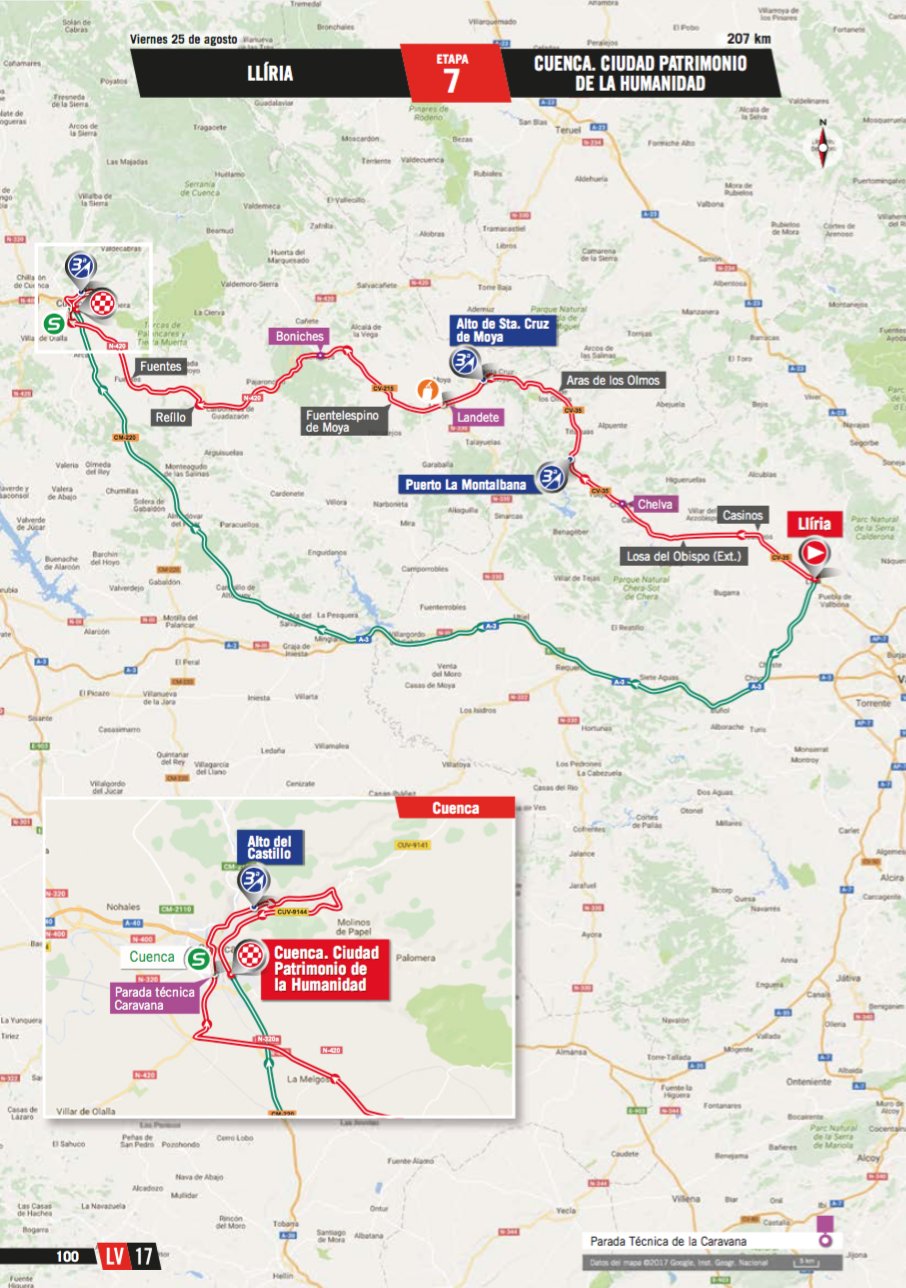 Another long day in the saddle.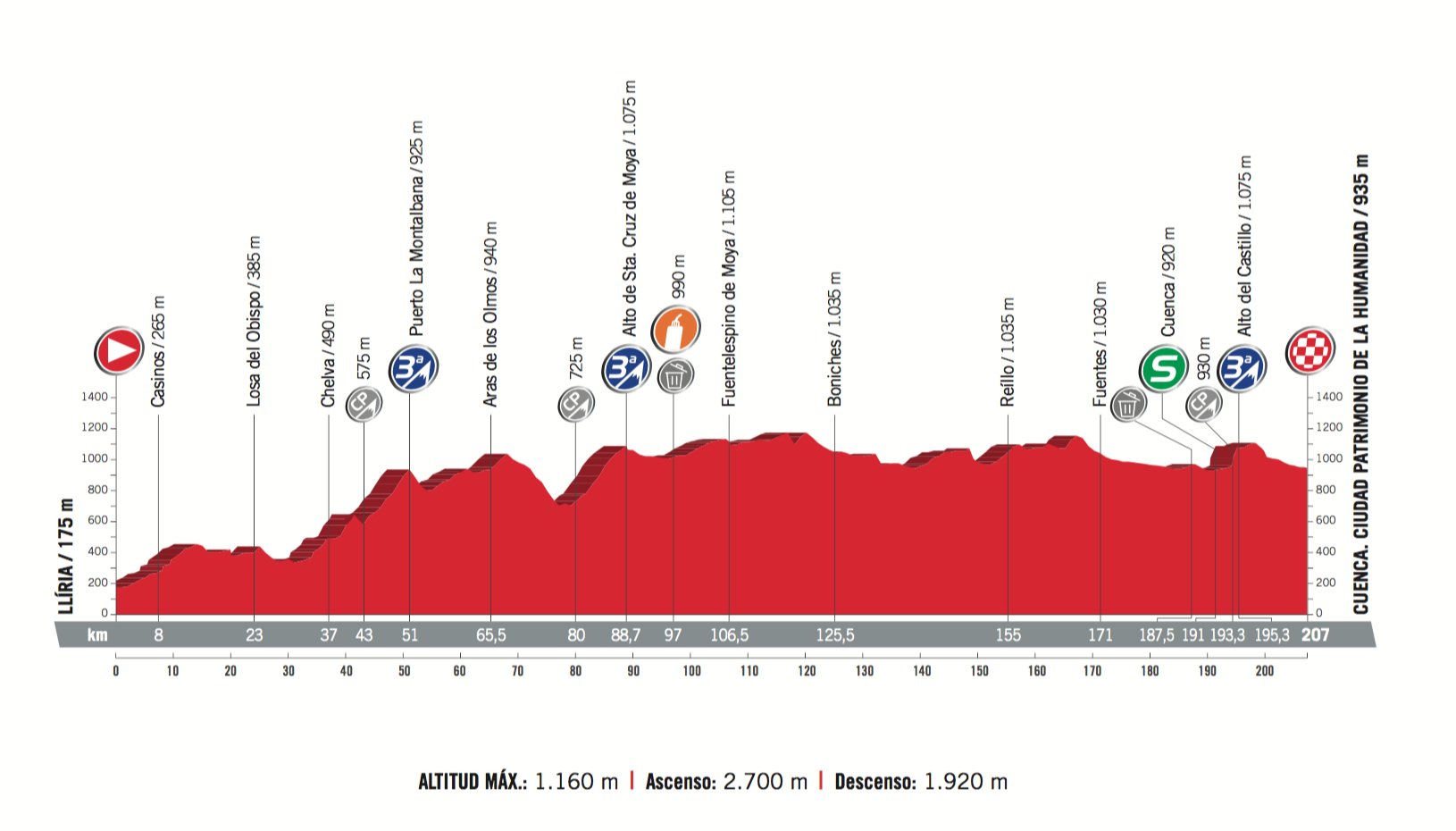 Despite only have three cat 3 climbs, this stage contains 2700m of climbing. It's harder than the profile suggests.
The Climbs
Puerto La Montalbana – 8km at 4.4%
Alto de Sta. Cruz de Moya – 8.7km at 4%
Alto del Castillo – 2km at 7.3%
The final climb crests with 13.7km remaining, but there is some false flat at the top of it. This climb is a perfect launchpad for a late attack.
The Finale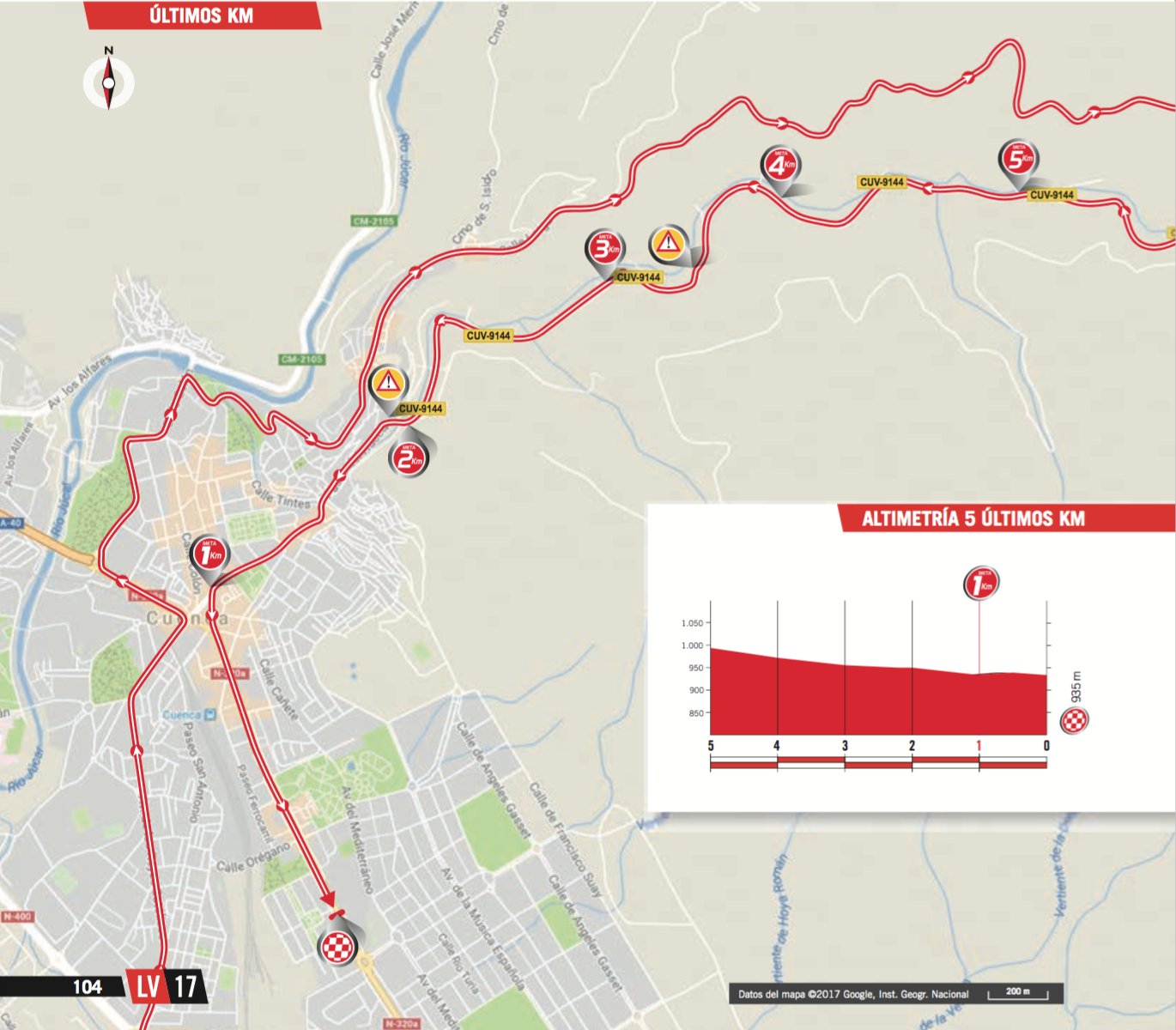 The constantly changing direction is good news for any late attackers. If we get a sprint, it's much easier than Tuesday's finish.
Weather
Hot! The wind is coming from the south, but it doesn't look strong enough to cause any problems.
Breakaway Hopes
Who wants to chase the break? QuickStep are the obvious choice, but they'll want some help. With many teams already tired and looking ahead to the weekend, I'm not sure they'll get any assistance.
That means it's another good day to make the morning move, but it does need to some of the big teams present. The break will benefit from having some big TT engines, capable of long pulls on the rolling roads.
If the break isn't large in number, we shall see what QuickStep are made of. If no team helps them, they have the thankless task of chasing all day long. They do have some big engines to do that job, but it won't be easy in the heat.
Cobbles?
Yes, we are deep in Spanish territory, but the organisers have found some cobbles. Not only that, but it's on the final climb! This is wonderful news for the Belgian sprinters! If only it was 20 degrees cooler and wet!
Contenders
Matteo Trentin – sprinting very well just now and has one eye on the green jersey. If QuickStep are chasing all day, they may have less riders for the final kilometres. Trentin is good, but he needs to be positioned near the front. He doesn't have the speed to come from deep. Also, the Italian played the role of good teammate today, pushing hard to limit the losses of De La Cruz. Will that have used some vital energy?
Edward Theuns – incredibly frustrating that Trek wanted to position Contador on Tuesday, instead of helping their sprinter. The Belgian is riding well just now, but he needs help in the closing kilometres. Trek need to get serious and give him some proper help. If he has De Kort, he'll have a great chance of winning.
JJ Lobato – as we go deeper into the race, Lobato will get stronger, especially as the heat impacts on his rivals. The Spaniard was an impressive 2nd place on Tuesday, something that will have given him a lot of confidence. His lead out train are untried, but they will also improve as the race progresses. This is a good stage for Lobato, especially with the little kicker near the end. He climbs better than most sprinters.
Jens Debusschere – another sprinter that will enjoy the final climb. The Classics specialist is no stranger to steep climbs and it should slow his rivals down a little. His 5th place on Tuesday was a step in the right direction.
Tom Van Asbroeck – 3rd place on Tuesday was his best result in a while. It's good to see him sprinting well, but can he really win a stage? If Cannondale nail the lead out, he has a chance of challenging for another podium.
Sacha Modolo – has been in good positions, but his legs have said no! Given his form in the Spring Classics, you would have to think that Modolo will like this finish. It will be interesting to see if he waits for the sprint, or tries to attack on the cobbles.
Gianni Moscon – late attacker number 1.
Dani Moreno – late attacker number 2.
Rui Costa – late attacker number 3.
Prediction Time
QuickStep v The Break…
I think we'll see QuickStep boss the first few kilometres and control the break. That means we'll get a move with only around 5 riders, making it tough to stay away.
Once this break is brought back, the second phase of the race is on the final climb. There is a big chance for riders to attack and split the bunch, the problem is that the climb is only 2km long. This is where we'll have some fun and a small group should force free of the bunch.
This will be the crucial point of the day, will sprint teams have enough riders left to bring this move back? I think not. I'll go for a late break and a win for Gianni Moscon.
David Hunter
Follow us on @CiclismoInter
Join us on facebook: Ciclismo Internacional
Copyright © 2012-2017 Ciclismo Internacional. All Rights Reserved