Vuelta a España 2017 – Stage 8 Preview
By David Hunter
Hellin – Xorret De Cati 199.5km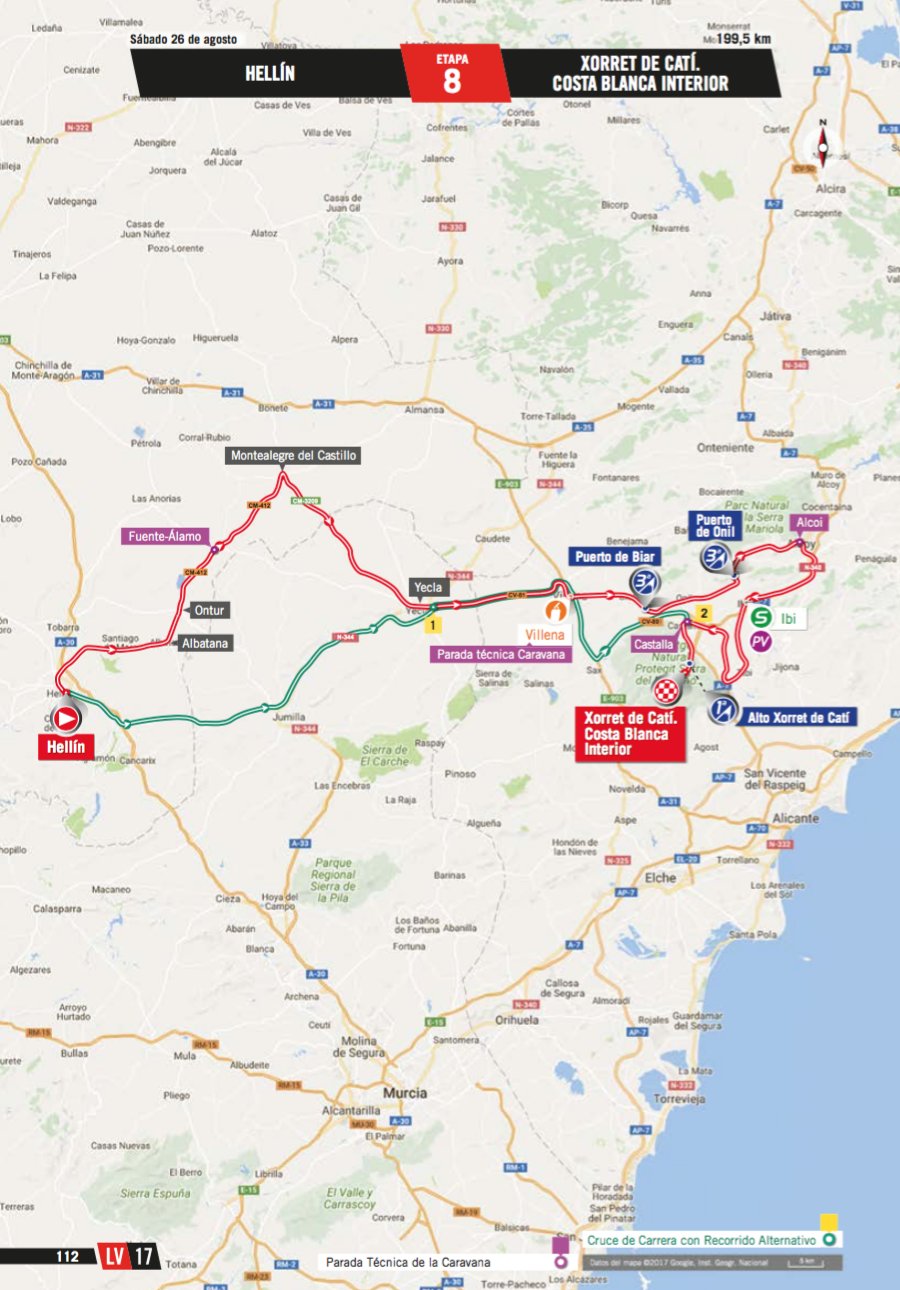 It's the weekend and that only means one thing in the Vuelta… GC days!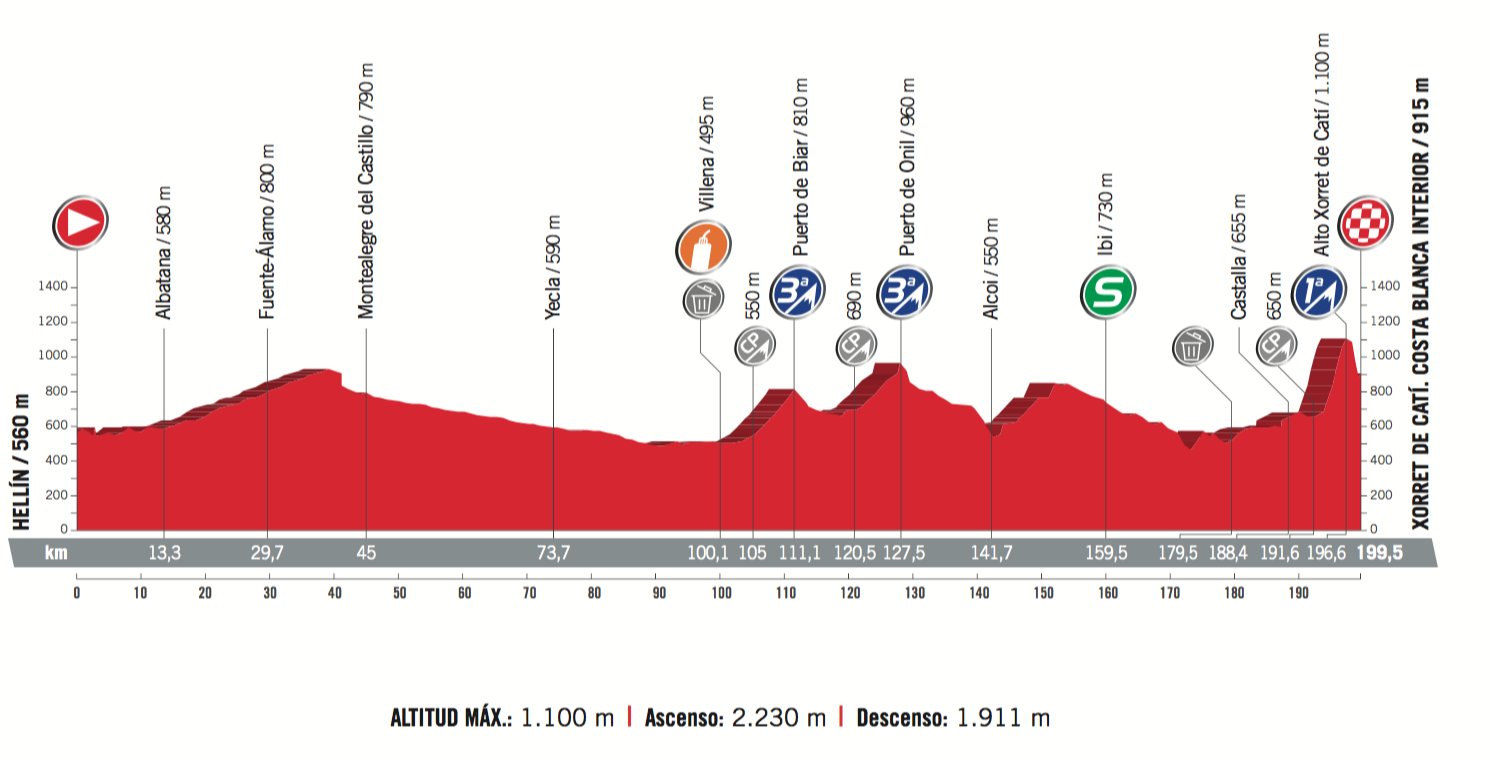 A nice easy day in the saddle, until the last 20km. Then it gets serious. Expect a furious pace as the riders approach the final climb.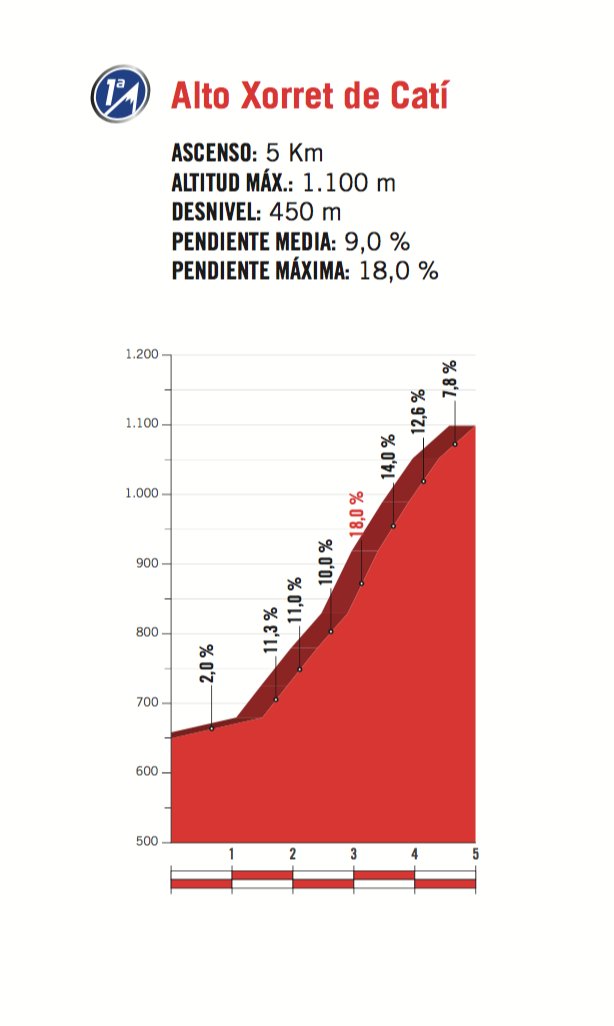 The climb might only be 5km long, but it has a ridiculous average gradient of 9% and that includes an easy opening kilometre. The last 3km of the climb averages around 13%, it is a brutal test of climbing ability. Make no mistake the peloton will explode on this climb.
They will hit the climb at a ridiculous pace, this will mean that many riders will suffer as they hit the wall and change into the little ring. The immediate change of gradient and speed is tough for a lot of riders to deal with. Positioning will also be crucial, you need to fight to be at the front. It is not a good idea to start this climb at the back of the peloton.
Last time a race visited this climb, was in the 2016 Volta a la Comunitat Valenciana. That day, it was Fabio Aru setting a fierce pace on the climb, riding for Diego Rosa, but they could do nothing to stop a flying, Wout Poels.
Finale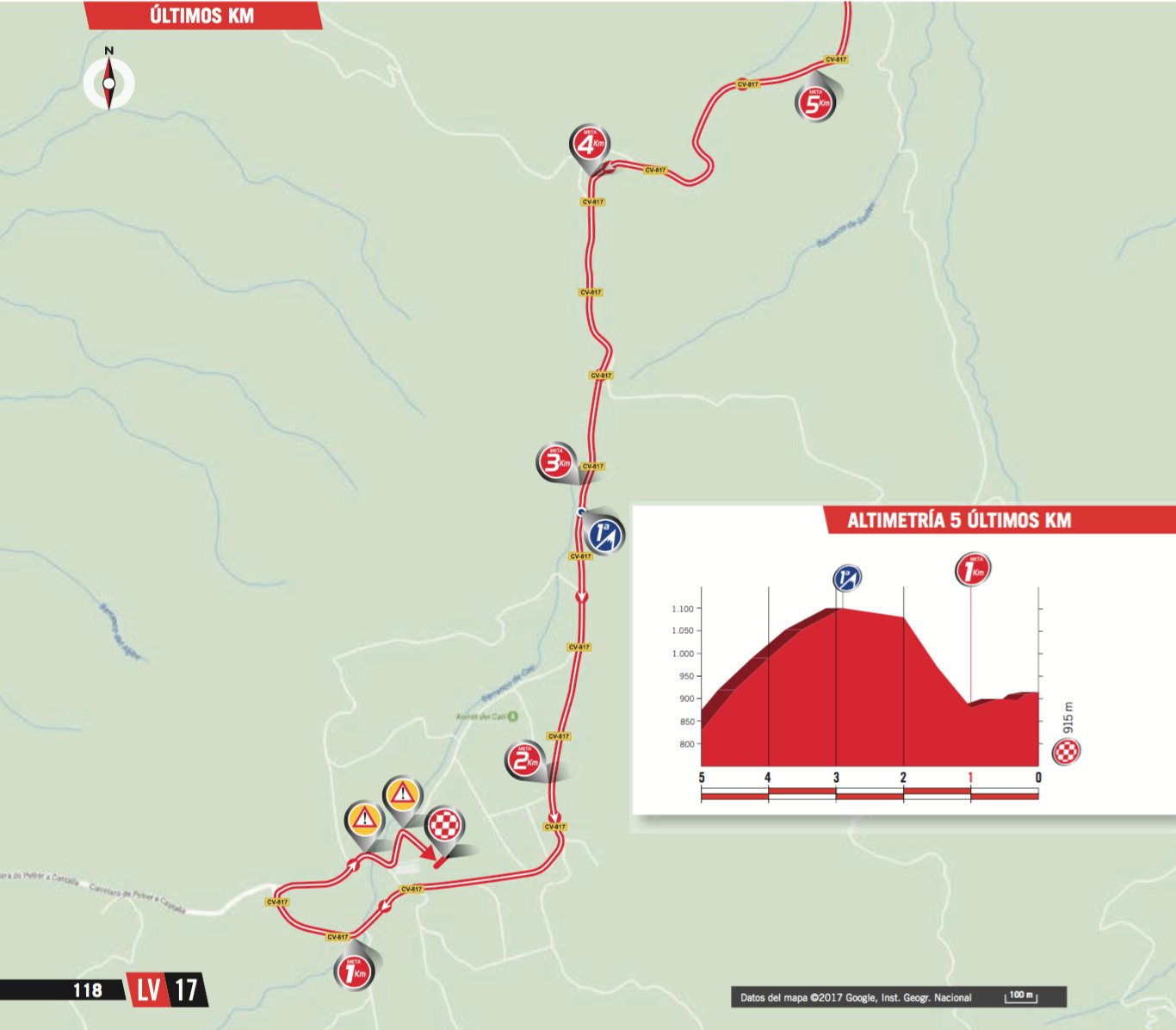 The race doesn't finish at the top of the climb, mainly due to the fact it's in the middle of nowhere! We have a fast descent, before a tricky final 300m. If a small group arrive together, the rider who leads through the final corner will have a great chance of success. There is little time for anyone to come from behind.
Weather
Hot and humid. The wind is relatively strong and is coming from the East. That means headwind for much of the day, but not for the final climb. Bad news for the breakaway.
Breakaway Hopes
Not great. The flat stage makes it hard to establish a big lead and easy for the peloton to control. Saying that, this is the Vuelta, and even in these stages the break has a better chance than normal.
Contenders
Alberto Contador – what a weird week it's been for Alberto. He was awful Monday, but has looked at his very best since that point. He thinks he was little unwell and that is why he lost 3 minutes in Andorra, clearly he's been much better since. He seemed to easily follow the moves of Froome, as they climbed to Alcossebre, then he was the one attacking the following day. He seemed to stretch Froome to his limit, on Thursday, it was noticeable that only a handful of riders were able to follow his attacks on a cat 2 climb. Just wait for a cat 1 finish! These hills are not usually his style, but I have been seriously impressed by him in the last couple of days.
Chris Froome – seems to be at the top of his form just now. With a ridiculously talented team, he is in pole position for this stage. As the climb is only really difficult for 3km, it will be interesting to see how they use their domestiques. I think we'll see Rosa take the first big pull, handing over to Gianni Moscon. The Italian has been in incredible form, capable of leaving the peloton with only around 10 riders. The role of Poels and Nieve will depend on their legs, they seem to have difficulty following the pace of Moscon. After that, it's up to Froome. A big win in this stage and he'll demoralise his rivals.
Esteban Chaves – was looking in great form, but there was a little sign of weakness on Thursday. The Colombian failed to respond to one of Contador's attacks and was dropped from the front group, luckily he managed to make it back on the descent. That wasn't a great moment for him and one that doesn't fill me with a huge amount of confidence. With three credible GC options, Orica are in a wonderful position, but the tactics of Sky have left them unable to use their extra numbers. This will happen again on this climb.
Tejay Van Garderen – the American was able to follow the attacks of Contador, unlike Chaves. Such a shame he crashed on the climb and again as we headed for the finishing line. He says that he's okay, but I'm still concerned these crashes will have an impact on his performance. Such a shame, as he has looked back to his very best.
David De La Cruz – another rider that crashed on Thursday. Luckily for the Spaniard, it did seem to be an okay crash, as it was on a 12% gradient! This season has already seen him taking big strides forward and it's clear he's in top form. It would take a huge effort to win this stage, but I wouldn't rule him out. He'll be motivated to show Team Sky what a talent they have signed.
Prediction Time
No break and a big GC fight on the climb. Expect to see some of the big names lose time as Team Sky go crazy on the double digit gradients. It looks like a day for Chris Froome. He can win solo, or from a small group.
David Hunter
Follow us on @CiclismoInter
Join us on facebook: Ciclismo Internacional
Copyright © 2012-2017 Ciclismo Internacional. All Rights Reserved