Vuelta a España 2019 – Stage 14 preview
By David Hunter
San Vicente De La Barquera – Oviedo 188km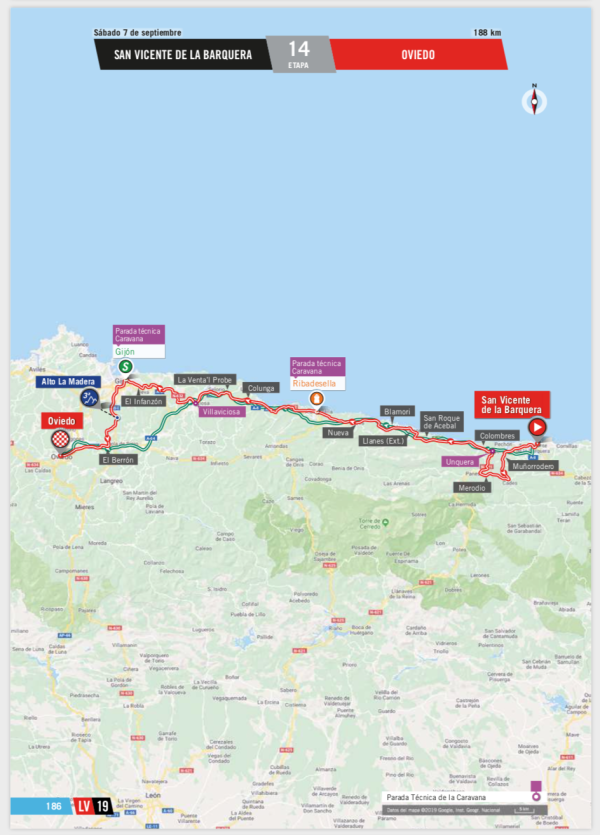 The sprinters have had to wait for a long time, but eventually they get another opportunity.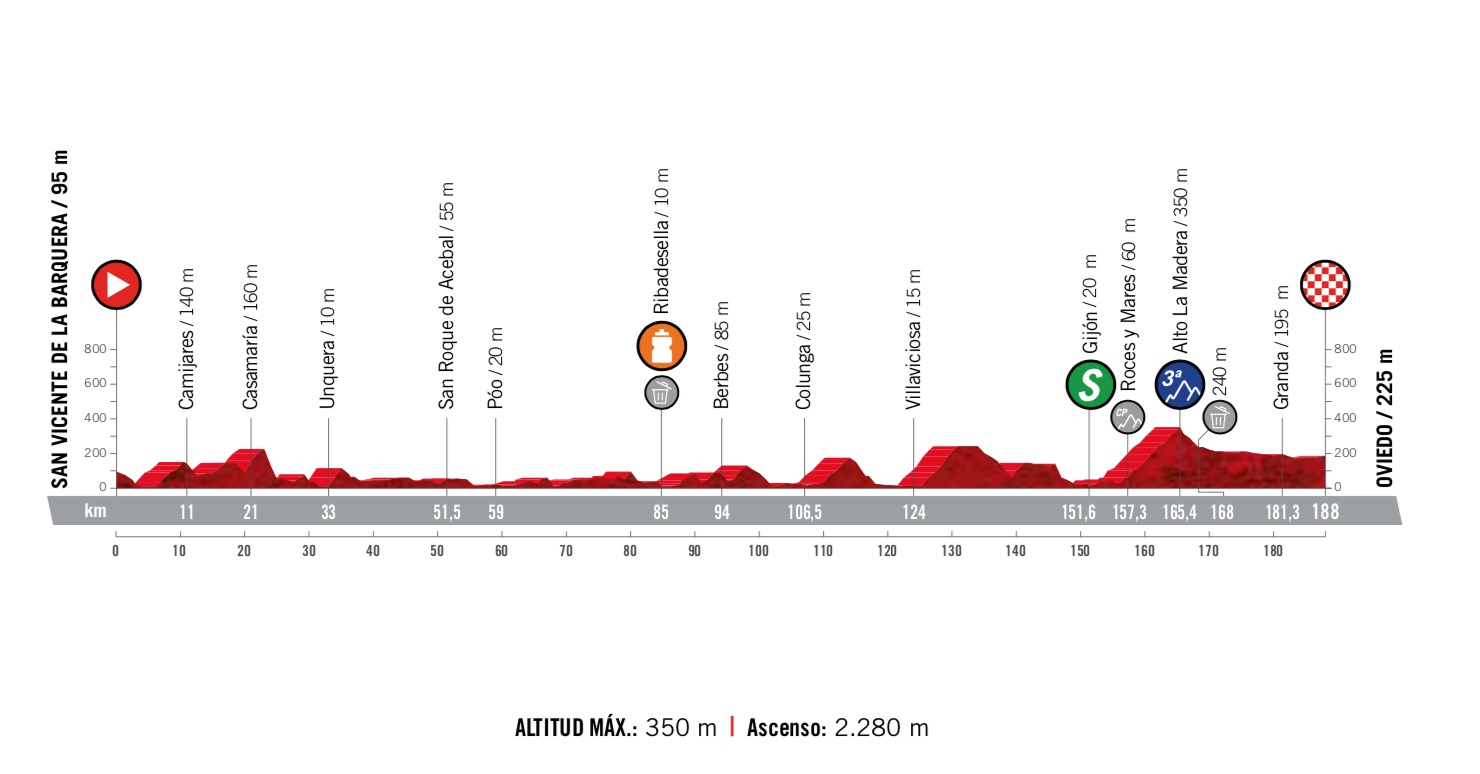 The only thing that can stop the sprinters is the weather, as most of the day is spending hugging the coastline.
Weather
The wind is not playing ball. Conditions look perfect for an easy day in the saddle and a sprint finish.
Finale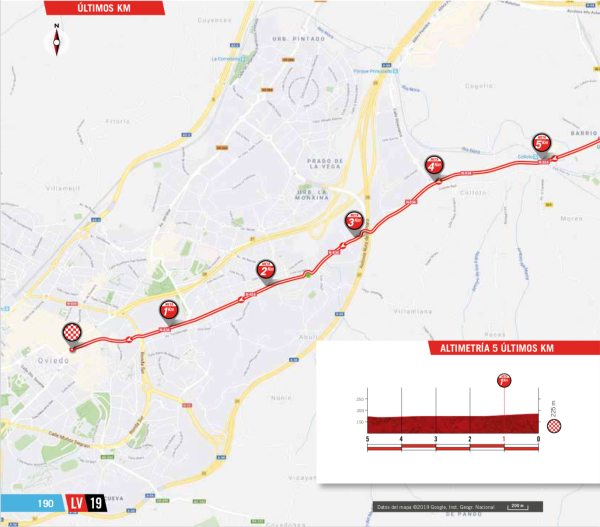 Long and straight. The final 5km is very straightforward, allowing teams to get in position for the sprint. As we've seen before, these sprints can be tricky to get right, timing and patience are key.
If teams haven't done their homework, they'll be in a for surprise. In classic Vuelta style, there isn't even a hint of this in the road book. The final 2km rises at 2.6%, with a maximum of 9.4%, and there is a 600m section at 6.1%, which crests with just 260m to go. This is not a typical sprint finish; in fact it begs to be attacked. Will one of the sprinters be brave enough to launch an attack, risking it all for a stage win?
Positioning will be very important in the final 5km. All the sprinters will want to be right at the front for the tough 600m section, as it tops out with just 260m to go. If you lose wheels on the climb, there just isn't time to make it back up before everyone starts launching their sprint. A rider like Sam Bennett will be worried about this finish, not because he can't cope with it, but he'll be concerned about riders launching a late attack. With domestiques likely to be struggling, who will cover the late move? Or will we see a sprinter decide to roll the dice and attack before the sprint? This should be a great finish to watch.
Contenders
Sam Bennett – the Irishman will look at this finish with a degree of confidence, he handles short hills very well. Bora don't have a lot of men to chase all day, especially if they want any type of train to support Bennett in the closing kilometres. 2019 has been a wonderful year for Bora and Bennett, but they seem to be locked in a battle about what will happen in 2020, I wonder if that will start to prey on his mind. He'll start this stage as the favourite, but it won't be easy for him to take his second win.
Fabio Jakobsen – took his first grand tour win back on stage 4, that seems a long time ago. The Dutch sprinter is very fast, but some of his lead out men will also like the look of this finish. We'll have to see if QuickStep will allow the likes of Gilbert and Štybar to attack on the ramp and see if they can get a gap. This isn't something they usually do, when they commit to their sprinter, they fully commit, it's one of the reasons they're so successful. Can Jakobsen remain in a good position after the little bump?
Fernando Gaviria – this hasn't been his race, not yet anyway. The Colombian crashed hard in the TTT, was dropped before the sprint in stage 2, and was nowhere the next day. What I like is that he's continued on, and not stepped off his bike. With few opportunities since, it would have been very easy for him to simply quit and focus on easier races. As he's hung around, you can be sure he'll be super motivated for this stage. Gaviria is a wonderful sprinter, and if he's at 100% he'll have a say in sprint finish.
Luca Mezgec – this is exactly the type of finish he enjoys. The Slovenian doesn't have the top end speed to match the likes of Sam Bennett, but he can cope very well with some hills. Mitchelton-Scott haven't won a stage yet, and this is one of the best chances they'll have in the remainder of the race. Unfortunately, they don't have a long sprint train to support their sprint, but Dion Smith is good enough to get him into a top position and he's one that shouldn't lose any position on the little ramp.
Trek – will it be Theuns or Degenkolb? For this stage the Trek DS has decided to change things up a bit and let the winner of the nightly game of Jenga be the designated sprinter! Joking aside, both riders will like the look of this finish, but only one will be allowed to sprint. If I was the DS, I'd let one of them attack, and the other sprint.
Jon Aberasturi – now, you might be wondering why I've got the Caja-Rural man in this section, I think it's his first ever appearance. He might not have the fastest sprint in the world, but he has a dynamite uphill kick. If he's going to win this stage, he needs to launch his sprint on the ramp, forgetting about the fact we have around 260m of flat before the finishing line. Aberasturi has the power to drop everyone and solo to the line. Given the way the "smaller" teams have been performing in this race, it would be great to see them taking another win.
Late Attack – take your pick from Gilbert, Štybar, Valverde, Aranburu, Bevin and Van Der Sande. A well-timed attack could steal the stage.
Prediction Time
The sprint teams will ensure a small break gets up the road and it will be controlled by Tim Declercq, and we'll get our sprint. The ramp in the final kilometre is difficult, but still within the capabilities of the fast men, but a late attack could well surprise everyone.  Saying that, I'll still go with Sam Bennett.
David Hunter
Follow us on @CiclismoInter
Join us on facebook: Ciclismo Internacional
Copyright © 2012-2019 Ciclismo Internacional. All Rights Reserved