Vuelta a España 2019 – Stage 19 preview
By David Hunter
Ávila – Toledo 165.2km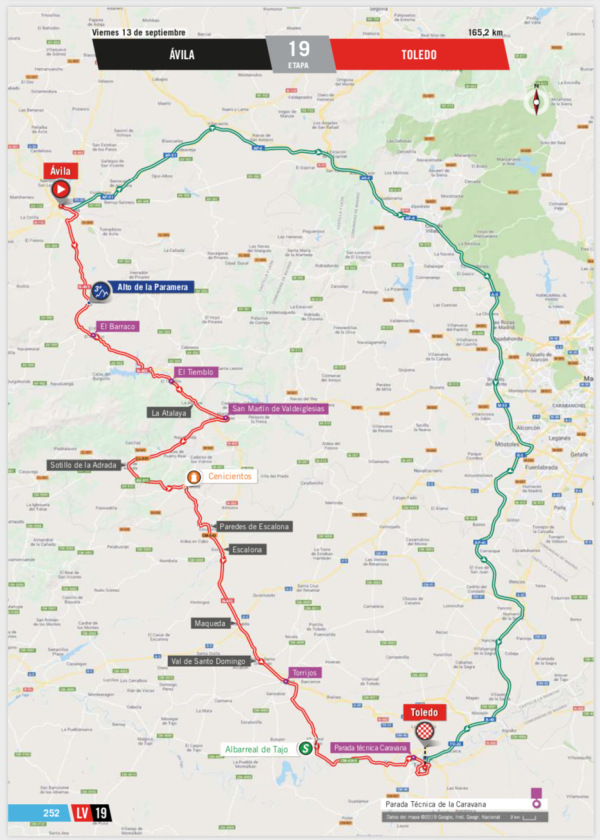 One for the sprinters?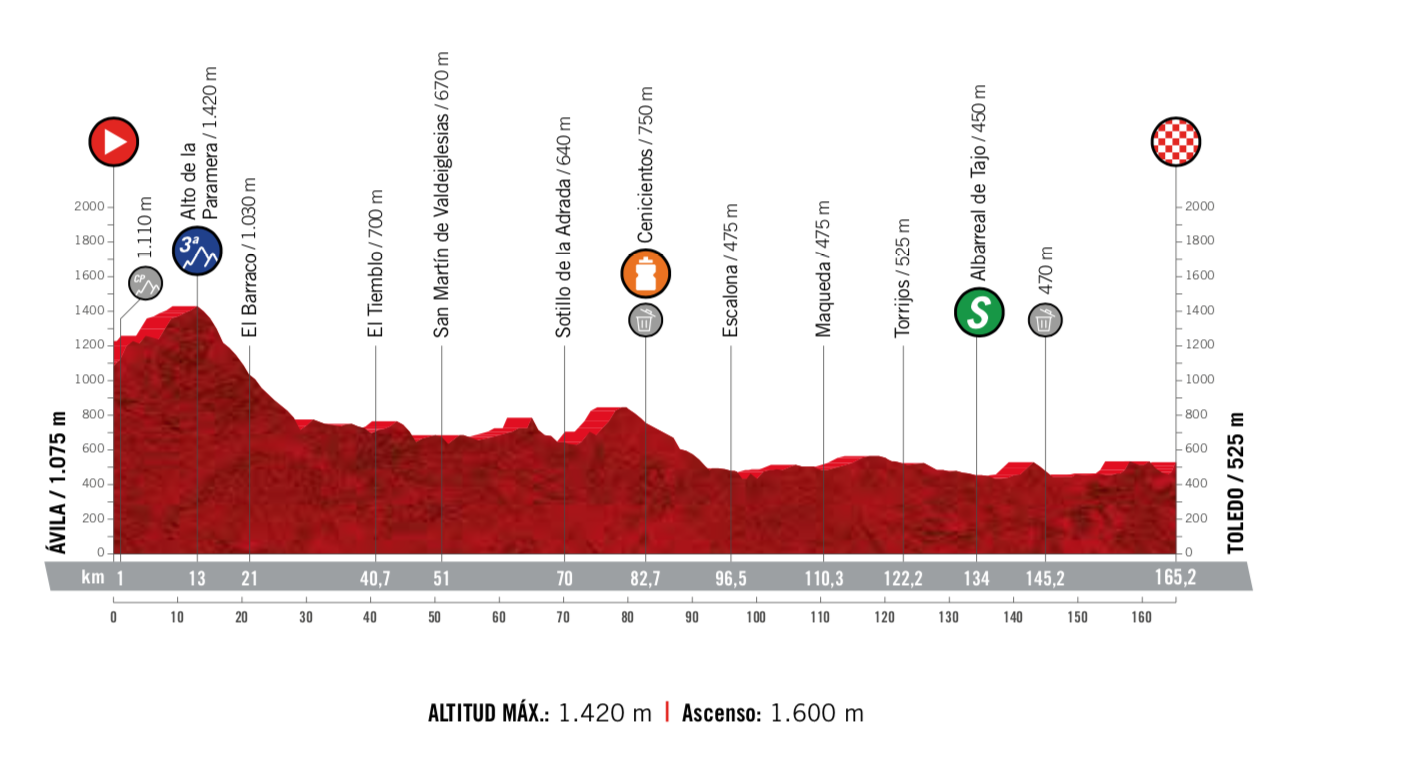 Looks nice and easy, doesn't it? Time to take a closer look.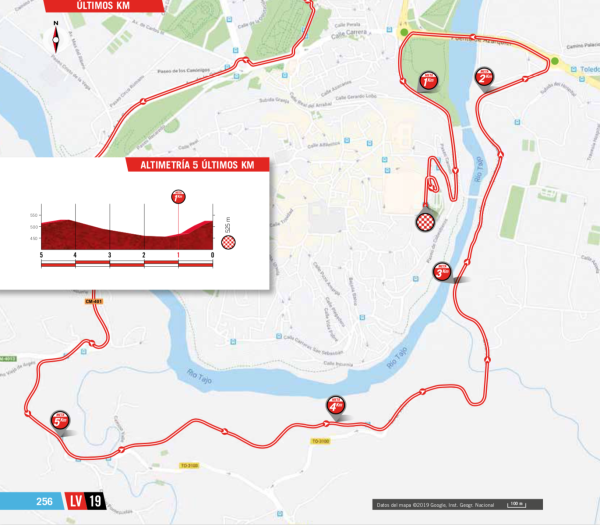 Just before the final 5km, the riders have a little bump of around 700m at 7%. It has some double-digit sections, but the riders will approach it at speed, and they should be able to fly up it. This cannot be said about the final kilometre. Before getting there, we have a fast descent and the peloton travel over a bridge with around 1.5km remaining. Of course, positioning is important.
This is a stunning finish, but I don't think the sprinters will be thanking anyone. As you can see, the final 700m rises at 7.9%, if that wasn't enough the last 500m of this is on rough looking cobbles. This finish is both amazing and horrible, depending on who you are. It is far too hard for the majority of sprinters, probably even all of them. The issue is that they take a tight turn with 500m to go, which will kill any speed they are carrying. Without momentum, the sprinters will find it very hard to get going again. Such a shame for any quick men who simply glance at the road book and assume this is one for them. Gilbert won here back in 2010, but the final kilometre was different, as the riders didn't turn right and head up the cobbled climb.
Weather
Quite a lot of rain in due in Toledo, around about the time of the stage finish, there is even a weather warning for thunderstorms. If the cobbles are wet, it increases the difficulty tenfold. Not only that, but we should have a lot of crosswind tomorrow. Did Roglič just drop his bottle? The wind forecast is not the same on all sites, but it looks like the start won't be too bad, but the wind will increase as the day goes on. As it comes from the east, it means we have great conditions for echelons, but will we get any?
Please note, some sites are predicting a southernly wind, which would make it a headwind. We'll just have to wait and see which way the wind blows.
Tactics
I don't think we'll see a repeat of Wednesday, when the race split from the very start. The opening kilometres are quite open, but the peloton then head through a section that is well protected by trees. I would wait until kilometre 100, when things are very exposed. What lies ahead is 40km of exposed roads, with the wind coming directly across the riders. Make no mistake, Roglič could lose the red jersey if he isn't right at the front of the race. Forgot about stage 20 in the mountains, this is the most important moment in his career. Once we hit kilometre 140, we head east and directly into a headwind, but if gaps are already big, they won't get smaller as we head for home.
Who will benefit from making the race hard? Wednesday showed us that Movistar, QuickStep, Trek and Sunweb are the teams who can handle the wind, but can they do it again? First of all, the wind has to blow, there is no guarantee of this. Due to the exposed conditions, the wind doesn't actually have to be that strong for echelons to happen. Can it happen? Yes. Will it happen? We'll have to see.
Contenders
QuickStep – take your pick from their super talented squad. The finish is perfect Gilbert, even if we have a full bunch. If the wind blows, they'll have to ensure that James Knox is well protected. He rode well on Wednesday, but with fatigue setting in, he'll need to get back in big Tim's pocket! Štybar, Cavagna, Gilbert, Declercq are all great in the wind, as is Richeze, although he didn't make the split on Wednesday. They have to start as the favourites for the win.
Sam Bennett – this finish is too hard for him. He could still challenge for the top 10, but the cobbles and the gradient will be too much for him to handle.
Alejandro Valverde – the great man will sniff blood. I was actually amazed that he missed the move on Wednesday, he won't make the same mistake twice. This represents a huge chance for him to put pressure on Roglič, in his quest to win his second red jersey. Even if they don't manage to drop the Slovenian, the stage win could be a bonus for the world champion. The final 700m looks perfect for Bala, can he net another win?
Dylan Teuns – can cope with the wind, can sprint up a hill. This doesn't look too bad for the Belgian.
Tosh Van Der Sande – another Belgian who loves the cobbles. Tosh recently won a stage in the Tour de Wallonie, which had a tough cobbled finish. He's been close to winning here on two occasions, but he's ended up in third place. This is a very good finish for him, but after such a demanding race, how will his legs respond?
Trek – yet again, we have Theuns and Degenkolb, two riders who'll love this finish. Both can handle the weather conditions, particular with Alex Kirsch by their sides. I have no idea who'll sprint, if we get one, maybe they'll just let both of them have a go. If I had to choose one of them, I would say the finish is better for Eddie.
Prediction Time
Right, time to get my head on. The more I look at that 40km stretch of road, the more I think we'll see big splits. As we saw on Wednesday, it's not very easy predicting who'll make the cut. The final kilometre is too hard for the sprinters, but perfect for the puncheurs, which makes me think this is a clear choice between Gilbert and Valverde. 700m at 8% is just tipping it in the favour of the Spaniard, I'll take a stage win for Alejandro Valverde. I'll let you decide if he ends the day in red.
David Hunter
Follow us on @CiclismoInter
Join us on facebook: Ciclismo Internacional
Copyright © 2012-2019 Ciclismo Internacional. All Rights Reserved