Vuelta a España 2021 – Stage 14 preview
By David Hunter
Don Benito > Pico Villuercas 166km
Back to the mountains we go.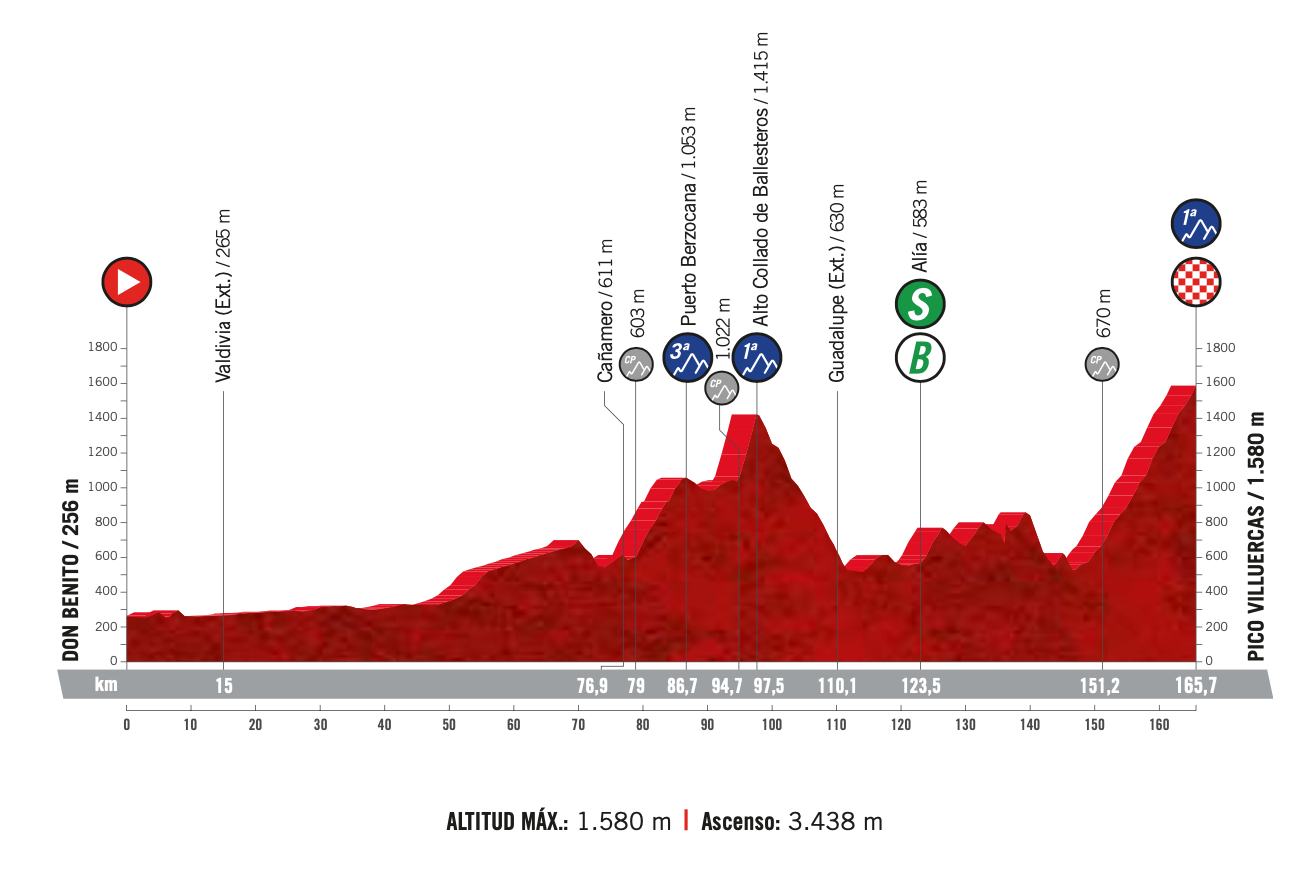 The peloton had a little rest today, they better be ready for another day of carnage. This is a new stage for the Vuelta, none of the climbs have appeared in the race before. We have a flat start; the road doesn't start to rise until 80km into the stage. The way things have been going, the break will probably form around this point. This race has seen crazy racing at the start of the mountain stages, it really is very difficult to get up the road.
Once the break does form, we'll have to see who wants to chase. Roglič already has two wins, Jumbo-Visma don't have to chase. Wanty are in red, they won't be chasing. Ineos are not having a great time, they are unlikely to chase. If the break is going to get caught it's down to Bahrain and Movistar. Bahrain have been keen on getting in the moves, and Movistar only have four domestiques left in the race. If Bahrain get a man in the move, I think it should be another day for the break, it really has been a great race for the attackers, and it's likely to continue.
Weather
Another hot day, the riders will be starting to really feel it by now.
Key Points
This isn't going to change the outcome of the race, but I had to include it due to the difficulty of the climb. Almost 3km at 13%, that sounds insane! Such a shame it's in the middle of the stage.
19km at 5.5%, that's a long climb. The opening half is nice and steady, the second half is very irregular, the riders won't be able to settle into a rhythm. It's hard to judge how hard it's going to be as I've never seen the climb and there is no streetview images either. It looks like there are lots of resting points, and steep sections perfect for attacks. Kuss and Roglič love the steep gradients, it looks like a climb which suits them well.
Tactics
It's over to Movistar, they are the team with everything to gain. Roglič has looked in brilliant form, but so does Mas. I would say this is the best I've ever seen him, and López is looking good too. Movistar have two strong options to play on the climbs, but Roglič hasn't shown any weakness yet. It's hard to imagine a scenario where he ends up under pressure, but Movistar will try. The problem for the Spaniards is a lack of firepower, they only have Verona as a climbing domestique. They don't have the men to make the final climb hard, they have to let others dictate the pace and then try and strike when the group is reduced. This decreases their chances of doing something special, it's a real shame Valverde crashed out.
Ineos look a spent force, I'm not expecting much from them, but I am excited to see what Jack Haig can do. A crash ruined his Tour de France, but he looks capable of doing something special in this race.
This day is an important one in the battle for the KOM jersey, this will likely shape the type of break we get. Caruso is the current holder, but Bardet isn't far behind. Both look interested in fighting for the jersey, it should make for fun watching over the next week.
Contenders
Damiano Caruso – his stage win on Alto de Velefique was exceptional, he clearly has amazing legs. After taking a surprising second place at the Giro, Caruso is enjoying the best form of his life. Bahrain will look to make the morning break, it won't be easy, but they have made the important breaks in this race. They can't throw their whole team behind this, as Haig needs help, but Caruso will have some teammates to help try and make the morning move.
Wout Poels – he might be Caruso's helper, but he'll also hope to have some freedom. He was up there on Tuesday and has been looking to jump in breaks earlier in the race. He came very close to winning a stage in the Tour de France, I think he'll get a stage in the next week, but will it be this one?
Michael Storer – another rider who seems to be in the form of his life. Storer looks incredible just now, like Ben O'Connor in last year's Giro. With incredible legs another stage win isn't out of the question, especially as DSM can throw everything behind making the break. It's been a while since a breakaway rider won three stages in a grand tour (I'm not sure if it's ever been done), but it wouldn't surprise me to see Storer achieve this.
Romain Bardet – he's not managed to win a stage yet, but he has looked in great form. He was in the winning break in the Alicante stage, but Storer was the man who got up the road and took the win. He was then in the break in the Velefique stage, but Caruso dropped him with his big attack. Bardet then popped up in 6th place in Jaén, before almost staying away with a bold attack in Córdoba. His form is clearly very good, he just needs a little bit of luck and he'll get his stage win. His win in Burgos was his first outside of France, he seems to like riding in Spain.
Primož Roglič – if it comes back together, he'll obviously be the big favourite. It's hard to imagine a situation where he doesn't cross the line first from the GC group.
Enric Mas – to win Movistar will have to ride a perfect race. They need the front group to be small, then López launches a big attack forcing Roglič into covering and burning energy. Just after that Mas needs to go over the top and pray that Roglič can't respond. It's not very likely, but they still need to believe.
Adam Yates – he's looked in this race, but hasn't got the results to show for it. He'll want to go long, will it stick?
Prediction Time
I'll take a breakaway win for Romain Bardet. Allez Romain! Back in the GC group I think we'll see Roglič drop everyone and move back into red.
David Hunter
Follow us on Twitter and Instagram
Join us on facebook: Ciclismo Internacional
Copyright © 2012-2021 Ciclismo Internacional. All Rights Reserved