Vuelta a España 2021 – Stage 17 preview
By David Hunter
Unquera > Lagos de Covadonga 186km
We head back to Lagos De Covadonga.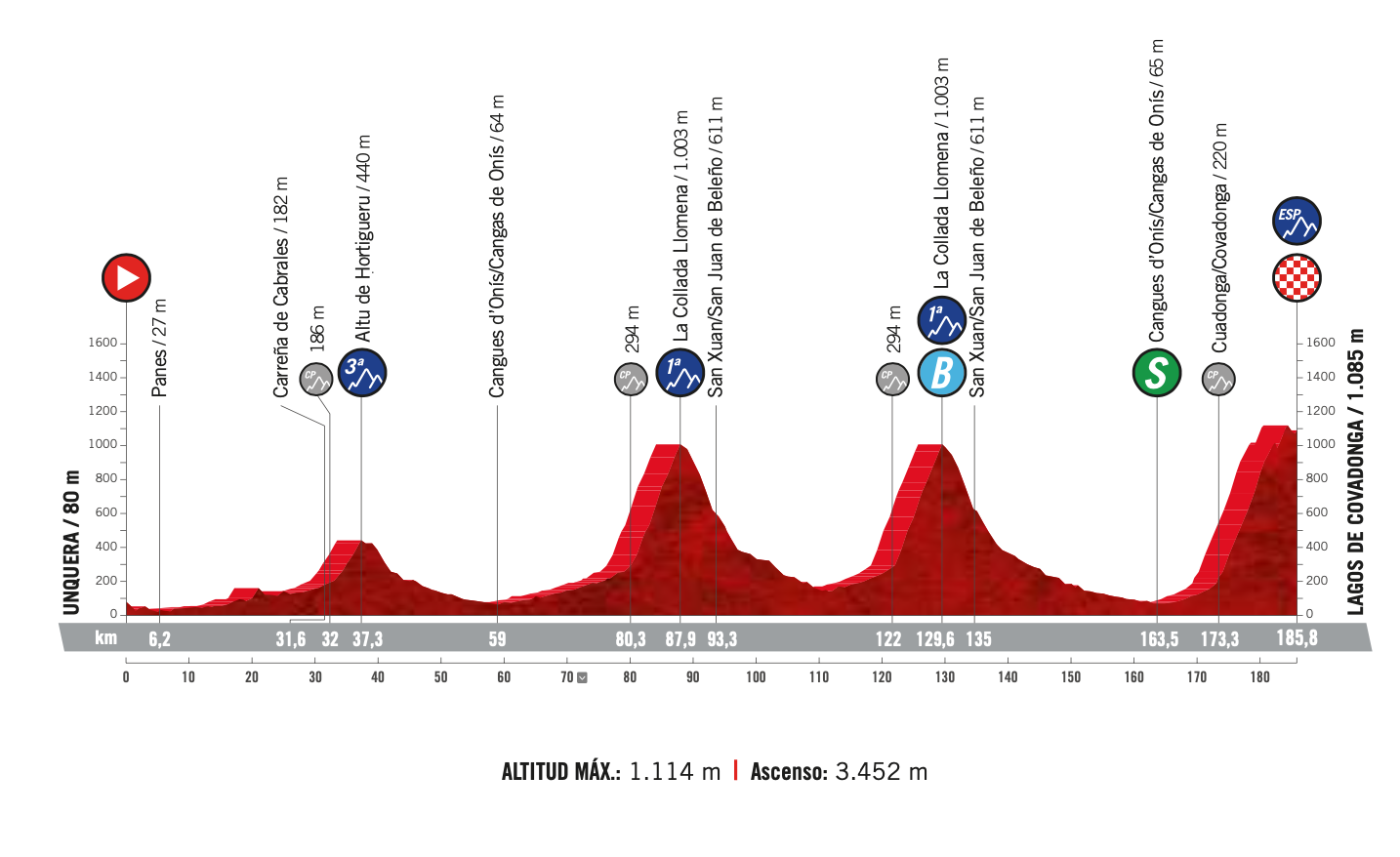 The first of three big mountain stages in just four days. 3532m of climbing isn't the hardest mountain stage in the world, but it's still going to hurt. The race last finished here in 2018, when Pinot took a brilliant win, two years previous it was Quintana crossing the line first. This is a classic climb made for the pure climbers.
Weather
After two weeks of glorious sunshine, the riders could be in for a big shock. Temperatures will be down to around 20 degrees, and we could see a lot of rain. A big storm is due in the afternoon, but it could miss the bunch. If it doesn't, we're in for an epic day.
Key Points
We climb La Collada Llomena on two occasions, and it's a tough one.
12km at 7.3%, but that includes two downhill sections close to the finish. A proper mountain test, and the gaps could be big.
Tactics
Who will chase the break? Both Ineos and Movistar are down to just six men, that's a big problem for them. The Spaniards only have Verona as a climbing domestique, they cannot chase the break. They can't even make the pace hard at the start of the final climb, they need to hope someone else does this. Ineos only really have Sivakov as a proper climbing domestique, but riders like Pidcock and Van Baarle can be used on the early slopes of the final climb. Neither team looks capable of chasing down a sizeable breakaway.
The only team capable of setting up a stage win are Bahrain – Victorious. They still have a full team, and one full of climbing talent. The problem is that Jack Haig is unlikely to beat López, Mas and Roglič in a stage like this. Given the riders at their disposal, I think Bahrain have a better chance of winning the stage from a breakaway. How they decide to approach the stage will determine if the break survives or not.
So far in this race Jumbo-Visma have looked like a team in total control. They have a full squad at their disposal, and it looks like Oomen, Kruijswijk and Kuss are still in good form. There will be a slight worry about the weather, Roglič has previously shown a little weakness in rainy conditions, but I think this has been overexaggerated. The team will be switched on at the start, they don't want a potentially dangerous rider getting in the break. Then they can sit back and simply wait and see what the other teams do. This stage isn't really made for a long-range attack, it will all be about the final climb. Being able to save their men for Covadonga means Roglič will have help quite far up the mountain, that will be a huge help. Will anyone be able to put him under pressure?
The battle for the break will again be crazy. The first climb comes after 34km, that's when the break is likely to form, even though it's only 4km at 5.5%. Either the break goes here or on the flat soon afterwards, which should mean we see some climbers in the move. Today is a big day in the battle for the KOM jersey, there are 43 points available throughout the day. DSM have a full team to try and help their leaders make the break, they've been brilliant at this throughout the first two weeks. Bardet has a good lead in this competition, but there's still a long way to go as this week has a massive number of points available. Once thing is for certain, if DSM don't have either Bardet or Storer in the move, they'll look to chase it down.
So, will the break take their eighth win of the race? It all depends on the composition of the move. The break will need quite a few climbers to hold off the bunch once the GC riders start to attack. It will also need to have a Bahrain rider, as they have the firepower to chase it down. If it contains climbers and a good Bahrain rider then I think it's another day for them.
Contenders
Bahrain – take your pick from Landa, Caruso, Padun and Poels. Caruso has already shown his quality in this race, Poels has been looking okay too. Padun has been quiet, but he doesn't normally cope well with the heat, he should be much better now we're in the north. Time will tell with Landa, I don't have high hopes for him. Mäder sits a little too close on GC to be allowed into the break, he'll need to wait his time before going for a stage win. If Caruso gets in the move, he'll be a hard man to beat as Covadonga is a great climb for him.
DSM – Bardet and Storer have been brilliant in this race, as have the whole team. Bardet will look to try and defend his KOM jersey, but he'd also like another stage win. DSM have been excellent at getting multiple riders in the breaks, if this continues, they are more than likely to add to their three stage wins. Both men have great legs, it would be cool if both make the break again.
David De La Cruz – he sits just over 7 minutes down on GC, that's enough to buy him some freedom. The Spaniard would love to take a win on home soil, this climb is a good one for him. He's not always the best descender, hopefully the downhills will be dry for him. It will be interesting to see him go up against the likes of Caruso and Storer, I'm not sure if he's currently better than them.
Rafał Majka – incredibly stage win on Sunday, but that effort is likely to still be in his legs.
Geoffrey Bouchard – I do like the plucky Frenchman. He's been in multiple breaks in the race, but he's been unable to take a win. At times he looks amazing, the next second he's out the back door. He'll be hoping for a good day as he looks to try and take his first pro win.
Ion Izagirre – did someone say rain? He's back up in his part of the world, and the weather is much more to his liking. Do not write him off because of the first two weeks.
Mikel Nieve – crashed hard at the stage of the race, and he's slowly been getting back into form. He might be 37 but he still oozes class.
Mauri Vansevenant – he's not enjoyed the heat down in the south, the weather should now be much better for him. I'm interested to see how he goes on the big climbs; it will give us an indication of the type of rider he can become in the future.
Primož Roglič – does anyone want to drag him to the line? It's looked so easy for him in the first two weeks, but you can never be sure how the body will react in the third week of a grand tour. This should be a climb that suits Roglič, his rivals will be wondering how they can beat him. He'll need to be careful to watch López and Mas, but he can let the Movistar duo chase the attacks of Bernal and Yates. He really is in a great position and would be the massive favourite to win the stage if the break is caught.
Adam Yates – he keeps attacking, something that we love to see. On Sunday he eventually got a little gap as López struggled to follow his move. He does sit quite far down on GC, but he's a dangerous rider to let back into the fight for red. This is his only grand tour of 2021, maybe he'll be the freshest as we head into the final week.
Enric Mas – he'll be marked by Roglič, that will make it almost impossible to take the win. It could free López up to make a move, but he's not looked as strong as his teammate in the first two weeks. Mas did crash today, hopefully it was nothing serious.
Prediction Time
I think stage 20 is very likely to go to the breakaway, that means the GC riders only have stages 17 and 18 left to try and win a stage. As it stands only Roglič has a stage win, all the other GC riders are still looking for one. Will this force the GC teams into chasing down the morning break? It is very hard to tell, it does depend on what Bahrain do.
My gut says break, especially with a very tough stage to follow on Thursday. Making the break will be hard and the winner will have to be a brilliant climber. No doubt we're in for another battle between DSM and Bahrain. I'll take a win for Wout Poels, he loves the rain. In the GC battle, I think Roglič will be back in red and with a bigger margin on his main rivals.
David Hunter
Follow us on Twitter and Instagram
Join us on facebook: Ciclismo Internacional
Copyright © 2012-2021 Ciclismo Internacional. All Rights Reserved