Vuelta a España 2021 – Stage 18 preview
By David Hunter
Salas > Altu d'El Gamoniteiru 163km
The hardest stage in the whole race.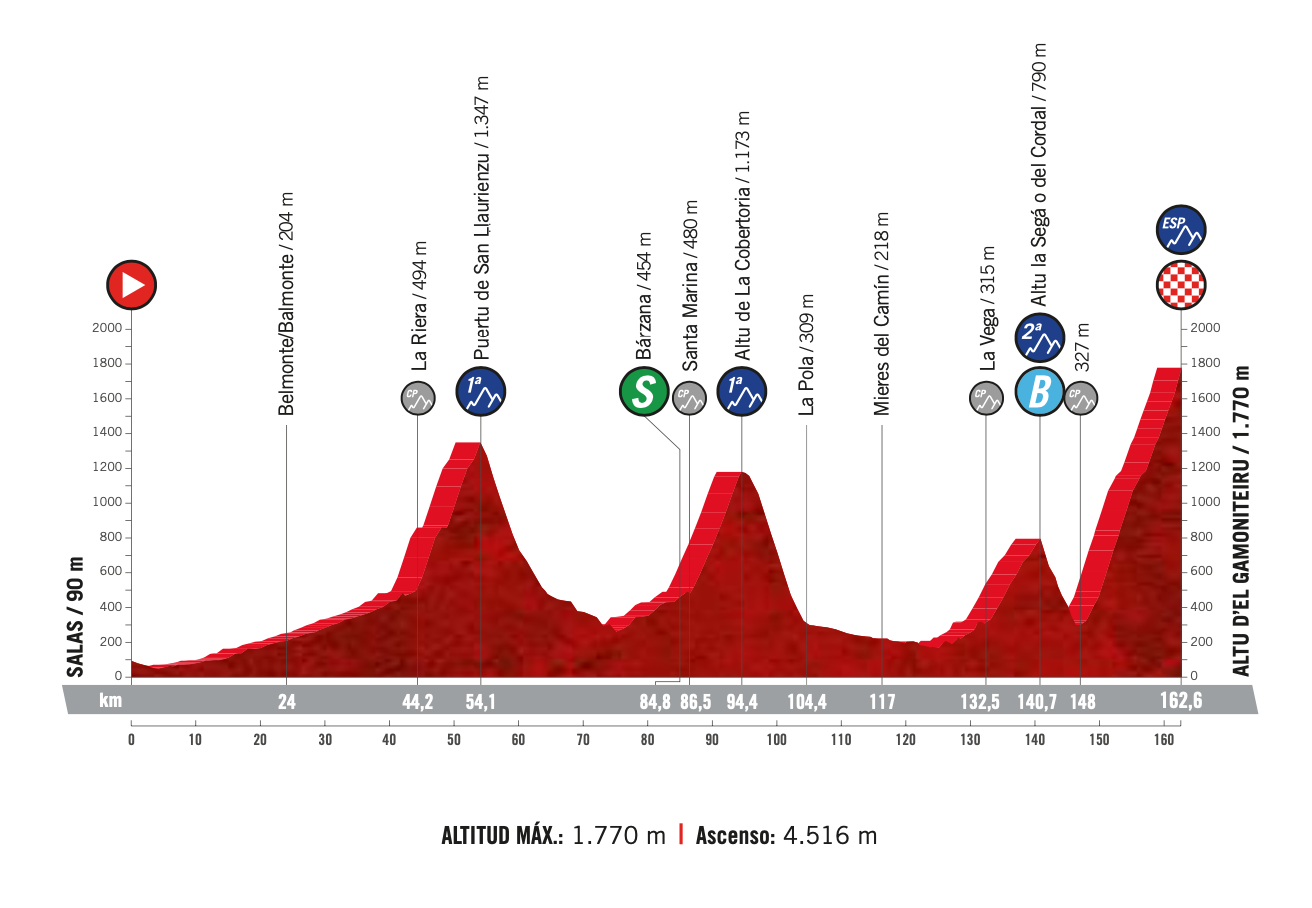 This is a huge day in the GC battle. I'm hoping for utter chaos.
Weather
There will be some cloud, but it doesn't look like rain. The temperatures will only be around 20 degrees, we'll have to see if anyone suffers due to today's rain.
Key Points
Starting after 44km of the race, Puertu de San Llaurienzu is perfect for the strong climbers to make the break. We might already have a group up the road but expect to see the best climbers make a move here, it really is a demanding climb. We have two distinct sections; both are incredibly difficult. The decent is fast, but quite nice.
Altu de la Cobertoria is another brut of a climb, perfect for a strong break to press on and stretch out their advantage.
Altu d'El Gamoniteiru is a new one to the race, where has it been all my life? 14.7km at 9.8% sounds awful, luckily, I'll be watching and not cycling. Expect enormous gaps and maybe a few surprises. The first half of the climb they descended after Altu de la Cobertoria, then they go onto a new stretch of road. The two steepest sections are both close to 5km at 11%, it really is a horrible climb, one of the hardest  of the season.
Tactics
Your guess is as good as mine! This is the Queen stage, the hardest day in the whole three weeks, it could be a blood bath. We have 4431m of climbing in just 162.4km of racing, that's one hell of a mountain stage.
A weak break will probably go early in the stage, followed by a larger group on the cat 1 climb. All the climbs are very difficult, this is a day for the best climbers in the race to shine. No one is even close to the level of Roglič, I don't think we'll see anyone overly interested in chasing the break, but you just never know.
Some will hope that Roglič is tired after today's effort, but this is very unlikely, he looks a million dollars. It's a shame that we reach the Queen stage with the race situation like this, but it is good news for the breakaway riders. The move will feature some great climbers, this is a climb where the best rider will win, no clever tactics.
I see two scenarios:
The easy way – a big group escapes on the first climb and it features all the riders capable of climbing a proper mountain. This will include David De La Cruz, but someone like Gino Mäder is unlikely to get a free pass as he is a rival for Bernal's white jersey. This break is never seen again, and the GC riders wait until the final climb before testing each other.
The hard way – GC teams attack on the first climb, and we have full gas racing.
Which one would you prefer?
Contenders
Michael Storer – made today's break, but it wasn't to be. He already has two stage wins and he seems to have maintained his good condition. If we get a big breakaway forming on the first climb, he'll be there and then we'll have to see if the GC group will chase. The Aussie has to start as one of the men to beat.
Damiano Caruso – the KOM jersey is starting to look hard to get, I hope he turns his attention to a second stage win. The Italian is clearly in great form, and Bahrain must look to get in the break. If he makes it, he knows that DSM will try to mark him, but having good legs will help him to break free.
Clement Champoussin – went very well today, an indication that his form is good, and he should be challenging in this stage.
David De La Cruz – tried to get up the road today, but it didn't work. He'll try again tomorrow.
Jan Hirt – usually comes good in the third week of a grand tour, his result today was a sign the legs are good. Wanty no longer have the red jersey, Hirt will have freedom to attack.
Primož Roglič – does he want another stage win? The final climb is one that he'll like, and he's clearly the best man in the race. If the other teams bring it back together, Roglič will finish it off.
Sepp Kuss – if it does become a GC day, just watch for Roglič giving his mate a chance of taking the win. There are few better when the gradient goes above 10%.
Prediction Time
A breakaway win for Michael Storer, he still seems in great form. Roglič will consolidate his lead, with Movistar cementing second and third.
David Hunter
Follow us on Twitter and Instagram
Join us on facebook: Ciclismo Internacional
Copyright © 2012-2021 Ciclismo Internacional. All Rights Reserved