Vuelta a España 2021 – Stage 19 preview
By David Hunter
Tapia > Monforte de Lemos 191km
We have a brief pause in the GC battle.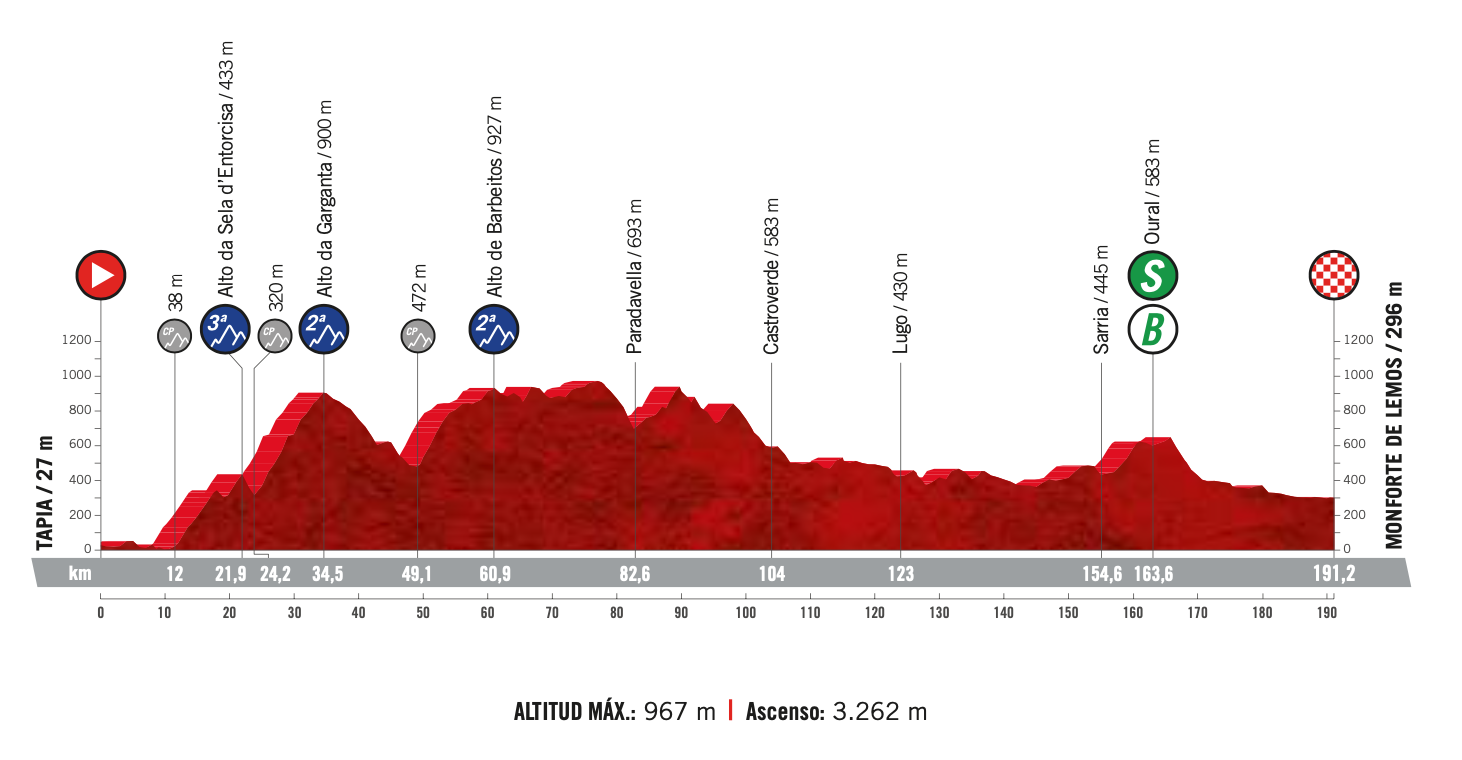 This is a stage which will interest many riders. It's too hard for pure sprinters and not hard enough for the pure climbers. That opens the door for the super sprinters, time trialists and puncheurs. It really is a stage that can be won by many riders in the peloton.
Weather
Cloudy sun and nice temperatures.
Key Points
The stage begins with 12km of flat, then a very demanding 50km stretch. There are three categorised climbs in this section: 9.9km at 3.9%, 10.3km at 5.6% and 11.8km at 3.8%. The average gradients are quite low, but all climbs contain steep sections.
Tactics
Will UAE, BikeExchange or EF try to control for a sprint? EF don't have enough men, the burden to chase will fall on the other two teams, but this isn't an easy stage to control. The start will be very challenging for most riders, they're all knackered at this point.
If the pace is too easy then it opens the door for the sprinters as the last 130km is straightforward. I don't think any team will be keen on drilling the climb and then continuing to push on for the rest of the stage, it's a day for a large break to escape and never be seen again.
The fight for the break will be crazy, it's a shame the whole stage isn't live. It should form on one of the early climbs, but it could take over one hour before this happens. To make this move you must have lots of strength left, something most don't have after such a challenging race.
There are 13 KOM points at the start of the stage, which is important for those who want to challenge Storer for the jersey. The biggest challenger is his own teammate, I wonder how DSM will play it? Storer has been the best climber in the race, but Bardet has a better kick on easier climbs. Will the fact that Storer is leaving the team have an impact on how they play it?
Contenders
The Super Sprinters – step forward Matthews, Cort and Trentin. As it stands only Cort has been successful in this race, the other two will be hoping to win this stage. Trentin has been looking in great climbing form during the race, usually helping teammates in the breakaway. Matthews hasn't been at his best level, apart from a brilliant performance in Cullera. He'll be hopeful, but maybe not confident of winning this one. Then we have Cort, he's been sensational over the last three weeks, he really is a brilliant rider. All three will hope to make the break, I don't think anyone will be brave enough to try and control for a sprint.
The Puncheurs – in this category we have Bagioli, Vansevenant and Kron. All three have impressed throughout the race but have been frustrated in their attempts to win a stage. Winning this one will be complicated as none of them can beat the super sprinters if we get a reduced sprint. They must hit the early climbs hard and hope the pace is too hot for the quicker men. Given the way Cort and Trentin have been climbing this is very unlikely. Another option is to hope the break is large and then it'll get very tactical towards the finale.
The Big Engines – this is a stage that will interest Denz, Craddock, Oliveira, Černy and Tratnik. If they make the move, they are all capable of launching a big solo effort later in the stage.
Prediction Time
I'll take a win for Matteo Trentin, he's looked very impressive recently.
David Hunter
Follow us on Twitter and Instagram
Join us on facebook: Ciclismo Internacional
Copyright © 2012-2021 Ciclismo Internacional. All Rights Reserved