Vuelta a España 2021 – Stage 20 preview
By David Hunter
Sanxenxo > Mos 202km
A beautifully designed stage.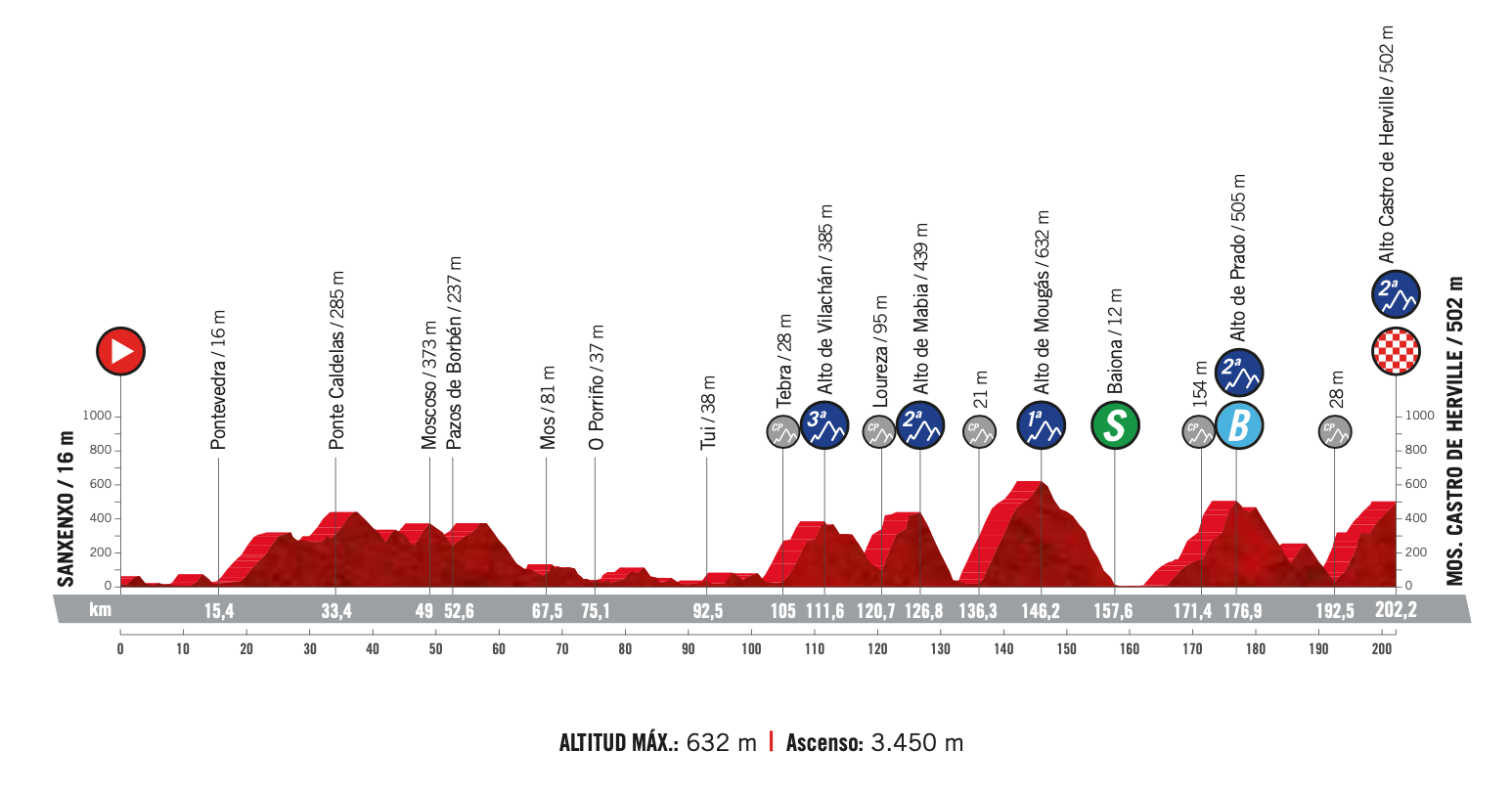 For the final road stage, the organisers have shied away from the big mountains and have created a very demanding stage using the rolling hills of Galicia. What they've created is a thing of beauty, a stage where the red jersey will not feel comfortable until the very end. This is ambush territory, but Jumbo-Visma know this and will be very wary of potential moves by Movistar and Ineos. As both teams are down to just five men it significantly reduces the chances of something special happening, they simply don't have the firepower.
We also have a delicately balanced KOM classification. With 28 points available in this stage, we'll see if Storer or Bardet take home the jersey. For them it's all about making the break, it certainly won't be easy with the start we have. The opening 50km is lumpy, but without a classified climb. Making the break at this stage of a grand tour takes legs, by this point you either have them or you don't. It doesn't matter what type of rider you are, if you have good legs you'll be in the break.
Weather
Cloudy sun and comfortable temperatures.
Key Points
The opening 60km doesn't have a classified climb but the rolling roads are perfect for the break to form.
The final 100km is hellish. We have five categorised climbs, fast descents, narrow roads, and a route that reminds me of a one-day classic. Despite the different classifications, all the climbs are relatively similar, it's only really the length that differs. The average gradient is around the 6% mark, but they all have double digit sections. The worst of it is the start of the final climb, it is incredibly steep and narrow.
Tactics
Who wants to throw a grenade? Bahrain is the only team with lots of domestiques, they can make the race hard, but does it suit Jack Haig? The simple answer is no, and his chances of moving up to 3rd place are very slim. Ineos would love to shake things up, but with only three domestiques it's almost impossible to ride an offensive race.
The issue they and Movistar face is the strength of Jumbo-Visma. If a GC rider launches an early attack, the Dutch squad will have lots of riders available to chase down the move, it really would be a suicide mission. It's a shame for those wanting a crazy day, but it's the reality of the situation.
If I was in charge of Bahrain, I'd free up Gino Mäder from domestique duties. He's 7:48 down on Roglič and not even a real contender for the podium, he could get freedom. The problem is the white jersey, he sits 3:05 behind Bernal, but Ineos don't have the riders to chase him. If Mäder goes for a long one it would have to be Bernal who reacts. It's a long shot, but Mäder looks like their best option in a stage like this.
Speaking of Bernal, he seems to be riding into some serious form. He's not a threat to Roglič, he could get a little freedom if he attacks in the finale of the race. Maybe I should change that to when he attacks, I love the way he's come out swinging in the final week.
Then we have the Movistar duo of Mas and López. They have their stage win and currently sit in 2nd and 3rd. How will they approach this stage? Will they go full for another stage win? They're not catching Roglič, another stage would be a good result for them. López will also be keen on getting a little more time on Haig. He currently leads by 1:43, I think he'd be happy starting the TT with a 2-minute advantage.
And I've not even talked about the breakaway yet! At this point in the race, it is almost impossible to predict if the break will take the stage. Bahrain has a 4-minute lead in the team classification, they'll want riders in the break, as Jumbo-Visma will likely have three riders finishing high in this stage, and they are also better in the TT. If Bahrain want to win this classification they need a good rider in the break, someone who can go the distance.
The fight for the KOM jersey will also have an impact on the stage. DSM would like to get Bardet or Storer in the move, that would seal the polka dot jersey. Roglič is their only threat, but it's very unlikely he'll be able to take points until the end of the stage.
So, we'll get a break containing DSM and Bahrain riders, a peloton with GC teams short on numbers, it does look promising for the break.
Contenders
Primož Roglič – if it comes back together the final climbs are great for him. He still looks in brilliant form, but I don't think Jumbo-Visma will look to chase the break. If it does come back together, watch for Roglič wanting to take another stage.
Egan Bernal – I've been impressed with his attacking spirit in the third week. He's not a threat to Roglič, but López won't be keen on his fellow Colombian getting a gap on him. If the legs are good, he'll attack, we'll then see if anyone can respond.
David De La Cruz – came close to a sensational win on Thursday, expect to see him roll the dice again. The Spaniard has great form just now, and he isn't a threat on GC. He'll hope the break is relatively close and attack on the penultimate climb.
Michael Storer – his form just now is unbelievable, he's a joy to watch. He can outclimb every other breakaway rider, and he'll be keen on getting in the move to seal the KOM title. If the break stays away, he's already shown that no one can touch him when the road goes up.
Romain Bardet – he's looking good, but not as strong as Storer. If Bardet makes the break and Storer doesn't, he'll win the KOM jersey and could also win the stage. He's a seasoned grand tour rider, I expect him to have some energy left in the tank.
Damiano Caruso – he looks the best option for Bahrain. You wouldn't say this is his typical stage, but if his legs are good, he should be challenging for the win.
Mauri Vansevenant – the one-day nature of this stage suits his characteristics. With lots of little steep climbs contained in the second half of the day he'll fancy his chances. If he makes the break, he'll be a hard man to beat.
Prediction Time
Someone will probably chase down the break, I have no idea who! The race situation is perfect for someone a little off the podium to take the stage win and I'll go for Egan Bernal. I don't see gaps between the top 3.
David Hunter
Follow us on Twitter and Instagram
Join us on facebook: Ciclismo Internacional
Copyright © 2012-2021 Ciclismo Internacional. All Rights Reserved