Vuelta a España 2021 – Stage 4 preview
By David Hunter
El Burgo de Osma > Molina de Aragón 164km
Either this stage will be another sprint, or the wind will blow, and the race will be utter chaos.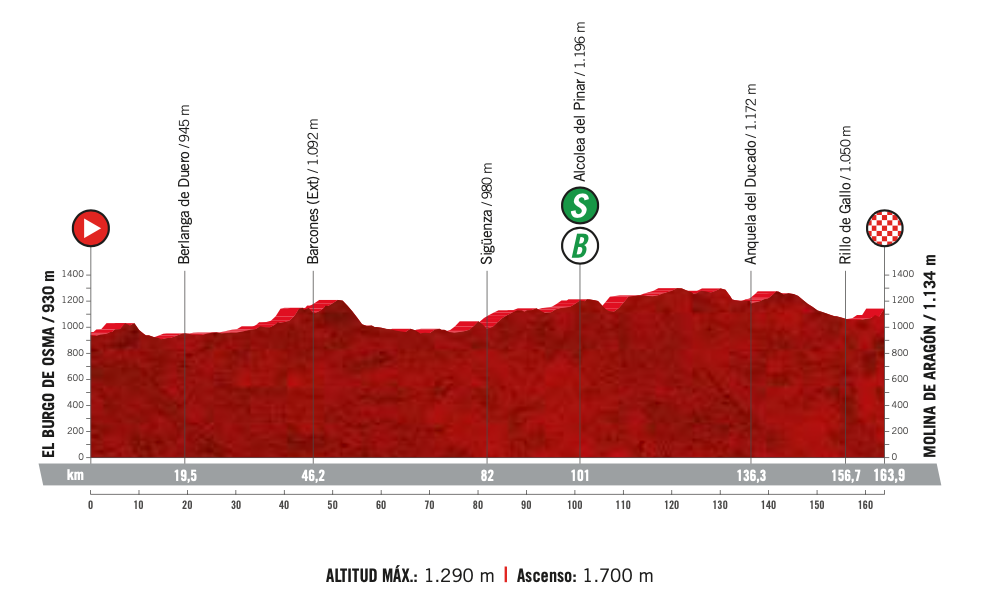 The roads in this part of the world are very exposed to the elements, there is a chance of echelons in this stage.
Weather
Another sunny day and the wind will be around 15km/h.
Echelons
The race heads south-east and the wind is coming from the north-east, that means lots of crosswind throughout the day, but the wind doesn't look strong enough to me, but you just never know.
This section comes early in the day, it's a lovely cross/tailwind.
The run for home does have some exposed sections. At this point the pace will naturally be high, but the wind will only be 13km/h, that's unlikely to split things.
Tactics
Today we witnessed a return of peloton poker, but this stage should be well controlled by the sprint teams. The GC boys can take a back seat but will need to be careful if the wind blows stronger than predicted.
Finale
The run for home is a straight road, but we do have a very tight turn with just 1.2km to go.
This is the big problem, the ramp up to the finishing line. It might only be 400m, but it does average 5%, it's a tough way to finish a stage. Don't get me wrong, it's still a stage for the sprinters, but they'll need to be strong.
Please note that the official road book suggests the final kilometre is harder than what I see using VeloViewer, they think the final kilometre averages 6%. I've doubled checked it and I think VeloViewer is right.
Contenders
Jasper Philipsen – won the opening sprint and he's even better when it kicks uphill. I remember watching him back in the 2018 Tour of Utah where he won a tough uphill sprint. The Belgian copes much better than some other sprinters when the road kicks uphill. His sprint train did a good job in the opening stage, if he starts this sprint near the front he'll be a hard man to beat.
Michael Matthews – managed a podium on Sunday, that was an impressive result considering it was a flat sprint. The Aussie is much better in a finish like this, but he would prefer it to be a little longer. Just 500m of uphill isn't that long considering the bunch will hit it at pace. He could win, but it won't be easy.
Arnaud Démare – just like the other two riders already mentioned, this is a perfect finish for the Frenchman. He'll have been disappointed with the first sprint stage, but he was stuck behind his lead out man Guarnieri, and he suffered a mechanical. I wouldn't read too much into that result.
Fabio Jakobsen – he was very close to winning stage 2; this is another good chance for him. On Sunday his sprint train lost contact with each other, they need to make sure they stick together as a unit of four. I think we'd all be happy to see him win a stage.
Juan Molano – I picked him for the opening stage, and he did have a great position, but didn't have the speed required to win. He's another who likes an uphill finish, but he needs to time his launch better.
Jon Aberasturi – very quick sprinting uphill, but he'll start the sprint too far back.
Alex Aranburu – incredible form, but the finish isn't hard enough for him to beat the sprinters.
Prediction Time
I think we'll see Fabio Jakobsen take the win, he was very close on Sunday.
David Hunter
Follow us on Twitter and Instagram
Join us on facebook: Ciclismo Internacional
Copyright © 2012-2021 Ciclismo Internacional. All Rights Reserved