Vuelta Ciclista al Pais Vasco 2014 – Stage 4 preview
By David Hunter
Stage 3 Recap
A perfect prediction from myself. Everyone knew that this was the sprint stage, so much so, that only Ruben Fernandez went in the break. When he was brought back, with over 30km to go, there wasn't any other attacks. As I predicted Swift is no where near the quality needed and Bling Matthews took a very easy victory.
Stage 4 Vitoria – Eibar 151km
Time for the Queen stage.

The riders face the well known stage finish in Eibar/Arrate. It's not all about the end climb though, as the riders first have to tackle 3 cat 2s and a cat 1.
All of these climbs will hurt and in other races the opening two would be cat 1 climbs. By the time the riders reach the final climb, the peloton will be greatly reduced.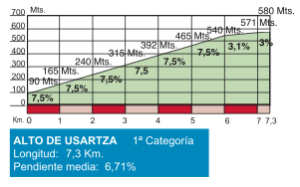 The Alto de Usartza is not the most difficult climb, but after this stage it will be hard. It has a very consistent gradient, which suits the less explosive climbers. In 2013, a group of 7 riders crested together and then headed for the short downhill. Nairo Quintana jumped away with 300 metres left to take the win, despite the presence of 2 Sky riders.
As it is the Queen stage, the break will have no chance of survival, even if it has large numbers. All the big riders will want to win the stage and the pace up the final few climbs will be blistering. There are a lot of riders that "could" do well, but in reality only a few will survive.
Alberto Contador – in brilliant form and has already won 2 mountaintop finishes this year.
Alejandro Valverde – also in amazing form and has won 1 mountaintop finish this year.
These two have been a class apart in 2014 and in this race. They are the ones attacking and not many will be able to follow them in stage 4. Contador also has the advantage of having Roman Kreuziger in his team, he really missed him in Catalunya.
The other rider that has really impressed has been Michal Kwiatkowski. He arrived saying that he was preparing for the Ardennes and not looking towards GC. I have a feeling that he will finish a long way down tomorrow.
JC Peraud – Won the Criterium and was 4th in Tirreno, but said that he had heavy legs after stage 2. Can he maintain his form? He should finish high but not near the top 2.
Cadel Evans – A very impressive performance in stage 1, but doubt he will cope with this stage.
TJ Van Garderen – In my opinion, the only rider capable of staying with the Spaniards tomorrow. He was disappointing in stage 1, but this is more his style. He knows he will pick up time in the ITT and this provides a great opportunity to go for the top 3 in GC. He's also won a mountaintop finish this year.
Of course there are many other great riders here: Rui Costa, Cunego, Nieve, Pinot, Kiserlovski, Mollema, Gesink, Spilak, Trofimov, Rolland, Barguil, Caruso, LL Sanchez and David Arroyo. They are excellent riders but not anywhere near Valverde and Contador.
I expect the 2 Spaniards and the American to reach the top of the climb together and then head on the downhill. That should mean that Alejandro Valverde will win the stage, as he is the fastest in a sprint. Contador won't mind too much as he will do a better TT than Valverde and has 58 seconds of an advantage on the American.
Prediction time …. Alejandro Valverde.
David Hunter
Follow us in facebook https://www.facebook.com/CiclismoInternacionalLatinoamerica?fref=ts …