Vuelta España 2020 – Stage 10 Preview
By David Hunter
Castro Urdiales > Suances 185km
A finish that's harder than it looks.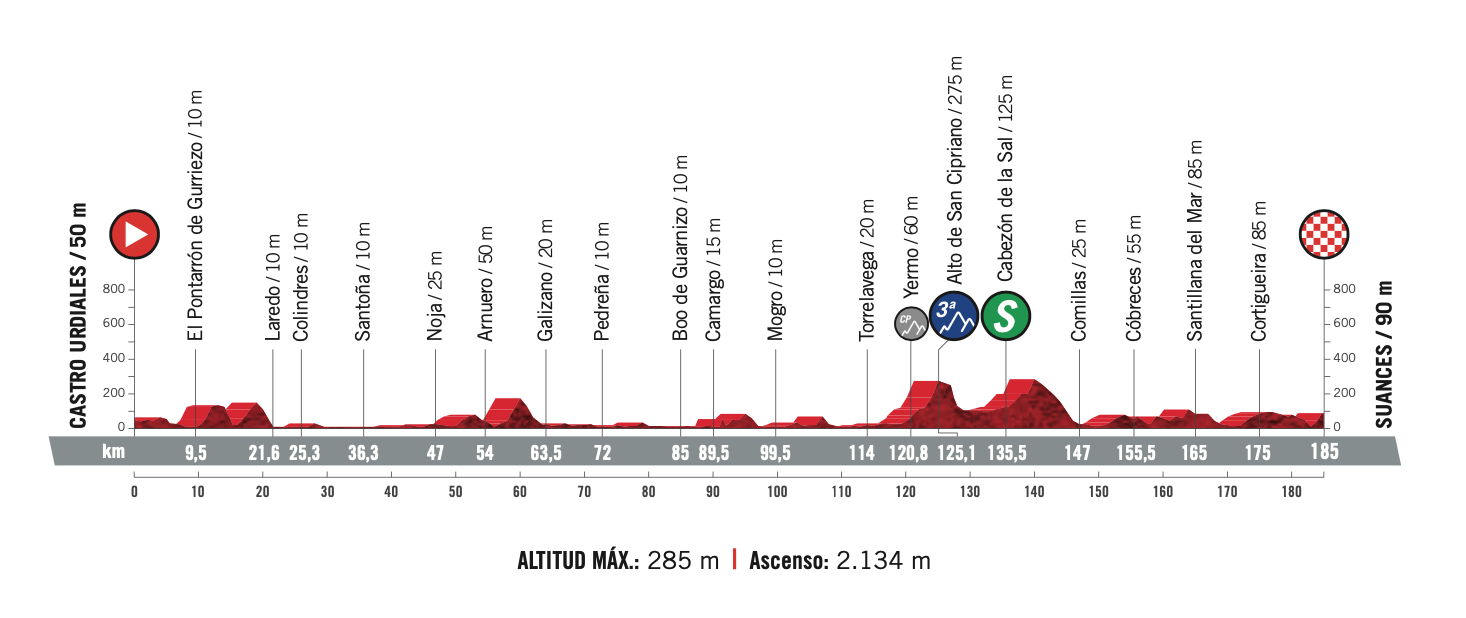 Will the sprinters think they can win this stage? Yes.
Will the sprinters win the stage? That's a hard one. Let me think…
Weather
A cracking day, I don't know why people were worried about racing in the north of Spain in late October!
History
We were here in 2008, but the stage was harder than this. When the bunch got to the finish, the peloton was already quite small, and Bettini won the sprint ahead of Rebellin and Cunego. The final kilometre seems to go on forever, it is harder than it looks on paper.
Breakaway Chances
It depends on if the sprint teams think they can win. If so, they'll happily control the break and set up a big finish. It's not a bad day to be in the break, you just don't know what's going to happen back in the bunch. Two climbs of 2km at 5% come between km 10 and 20, which is a good spot for the break to form. The chase will depend on the attitude of QuickStep, UAE and Bora.
Finale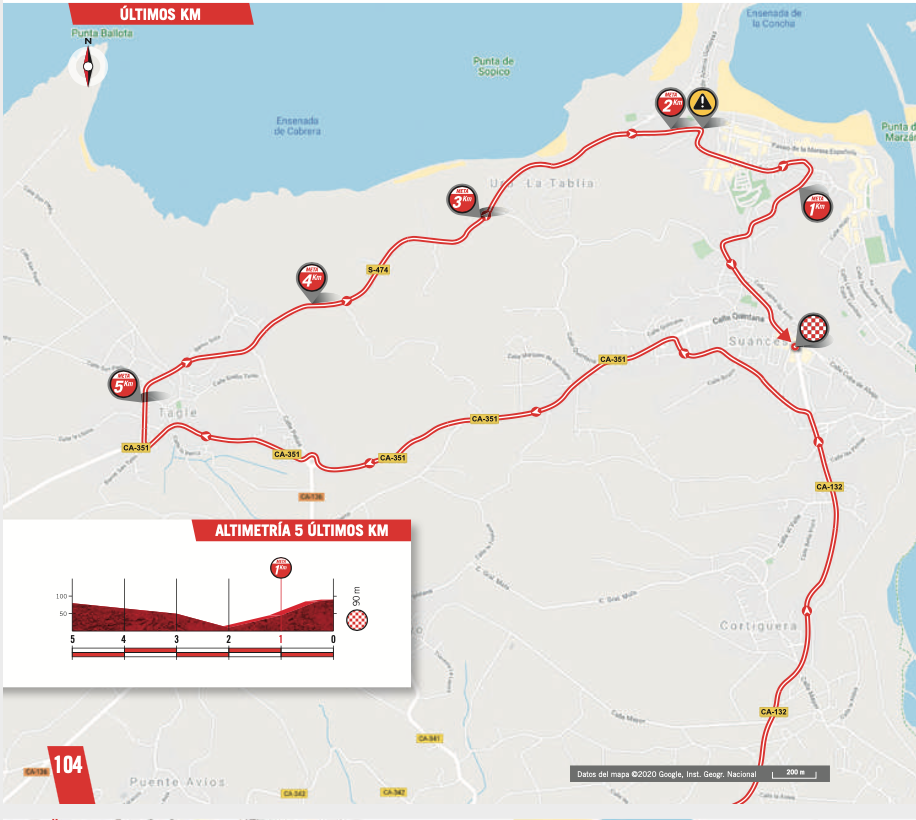 The final 30km is constantly up and down, but without anything that should worry the sprinters. The big issue is the last 1.3km.
Averaging 6.6% this a tough way to finish a sprint stage. The last 700m will be relentless, with someone likely to attack and test the quick men. This is the point where we could see some start to go backwards, making it impossible to win the stage. If a sprinter is going to win this, they must stay almost at the head of the bunch for the final kilometre. This will not be easy; the pace is likely to be very fast.
Contenders
Sam Bennett – this finish is fairly similar to last year's win in Oviedo, but I think that finish was a little easier than this one. He also took a very impressive win in Burgos this year, smashing up a tough kicker in the final kilometre. The Irishman does well in this type of finish, but he would prefer the climb to be a little shorter than it is. I think this finish is right on his limit, but he is in great form just now. Having a very strong team will also help.
Pascal Ackermann – he does climb well, when in good form, but I'm not sure about him. This stage comes halfway through a very mountainous grand tour, I expect him to already have heavy legs and think he could well go pop in the final 500m.
Jasper Philipsen – the Belgian will like the look of this one. As a future classics star, he'll be confident of hanging tough when the climbing starts, but staying right at the head of the pack will not be easy.
Magnus Cort – what a brilliant finish for the Dane. He has a very fast sprint, but remember he also climbs really well. EF will look to make the final kilometre very hard; they need to make sure the three guys mentioned above lose some wheels before the sprint is launched. If Cort can start the sprint with a small advantage to these guys he'll win the stage.
Tosh Van Der Sande – third last year in Oviedo, this is a great looking finish for Tosh. The Belgian is brilliant in tough finishes like this, I just hope the team back him and not Thijssen. If he gets the chance, he can surprise some of the better-known sprinters. Watch for him attacking early.
Dion Smith – not really a sprinter, not really a climber, this is a good finish for the Kiwi. Like Van Der Sande, he needs to hope that the climb is done hard enough to make the pure sprinters lose some wheels, it's up to his team to help make this happen. He recently won Coppa Sabatini, which ends with a tough little climb. Winning a grand tour stage would be huge for him.
Andrea Bagioli – if the final kilometre is much harder than it seems, and the quick men go backwards, expect the Italian to step forward. He might even try and go for a longer effort if Bennett starts to suffer.
Michael Valgren – breakaway hopeful number 1.
Remi Cavagna – breakaway hopeful number 2.
Tim Wellens – breakaway hopeful number 3.
Alex Aranburu – breakaway hopeful number 4.
Prediction Time
About as good a finish as you can get for Magnus Cort, it has to be a day for him. Although, I'm a little worried the break could go all the well. If that happens, QuickStep will win.
David Hunter
Follow us on Twitter and Instagram
Join us on facebook: Ciclismo Internacional
Copyright © 2012-2020 Ciclismo Internacional. All Rights Reserved