Vuelta España 2020 – Stage 11 Preview
By David Hunter
This is a tough stage.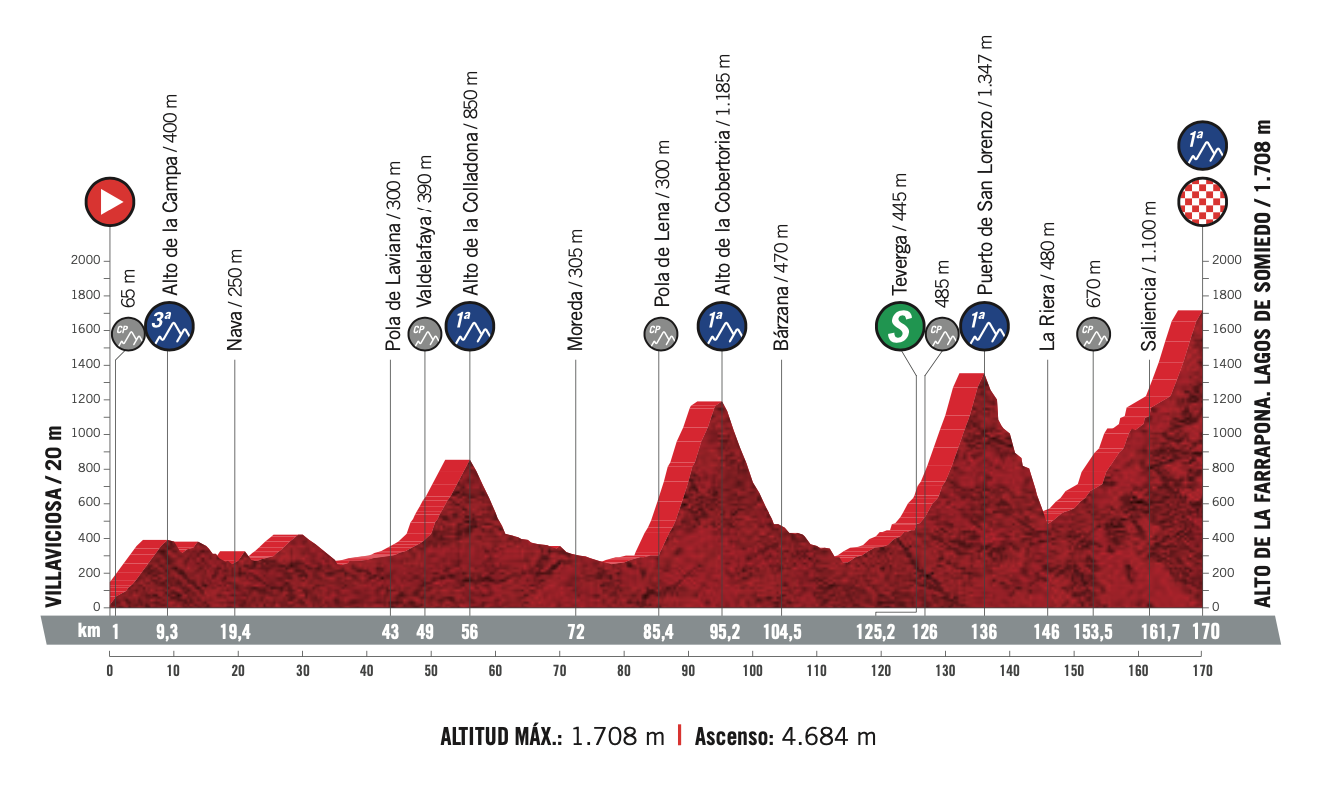 With four cat 1 climbs along the way, this stage has the ability to create some big gaps between the GC riders. This is a huge day in the battle for the red jersey.
The Climbs
It might only be a cat 3, but this climb is done right from the gun, which is brilliant news for the breakaway riders. This is where the climbers will hope the break is formed, and it's likely to be quite big.
Alto de la Colladona is a cat 1 in name only, 7km at 6.5% isn't a cat 1 for me.
Alto de la Cobertoria is the hardest climb of the day, it is brutally steep for 10km. It's a shame we have a fair distance between this climb and the next, but you never know we could still get some attacks.
Puerto de San Lorenzo continues where the last climb left off. It is 10km at 8.6% and by this point there will be a lot of tired legs.  A fast descent follows before the final climb of the day.
Alto de la Farrapona is classified as 16.5km at 6.2%, but it's the final 5km that will do the damage, it averages 9%. A tough end to a demanding day in the saddle.
Weather
Cloudy sunshine, with a relatively strong wind coming from the south-west, which means a cross/headwind for the majority of the day.
Breakaway Hopes
It all depends on who gets into the move. We've seen some chaotic starts to the mountain stages, the early climb makes it possible for a rider lurking around 4 minutes down to sneak into the move. This would mean that Jumbo-Visma would have to control the stage and get the gap at a manageable level. Going in the break's favour is the lack of super strong teams. Jumbo-Visma are the strongest, but they still aren't dominant, there is a chance of dropping some of their domestiques early on.
With so many tough climbs, this is a day where anything can happen. I expect Jumbo-Visma to come under severe pressure at the start of the race, particularly from Movistar. With three riders in the top 10, they have the team to explode the race and put the others under pressure. They won't wait for Sunday; this is a stage that is perfectly suited to them. This could be good news for the break, but you'll need to be an amazing climber to win this stage.
Tactics
What will Movistar do? They cannot wait for the final climb; Mas doesn't have the legs to beat the other GC riders. That means they must try something earlier in the stage, this is a chance they cannot pass up. Valverde and Soler are the ones a little further down on GC, they have to be used as attacking options, but will that be from the morning break? This is an option, but so is getting satellite riders in the move, and attacking on the steeper climbs. Movistar have to gone long, but how long? I expect a stage we'll be talking about for years to come.
Contenders
Primož Roglič – his win on Wednesday sent a big message to his rivals, he is still the man to beat. As he is a much better TT rider than the other GC riders he doesn't have to do anything bold this weekend, he can ride a defensive race and follow wheels. As Kuss and Bennett are likely to be with him until the end of the stage he has a significant advantage over his rivals. If we have a small group of climbers together for the final 5km, he'll win the stage.
Richard Carapaz – looked good on Wednesday, but not good enough. Carapaz is clearly in fine form, but he needs to take time on Roglič if he wants to win the red jersey, this will be hard to do. Amador is climbing well, but Sosa has been a massive disappointment. Ineos should be happy that they don't have to control this stage, they didn't have the squad to do so. Carapaz can now focus on trying to drop Roglič, but that certainly isn't going to be easy.
Hugh Carthy – the big climber is in the form of his life. He was the one who started off the attacking on Wednesday, it's great seeing someone brave enough to attack the big riders. He's still a big threat on GC, which means he won't be allowed any freedom, but he'll still try and go for it. With so many hard climbs, this is a stage that suits him well, he should be fighting for the win.
Dan Martin – another who's in great form and could challenge for the win. The battle for the podium is on, he knows that he'll lose a lot of time in the TT, he needs to take time on Carthy if he's to have a realistic chance of finishing in the top 3. Winning this stage won't be easy, but the finish is good for him.
Aleksandr Vlasov – can win if the big names look at each other. Will this happen?
Marc Soler – he could benefit from Movistar having numbers in the stage. Already with one win, a second would be a brilliant return for him.
Sepp Kuss – he could be in the same position as Soler, but is climbing much better. The American is looking great just now, but how will Jumbo-Visma use him in this stage? If he gets freedom, he can win take the day.
Ion Izagirre – breakaway hopeful number 1.
Davide Formolo – breakaway hopeful number 2.
Clément Champoussin – breakaway hopeful number 3.
Guillaume Martin – breakaway hopeful number 4.
Prediction Time
This is very hard to work out. I sense Movistar will do something spectacular and Marc Soler will take the win. When the main GC riders cross the line, I think Roglič will put more time into the rest.
David Hunter
Follow us on Twitter and Instagram
Join us on facebook: Ciclismo Internacional
Copyright © 2012-2020 Ciclismo Internacional. All Rights Reserved