Vuelta España 2020 – Stage 14 Preview
By David Hunter
Lugo > Ourense 204.7km
Breakaway day, but with a hint of a GC ambush.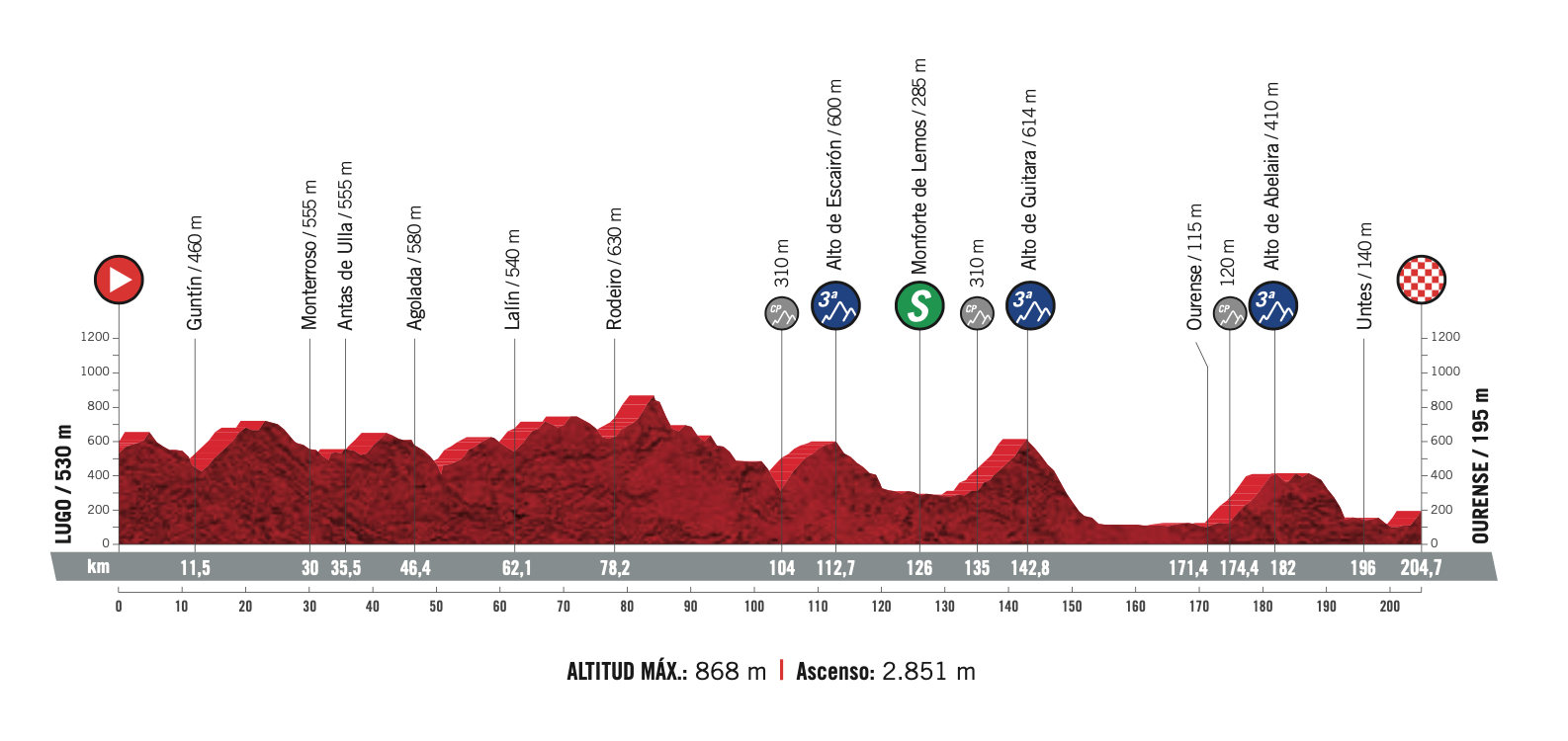 Galicia is a beautiful part of the world, but my goodness, the roads are very difficult. The opening 140km of this stage is constantly up and down, full of challenging little climbs. The rolling nature of the roads makes me slightly nervous for a couple of GC riders, do not underestimate the start to this stage.
Breakaway Hopes
As the final kilometre averages 7%, there is no way the sprint teams try to control this day. This means we'll see a fierce fight to join the morning break, it has a very good chance of staying away. The only slight concern is the attitude of Movistar, who could sense a small opportunity to split the bunch on the many ascents and descents. It is unlikely they'll succeed, especially as Jumbo-Visma are very strong, but I have a feeling they'll try.
Weather
There is a chance of some rain, and it will feel quite cold too. The wind is coming from the north, and despite a couple of exposed sections, it's unlikely to do any damage. The main issue will be if we get rain, something most GC men will hope doesn't happen.
Tactics
The start of the stage will be crazy, as nearly the whole peloton are no longer a threat on GC. The first real climb comes after 12.5km and is 6km at 4%, but the opening 4km of the stage goes uphill. This is when the climbers have to try and force the move as the next 30km is predominantly downhill. It is likely we'll see a big break, full of very strong riders. Getting in the move will take good legs, luck and tactical ability. It should really be one for the experienced riders, but some youngsters have impressed in this race.
Finale 
With 30km to go, this is the final classified climb of the day. It isn't the hardest climb, but it is narrow. After this comes more narrow roads, and some little kickers thrown in. If you don't have a sprint, this is a good point to attack.
Another one of those classic Spanish finishes that is harder than it seems. Around 1km at 7%, it features some steep sections as the riders race up to the local seminary. Some will be hoping for some divine intervention! With 700m to go, the road gets incredible narrow as the bunch filters onto the tiny road up to the seminary, GC teams will want to be right at the front for this. If this stage ends in a sprint, it could be very messy.
History 
Ourense was a fairly regular finishing town in the Vuelta back in the 80s and 90s. Laurent Jalabert won the last two times the race visited, with Sean Kelly also taking two wins in the 80s, with a Malcolm Elliott victory sandwiched in between. This finish is different from those days, it should be more selective.
Contenders
Astana – in reality I think they have four clear options for this stage: Gorka Izagirre, LL Sánchez, Fraile and Aranburu. They will start as the team to beat; they are made for a stage like this. With most of their riders still seeming to have good legs, they will animate the early stages and force the move. Ideally they would like to have multiple riders in the move, but we'll have to see about that. The finish is wonderful for Fraile, Gorka and Aranburu but how this stage plays out will depend on the size of the break.
Movistar – to defend the team classification they need to make the break, which is something they always do. Their best options would be Verona, Rojas and Oliveira but they rarely win in stages like this. I would dearly love to see Rojas taking a win after so many close things.
QuickStep – Bagioli, Cattaneo and Cavagna look their best options. Cavagna and Cattaneo have been active in the race, both have the strength required to go for a solo victory, whereas Bagioli can wait for an uphill sprint.
UAE – Rui Costa and Formolo are both strong options for a stage like this. Costa has been very active in the race so far; he looks to have good legs and will start as one of the favourites. Formolo would normally prefer more hills, but sometimes you just have to go for it.
Sunweb – the youngsters have been hugely impressive throughout the whole race. They have seven riders left in the race, all will have licence to try and jump in the move. Rob Power would probably be their best card, but don't underestimate Arensman and Donovan.
Mitchelton Scott – another squad with lots of options for a stage like this. The likes of Edmondson, Smith, Stannard and Schultz could all take the win. Stannard in particular is one I like; this is exactly the type of lumpy stage that suits his characteristics.
EF – Woods or Cort, but they need men to stay with Carthy. While some of the other squads can throw lots of riders at the break, EF will have to be careful about which moves the follow. Both men have the kick required to win given the nature of the finish.
Tim Wellens – with one win already in his pocket he can approach this stage without any pressure. His reputation means he'll be a marked man in the opening stages, everyone knows a move with him in it has a great chance of success.
Primož Roglič – I'll mention him just in case it somehow all comes back together.
Prediction Time
Best of luck trying to predict this stage! Astana hold the cards; I think we'll see a win for Omar Fraile.
David Hunter
Follow us on Twitter and Instagram
Join us on facebook: Ciclismo Internacional
Copyright © 2012-2020 Ciclismo Internacional. All Rights Reserved