Vuelta España 2020 – Stage 9 Preview
By David Hunter
Castrillo del Val > Aguilar de Campoo 157.7km
Looks like a sprint day, but all might not be as it seems.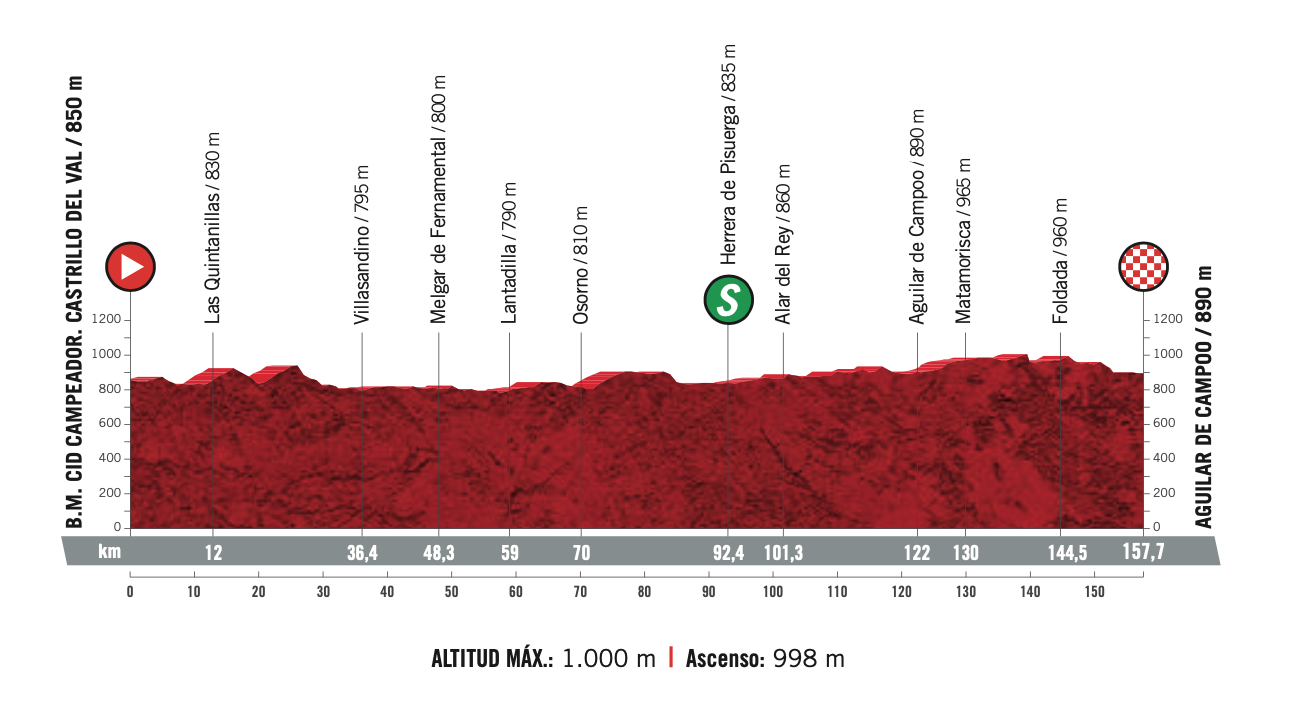 The above perfectly highlights the issues facing the sprinters in the closing 20km. The other issue is the 10km stretch from km 137 until km 147 which is on a very narrow road. We have a couple of little climbs and some fast descents in this section, it isn't straightforward for the sprint teams to control. The narrow road stops with 10km to go, but we still have one last challenge for the quick men.
700m at 4.1% doesn't sound much, but it crests with just 6km to go. The issue for any attacker is that after a fast descent we join a big highway with 4km remaining. This gives the sprint trains a great chance of catching any brave soul who's gone long.
Finale
The wide-open highway which we join with 4km to go is perfect for the sprint trains to get organised. We'll see line after line of them all along the road, as they drag race to the U-turn with 1.4km to go. At this point the bunch move onto a standard two-lane road, but it slims down to one lane with around 500m left. This is due to a roundabout that comes with 400 to go, but it will be barriered off so the bunch can fly through it without needing to use their breaks. It goes without saying that the race will be for the 500m mark, you need to be in the first four wheels to have a chance of winning the stage.
Weather
It's just as well the wind isn't blowing, the final 25km is exposed to the elements and we could have seen some GC teams trying to create some echelons. Instead, it will be a lovely day for a bike ride. The small amount of wind we'll get will be headwind for most of the closing stages, bad news for anyone wanting to attack late.
Contenders
Sam Bennett – the boys in blue nailed the lead out back on stage 4. They start as the big favourites to take a second win, but will they go all in for Bennett? Given the rolling nature of the final 25km, they also have riders who can win with a solo attack. They know that without them to chase, there is a big chance a late move succeeds. The problem is that Bennett didn't come all this way to miss out on the sprint opportunities. The lead out of Cavagna, Steimle, Štybar and Mørkøv is simply incredible, they will be very hard to beat in this stage. If they go for a long one, Cavagna should be their man.
Pascal Ackermann – as I've mentioned before, the big German has had a bit of a strange year. Looking at this stage, his sprint train is very short, it's just going to be him and Selig in the final 2km. This means Ackermann will try and get the wheel of Bennett, and see if he can come past him. This is a risky strategy, but needs must.
Jasper Philipsen – almost took stage 4 with a cheeky long-range sprint, but Bennett just had enough to come past. His sprint train lacks experience, but they did a good job in that stage of getting him to the front at the right time. After taking a win in the Binck Bank Tour, you can see that he's full of confidence. Philipsen is also good at looking after himself in chaotic sprints, he doesn't mind using his shoulder when he has to. He's fast, but to beat Bennett he'll need the Irishman to make a mistake.
JJ Rojas – late attack option 1.
Niki Terpstra – late attack option 2.
Tim Wellens – late attack option 3.
Omar Fraile – late attack option 4.
QuickStep – they'll cover the late attacks and if the chance presents itself, they will go for it.
Prediction Time
The closing stages really is perfect for a late attacker to spoil the party for the quick men, but it all depends on QuickStep. If they choose to anchor the moves, they won't succeed, but will they allow their rouleurs to chase some glory? This is unlikely, I think we'll see another win for Sam Bennett.
David Hunter
Follow us on Twitter and Instagram
Join us on facebook: Ciclismo Internacional
Copyright © 2012-2020 Ciclismo Internacional. All Rights Reserved