X2O Trofee Herentals 2022 ME – Preview
By @EchelonsHub
The Course
We're going into the second half of the X2O Badkamers Trofee and in Herentals we will find one of the hardest tracks of the season. In a mud-filled race last year Wout van Aert took a dominant win and it is not surprising taking into account that this is his home race, we can split the track in 2 halves the first being quite technical, without any serious climb but full of technical turns, however without any significant features that can set differences, unless (as expected) if the mud is present. Forecast is that it won't rain during the race but today it is and the buildup of precipitation of last week may see quite a slow and draining first part of the track.
As for the second it features quite a lot of climbing, for the most part after the short rider through the athletics track the riders enter a small forested section featuring a string of steep (and technical) climbs, it also features a very treacherous descent that can pose an issue to many, and a run-up a brutally steep hill.
---
Recon video from last season, track is the same, conditions won't be too different
---
The Startlist
| | | | |
| --- | --- | --- | --- |
| 1.Lars van der Haar | 2.Wout van Aert | 3.Eli Iserbyt | 4.Toon Aerts |
| 5.M.Vanthourenhout | 6.Laurens Sweeck | 7.Corne van Kessel | 8.Daan Soete |
| 9.Tom Pidcock | 10.Toon Vandenbosch | 11.Curtis White | 12.Kerry Werner |
| 13.David Van der Poel | 14.Jens Adams | 15.Thijs Aerts | 16.Gage Hecht |
| 17.Tom Meeusen | 18.Lander Loockx | 19.Michael VD. Ham | 20.Gianni Vermeersch |
| 21.Caleb Swartz | 22.Tim Merlier | 23.Diether Sweeck | 24.Cameron Jette |
| 25.Yannick Mayer | 26.Yentl Bekaert | 27.Finnegan O'Connor | 28.Sam Gaze |
| 29.Koen van Dijke | 30.Nicholas Lando | 31.Julian Kaise | 32.Mathijs Wuyts |
| 33.Siebe Tormans | 34.Nick Peers | 35.Yelle Leaerts | 36.Maarten v. Staeyen |
| 37.Andy Ruts | 38.Senne de Meyer | 39.Klaas Groenen | 40.Frederick Junge |
| 41.Joren Bloem | | | |
The Favourites
This is going to be a race where strategy doesn't really matter that much, you just need to have a good day and confidence in the mud, the final pitch of the circuit is where the real gaps will be made and the riders have to keep their legs as fresh as possible to tackle that section, those who choose to start off too hard are likely to get in the red very early on, but overall you will just have to climb really well and be fearless in the sketchy parts.
This is Wout van Aert's home race, literally, and with a draining race it is very likely that he will be thriving but Tom Pidcock is in my eye an incredibly dangerous competitor, I believe they will both be ahead of everyone else tomorrow, the Brit is coming from a string of important wins and although I don't think he's the best riding in the mud, the sustained climbing and tricky descents will suit him to the core. I expect a tight battle for the win and another for the GC with Toon Aerts and Eli Iserbyt separated by just 1:20 minutes, with the Baloise Trek Lions rider in the recently obtained lead. It's hard to tell how Iserbyt will do, he's of immense quality but rather inconsistent in muddy races, but he will have the form and motivation to get that lead back, rather similar to Lars van der Haar who became European champion on a circuit with a lot of climbing but I'm not sure how he will feel about tomorrow in these conditions.
Michael Vanthourenhout will likely be on the same level as them, winner in Namur and with some specificity over his calendar this year I expect a strong rider from him, I would reckon the gap to the rest of the riders will be rather significant, although I don't discard a surprise performance by Laurens Sweeck or Toon Vandenbosch seeing how they have both skipped today's race In order to hunt a good result tomorrow. 
Prediction Time
1st– Wout van Aert
2nd– Tom Pidcock
3rd– Michael Vanthourenhout
4th– Toon Aerts
5th– Eli Iserbyt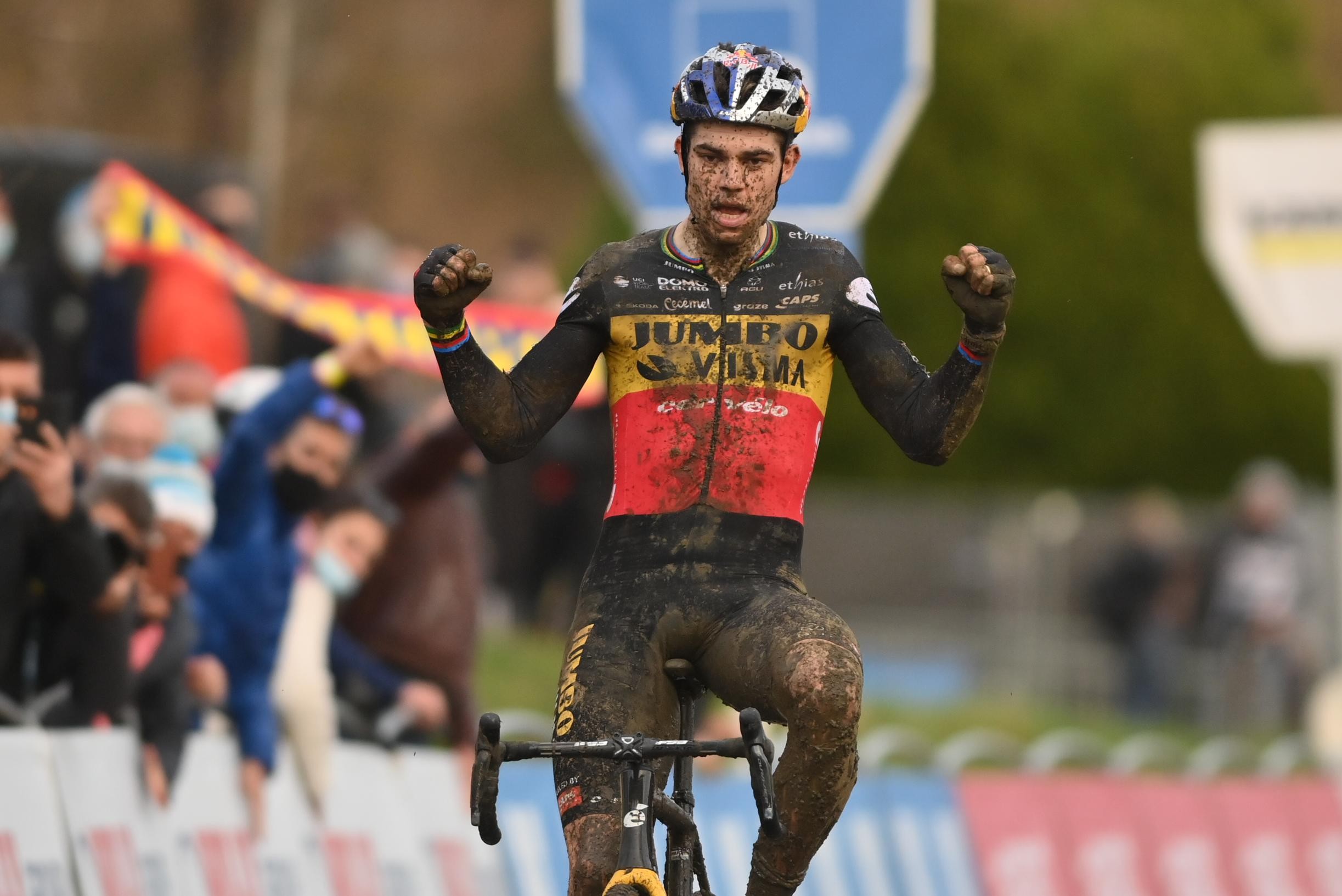 Zweeler is a fantasy sports game that includes many sports and cycling is no exception. I ask that you check it out, if you register with the link below you will not only be joining an exciting game but will also be personally supporting me and my work, and allow me to make more content for you!
Tomorrow's race has prizes of at least €300 and an entry fee of only €5. Make good use of your knowledge!
Link: https://en.zweeler.com/game/cyclocross/FantasyHerentalsCrosstX2OTrofeeMen20212022/main.php?ref=790
Rúben Silva
Follow us on Twitter and Instagram
Join us on facebook: Ciclismo Internacional
Copyright © 2012-2021 Ciclismo Internacional. All Rights Reserved