X2O Trofee Herentals 2022 WE – Preview
By @EchelonsHub
The Course 
We're going into the second half of the X2O Badkamers Trofee and in Herentals we will find one of the hardest tracks of the season. In a mud-filled race last year Wout van Aert took a dominant win and it is not surprising taking into account that this is his home race, we can split the track in 2 halves the first being quite technical, without any serious climb but full of technical turns, however without any significant features that can set differences, unless (as expected) if the mud is present. Forecast is that it won't rain during the race but today it is and the buildup of precipitation of last week may see quite a slow and draining first part of the track.
As for the second it features quite a lot of climbing, for the most part after the short rider through the athletics track the riders enter a small forested section featuring a string of steep (and technical) climbs, it also features a very treacherous descent that can pose an issue to many, and a run-up a brutally steep hill.
---
Recon video from last season, track is the same, conditions won't be too different
---
The Startlist
| | | | |
| --- | --- | --- | --- |
| 1.Lucinda Brand | 2.Sanne Cant | 3.Denise Betsema | 4.Annemarie Worst |
| 5.Puck Pieterse | 6.Clara Honsinger | 7.Maghalie Rochette | 8.Y. Kastelijn – DNS |
| 9.Ceylin DC. Alvarado | 10.Aniek van Alphen | 11.Manon Bakker | 12.Alicia Franck |
| 13.Marion N. Riberolle | 14.Ellen van Loy | 15.Marthe Truyen | 16.Anna Kay |
| 17.Laura Verdonschot | 18.Sidney McGill | 19.Madigan Munro | 20.Karen Verhestraeten |
| 21.Evie Richards | 22.Emily Werner | 23.Lizzy Gunsalus | 24.Lauren Zoerner |
| 25.Fauve Bastiaenssen | 26.Isa Nomden | 27.Corey Coogan Cisek | 28.Bridget Tooley |
| 29.Rebecca Gross | 30.Loes Sels | 31.Siobhan Kelly | 32.Veerle Goossens |
| 33.F. van Waterschoot | 34.Susanne Meistrok | 35.Tessa Zwaenepoel | 36.Femke Gort |
| 37.Pien Limpens | 38.Marlies Vos | 39.Indy van Os | 40.Lieke van Weereld |
| 41.R.Breugelmans | 42.Anne van Rooijen | 43.Sofie van Rooijen | 44.Laura Greenhalgh |
| 45.M. Geogheghan | 46.Lise van Wunsel | 47.Cato Cassiers | 48.Danique van Espelo |
| 49.Christine Verdonck | 50.Jennifer Malik | | |
The Favourites
With the return of many of the big names on the screen we're set for another big battle but the differences will surely be bigger than the average tomorrow. I would put it as a race where strategy doesn't really matter that much, you just need to have a good day and confidence in the mud, many riders will suffer heavily in the first lap which will cost them towards the end, so trying not to go through the red line until the climbing section will be crucial in order to keep the pace.
There is a big fight for the overall classification, which takes into account the time of the 8 races, in the first 4 Lucinda Brand has won the last 3 however in the season opener she took a blow from current leader Denise Betsema. The duo will be at the start and they have a confortable lead over the competition, Brand is currently on a winning streak of 6 races and will be looking to add to that number and Betsema's job is to prevent that, or at the very least keep her gap relatively steady.
The race will be a brute though and other names will surely come to the fore, Clara Honsinger is a dangerous name for such a tough track and will be licking her lips as it's not often the calendar presents such a challenge, I'd expect the same from Kata Blanka Vas.
After a near miss in Hulst Puck Pieterse will be trying to get that elusive win once again and should be a big threat, we have aswell Annemarie Worst and Ceylin del Carmen Alvarado, the latter of which won last year and seems to be coming into form, Sanne Cant and Alicia Franck should be good wildcards for this race.
Prediction Time
1st– Kata Blanka Vas
2nd– Lucinda Brand
3rd– Puck Pieterse
4th– Clara Honsinger
5th– Denise Betsema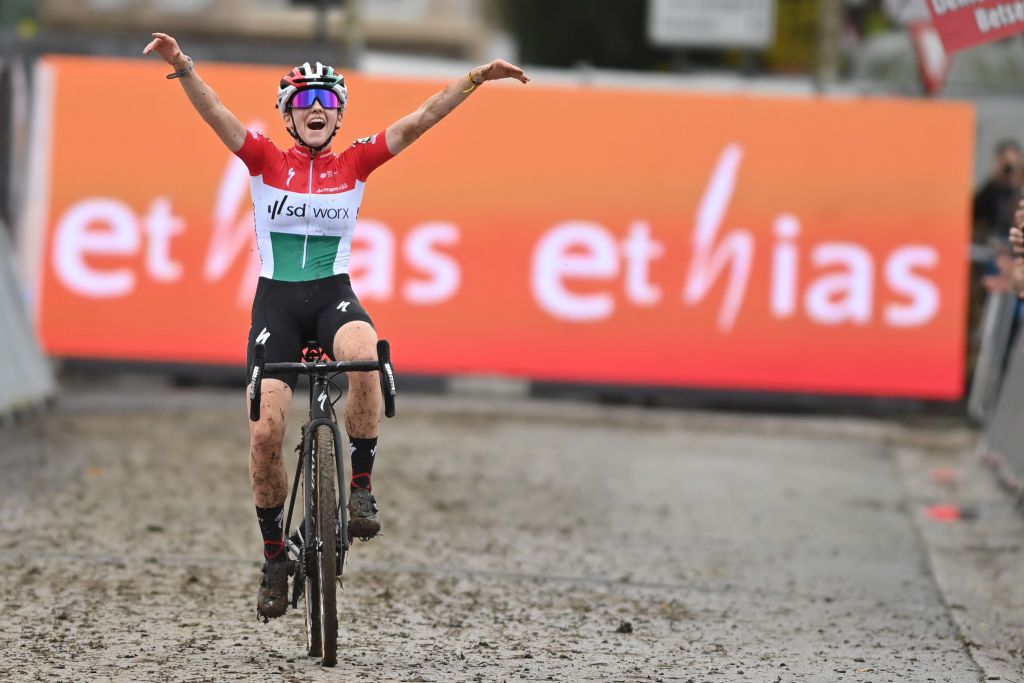 Zweeler is a fantasy sports game that includes many sports and cycling is no exception. I ask that you check it out, if you register with the link below you will not only be joining an exciting game but will also be personally supporting me and my work, and allow me to make more content for you!
Tomorrow's race has prizes of at least €100 and an entry fee of only €2.5. Make good use of your knowledge!
Link: https://en.zweeler.com/game/cyclocross/FantasyHerentalsCrosstX2OTrofeeWomen20212022/main.php?ref=790
Rúben Silva
Follow us on Twitter and Instagram
Join us on facebook: Ciclismo Internacional
Copyright © 2012-2021 Ciclismo Internacional. All Rights Reserved