2022 Giro d'Italia – Stage 20 Preview
By @EchelonsHub
Once was not enough, as Koen Bouwman rode to a second stage win in Santuario di Castelmonte. Another successful breakaway attempt, a group of rouleurs and some climbers went up the road early in the day, and from that a reduced group went into the final sprint atop the final climb. It was chaotic with a sharp turn right before the line causing some riders to go off-road, however Bouwman emerged as the winner on the 19th day.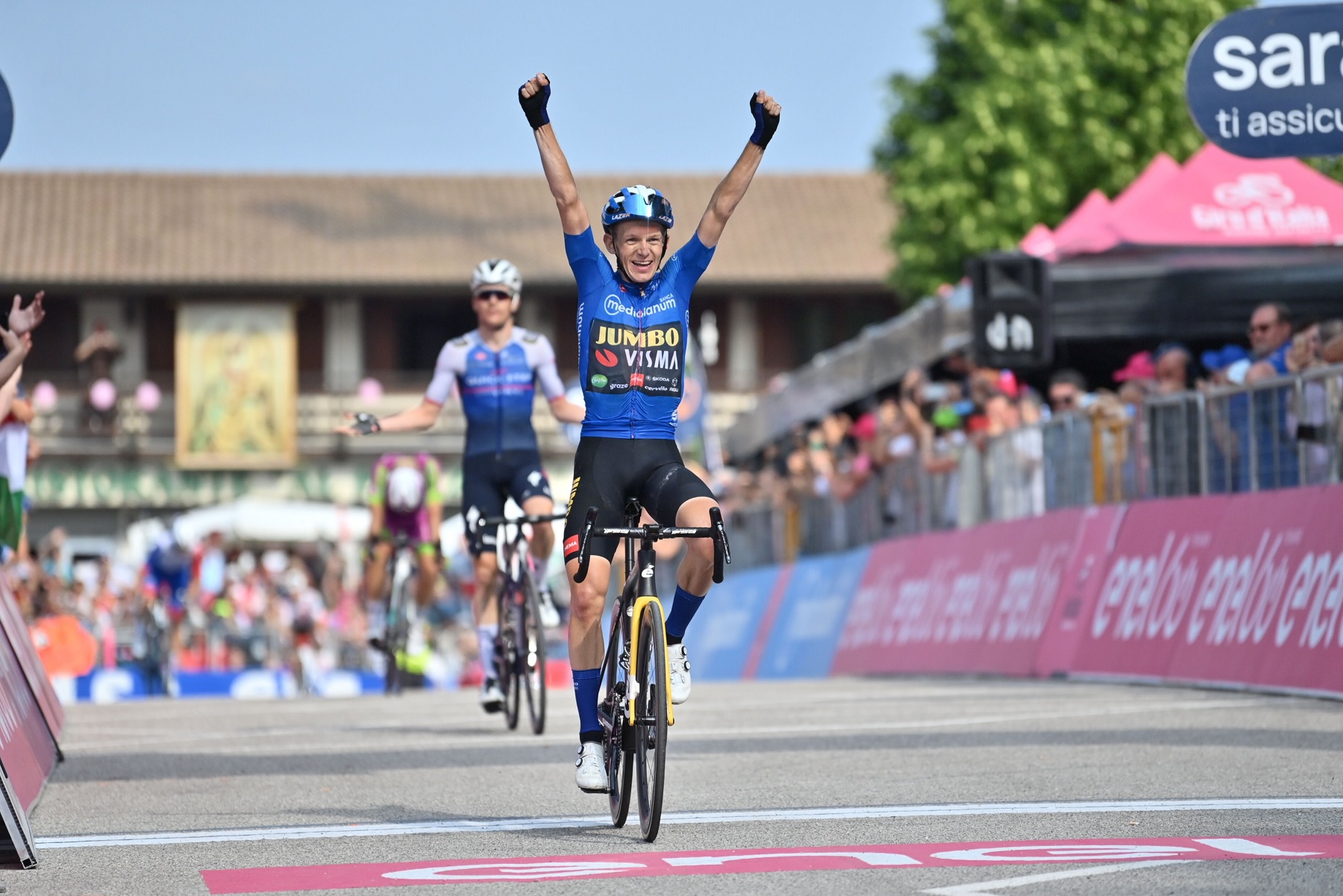 Positive: Bouwman taking another win and consolidating the KOM jersey. 
Negative: Vendrame and Schmid, who were in a good position but steered off the course in the final meters due to a very tight corner late on. Emanuel Buchmann lost a minute in the summit finish, not crucial but the only GC rider to shed significant time. 
The Route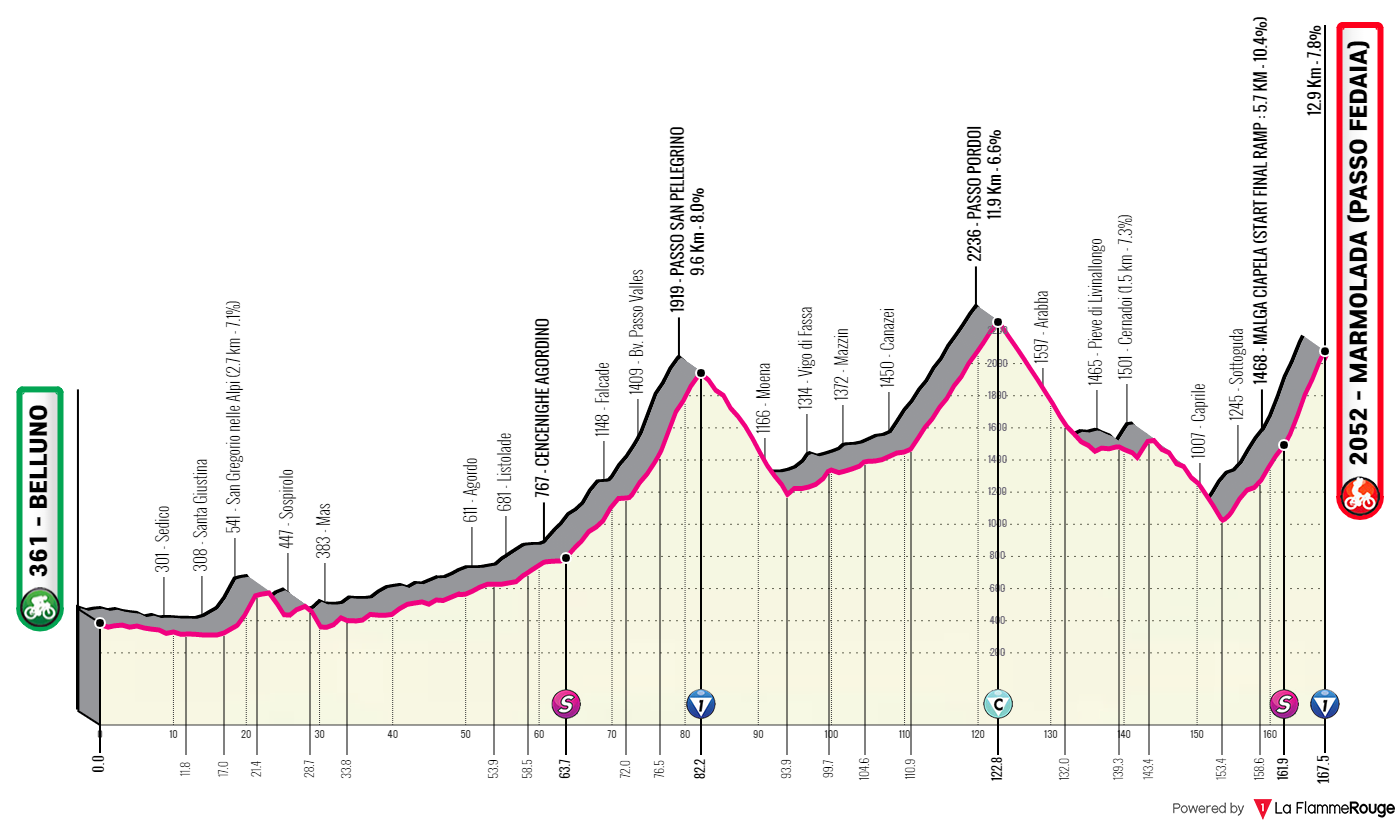 The final mountain stage is a brute as the peloton head for the Dolomites. It's a high-mountain day with a brutal summit finish. 167 kilometers with 4700 meters of ascending, whilst the start isn't that hard – with a 2.7Km at 7.1% hilltop after around 20 kilometers to perhaps be a crucial place for a breakaway to settle.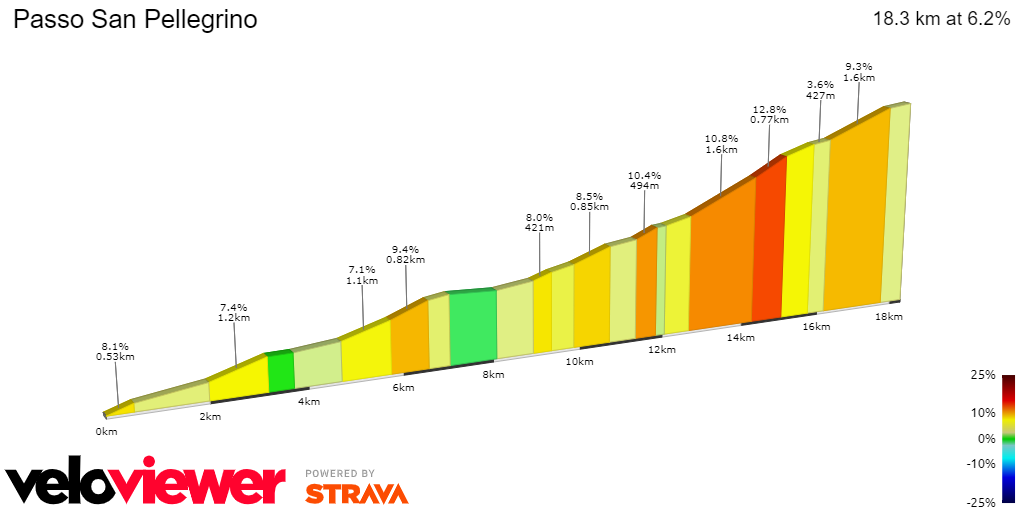 The Passo San Pellegrino is the first true climb of the day, with 18.3 kilometers at 6.2%, and a significantly harder final kilometers than what the average gradient points towards. It summits with 85 kilometers to go.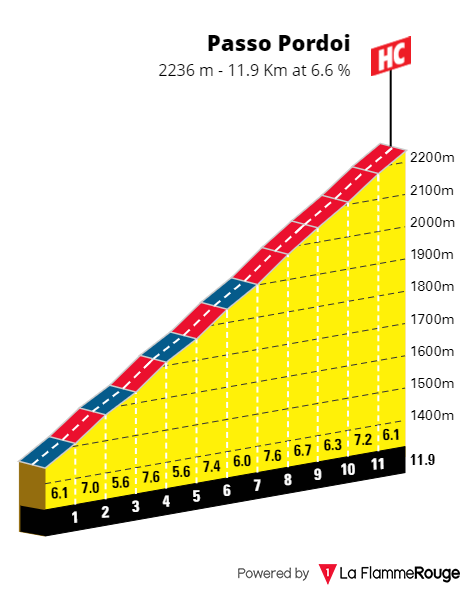 The second climb of the sequence is the highest pass in the 2022 edition, with 2236 meters of altitude at it's summit. It can change things around, because it's details are also hard besides the altitude. A very constant ascent that summits with 45 kilometers to go, it's 11.9Km long at 6.6%.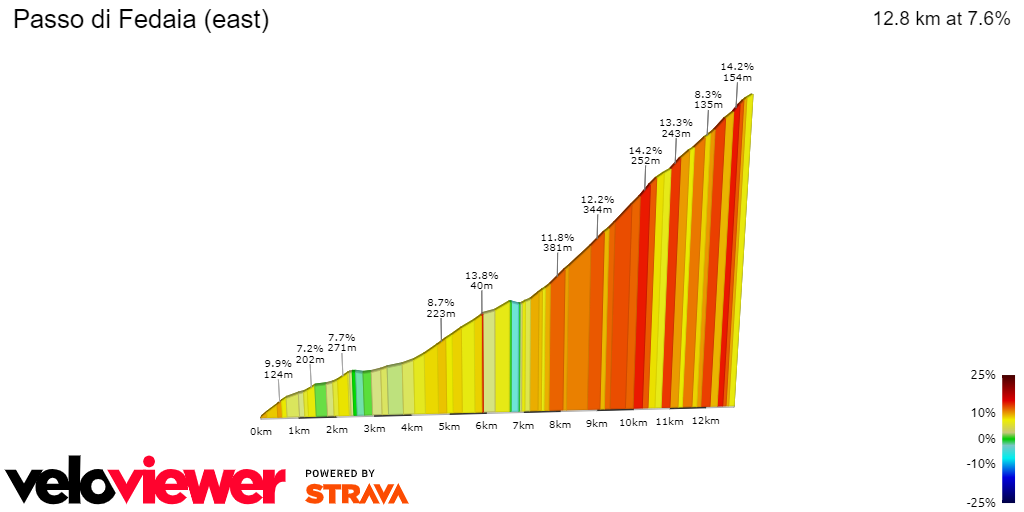 As for the finale, it will be in the Passo di Fedaia, La Marmolada as some know it. A climb of two halves, 12.8 kilometers at 7.6% in it's total, however the final 5.7 kilometers average 10.4% and it is just suffering until the very summit. It's the final real mountain of the Giro d'Italia, and a proper place to see the closure of the Alpine action.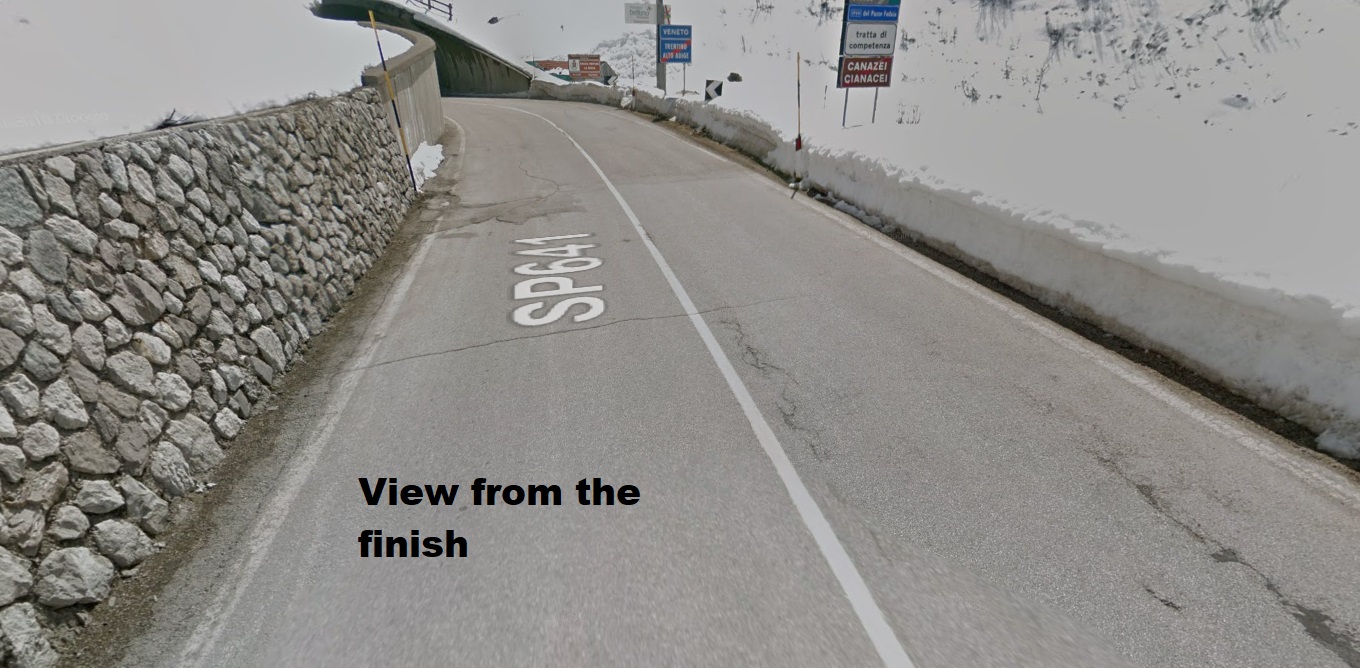 The Weather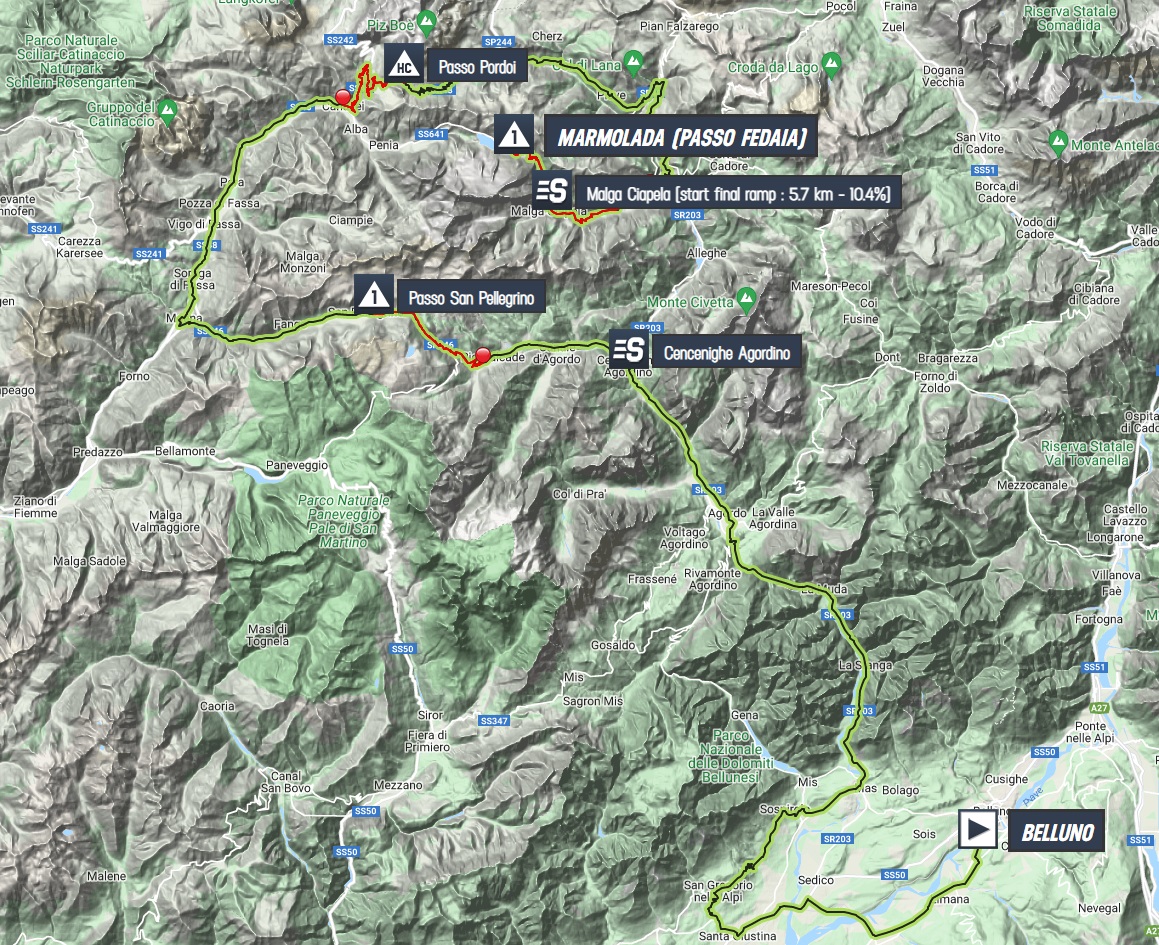 The temperature will be lower, but nothing special to note. It is slightly possible to have a bit of rain towards the end, but unlikely. 
Breakaway chances: 40%
The main GC riders will go all out, however all mountain stages are having this faith and with the amount of quality in the riders that have freedom to attack early on, it can quite easily be another day where the glory will be taken from an escapee group. 
The Favourites
Battle for pink – No matter what happens this will be the most important storyline of the day. Final mountain stage, and this tight battle can unfold once again. Jai Hindley has to distance Richard Carapaz, and Mikel Landa has to distance both. The final climb is quite hard so I don't imagine they'll try before that, as a stage win is also possible. Richard Carapaz only has to maintain his current lead over Hindley, however if he can he has the need to distance the Australian. These three riders are the strongest climbers in the race and they can benefit from that. 
Wout Poels & Santiago Buitrago – If Mikel Landa can't get his way around the rivals, then a stage win may be a priority. Buitrago still has a slim chance of obtaining the white jersey, and he's clearly in form to take time on López. As for Wout Poels he's came into form for the final week and if he gets the freedom he will not be easy to beat. 
Lennard Kämna & Wilco Kelderman – I will reinstate the confidence in these two riders, not because of their freedom as they may once again not have it, but it is undeniable that both have great form and can – if in the right situation – go for the stage win. BORA are in the fight for the win though and they have not been able to profit from their depth. 
Hugh Carthy – In stage 17 he's looked incredibly lively, but having spent too much unnecessary energy. EF are having a bad race, and they have what is likely their last chance to win here, and Carthy does have solid chances of being able to succeed. 
For the GC, I think it's rather unlikely to see them fight for the win, however you can never take out the names of Vincenzo Nibali, Pello Bilbao, Emanuel Buchmann and Jan Hirt who may find an opportunist move in which they can benefit towards the final climbs. 
As for breakaway options there will be some more. Riders like Lucas Hamilton and Thymen Arensman also have some sort of overall classification ambitions and they could rise to the Top10 with a well timed move and a glorious day in the mountains. Furthermore some pure climbers may have their way on their final opportunity.
In there I will also include Rein Taaramae, Joe Dombrowski, Guillaume Martin, Lorenzo Fortunato, Giulio Ciccone and Antonio Pedrero also have a small chance. 
Inside The Bus
This morning I talk to…
#206 Jacopo Mosca – Stage win isn't realistic obviously, so your job will be to try and get Giulio and Bauke in the breakaway early in the day. Afterwards, I also expect you to be able to protect Juan Pedro as much as possible. 
#124 Barnabas Peak – Protect Jan, he's worked hard to be in the position he's in and we have to protect his place in the GC, and protect Domenico aswell if possible although he's been struggling quite a lot. 
#17 Nicolas Prodhomme– Let's try and get in a breakaway Nicolas, we have nothing to loose. It's in that first hilltop that we start to work towards the front, and where we should have several riders in front if we want to have a shot at the win. 
Prediction Time
⭐⭐⭐Poels, Carthy
⭐⭐Carapaz, Hindley, Buitrago, Arensman
⭐Landa, Nibali, Bilbao, Hirt, Kämna, Kelderman, L.Hamilton, Dombrowski, Ciccone, Pedrero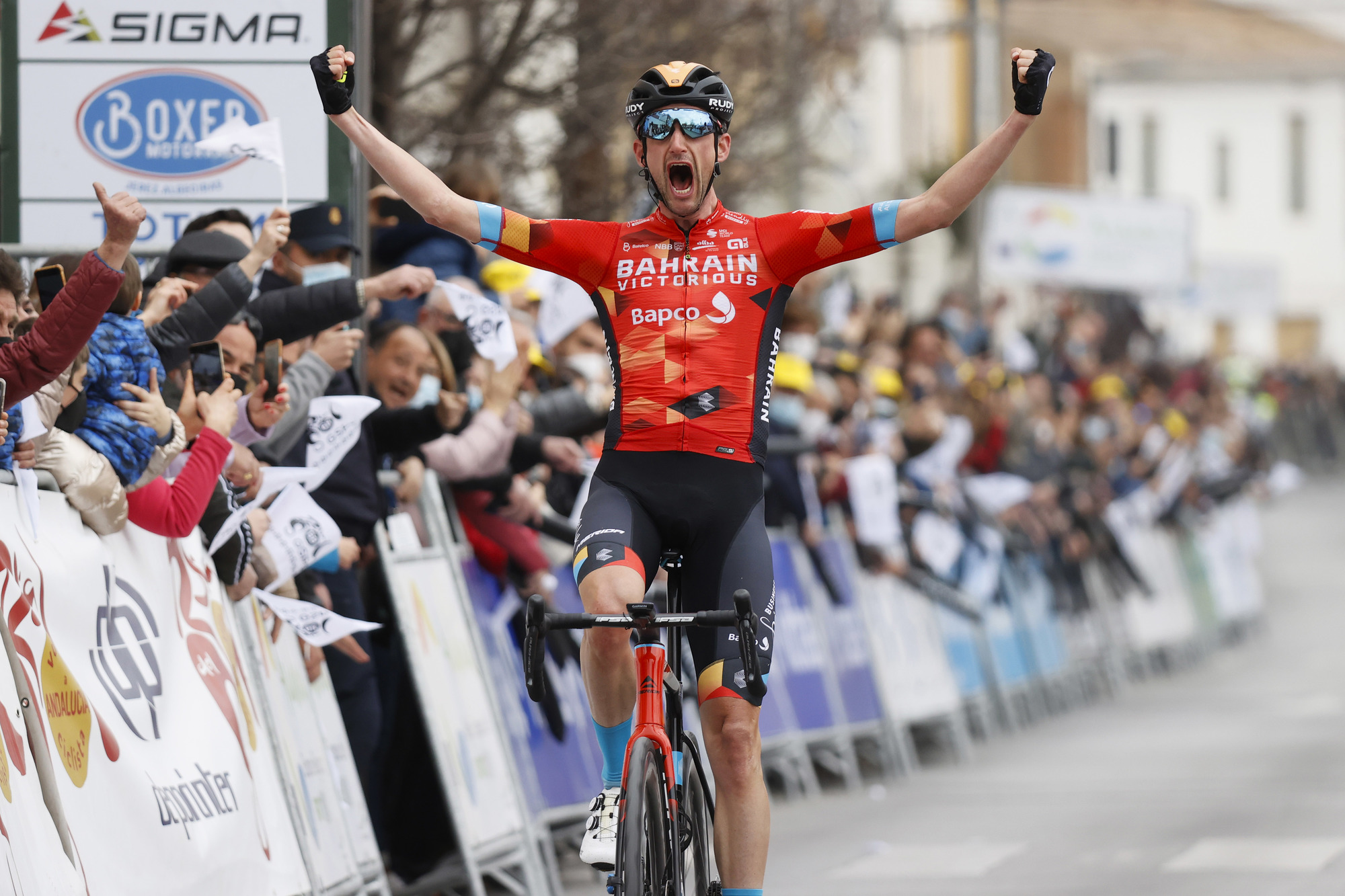 A final win for Bahrain – Victorious out of the breakaway, as Wout Poels takes advantage of another third-week boost to win atop Passo Fedaia. 
Zweeler is a fantasy sports game that includes many sports and cycling is no exception. I ask that you check it out, if you register with the link below you will not only be joining an exciting game but will also be personally supporting me and my work, and allow me to make more content for you!
Tomorrow's race has prizes of at least €500 and an entry fee of only €5. Make good use of your knowledge!
https://zweeler.com/game/cycling/FantasyGirodItalia2022stage20/main.php?ref=790
Rúben Silva
Follow us on Twitter and Instagram
Join us on facebook: Ciclismo Internacional
Copyright © 2012-2022 Ciclismo Internacional. All Rights Reserved