2022 Tour de France – Stage 14 Preview
By @EchelonsHub
A day for the breakaway to succeed, as it proved too difficult for the peloton to control the race with the day's rolling terrain and dozens of riders interested in going up the road. It was all to fight for in the front, with Mads Pedersen controlling, attacking and sprinting to the win in Saint-Étienne, beating Fred Wright and Hugo Houle in the final sprint.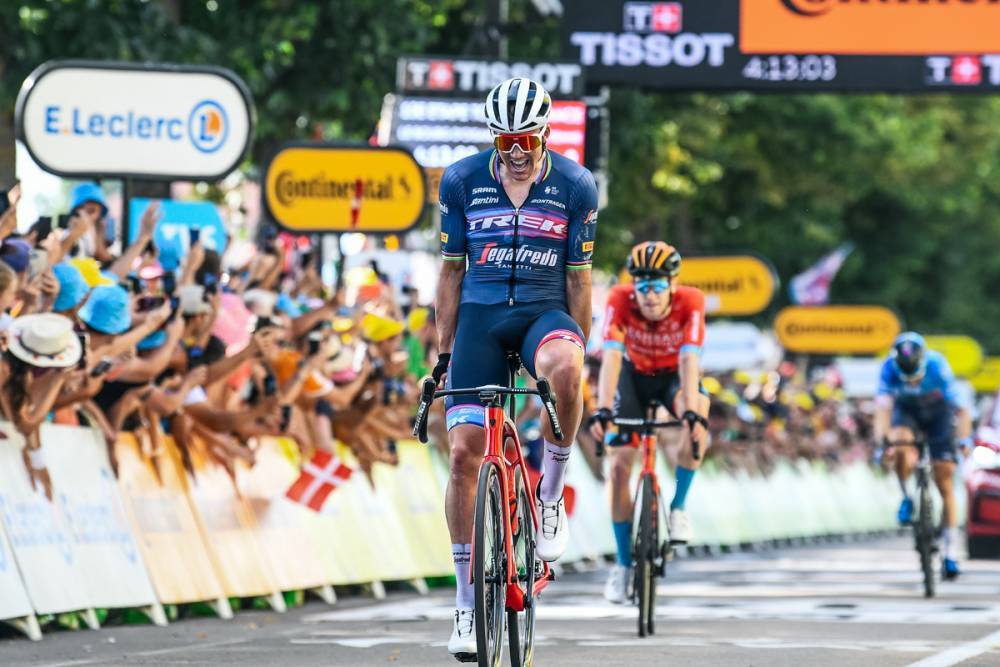 Positive: Pedersen getting a win, even if in a way that was unexpected. 
Negative: Nothing to note. 
The Route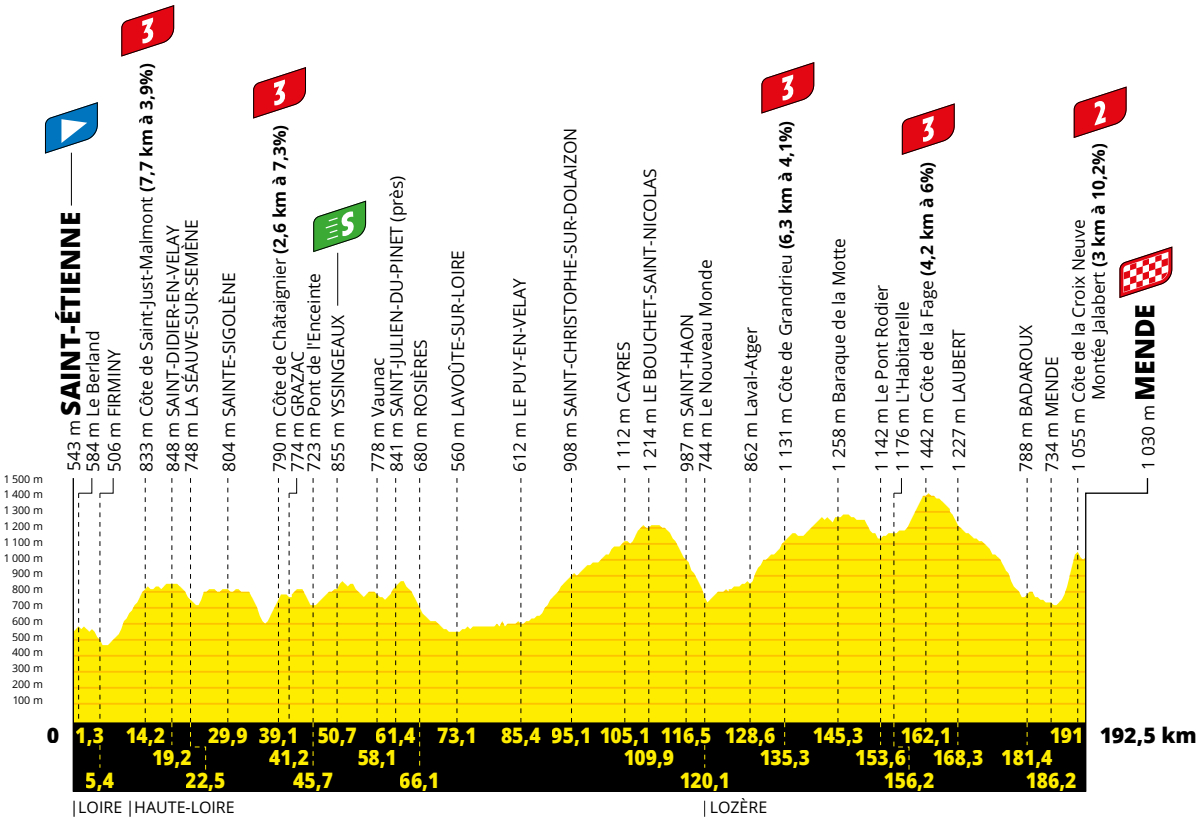 The 14th stage of the Tour de France will see it's hardest start aswell. The journey into Mende is rough, in the rolling hills of the Massif Central, which will be the setting for what can be an explosive day. 192 kilometers on the menu, which see the climbing begin after six kilometers only, into a 55-kilometer long section packed with small climbs and descents. Ideal terrain to form a strong breakaway group, some would say. 
There's almost 3500 meters of climbing on this day despite the lack of a major climb. The Côte de Grandrieu (7.5Km; 3.6%; 56Km to go) and the Côte de la Fage (4.3Km; 5.8%; 30Km to go) will be warming things up. In a breakaway possibly see decisive attacks, however in the peloton they won't do more than to build some more fatigue, before descending down into Mende where the stage will explode.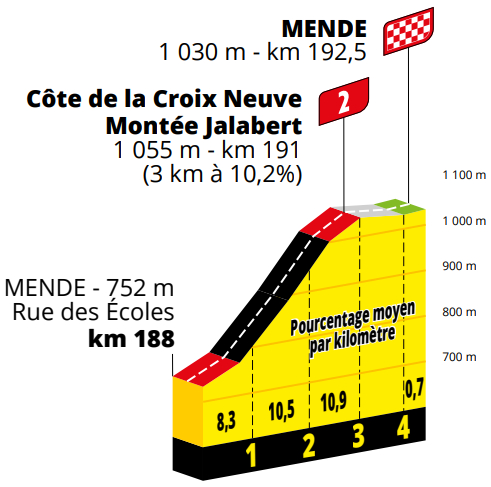 The climb to the Col de la Croix Neuve is no stranger to the Tour de France, having been tackled a few times in the last decades. It's one of the most famous climbs in the Massif Central and for good reason – it consistently delivers good spectacle. Officially, it's 2.9Km at 10.4% average gradient, a very explosive climb, with gradients that are quite vicious in it's hairpins, and where drafting will essentially be meaningless. Unlike the efforts of the past days, it's an anaerobic and explosive climb which will force the climbers out of their comfort zone. This difference in efforts alongside the fatigue can create some damage. 
The ascent summits with only just over a kilometer to go, before a fast downhill run-up to the finish line in the local airfield.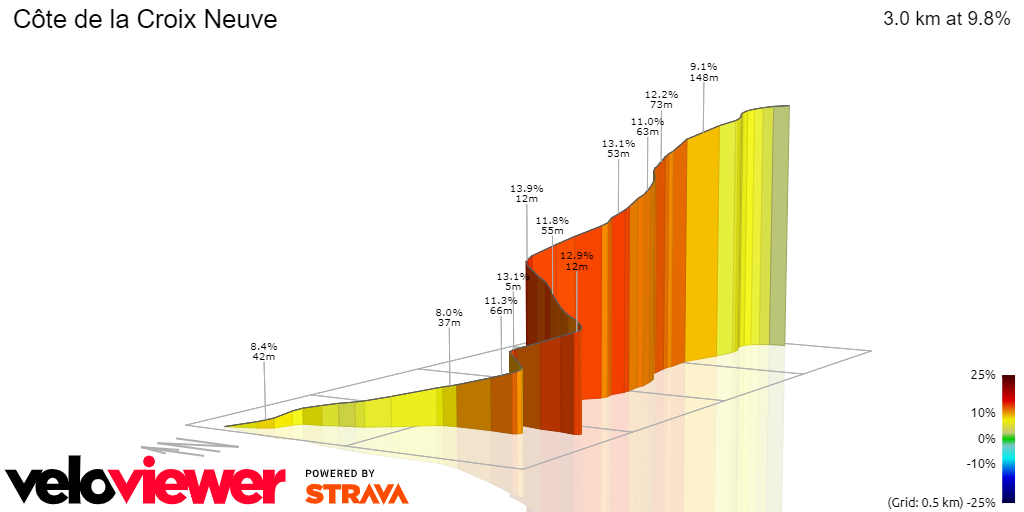 The Weather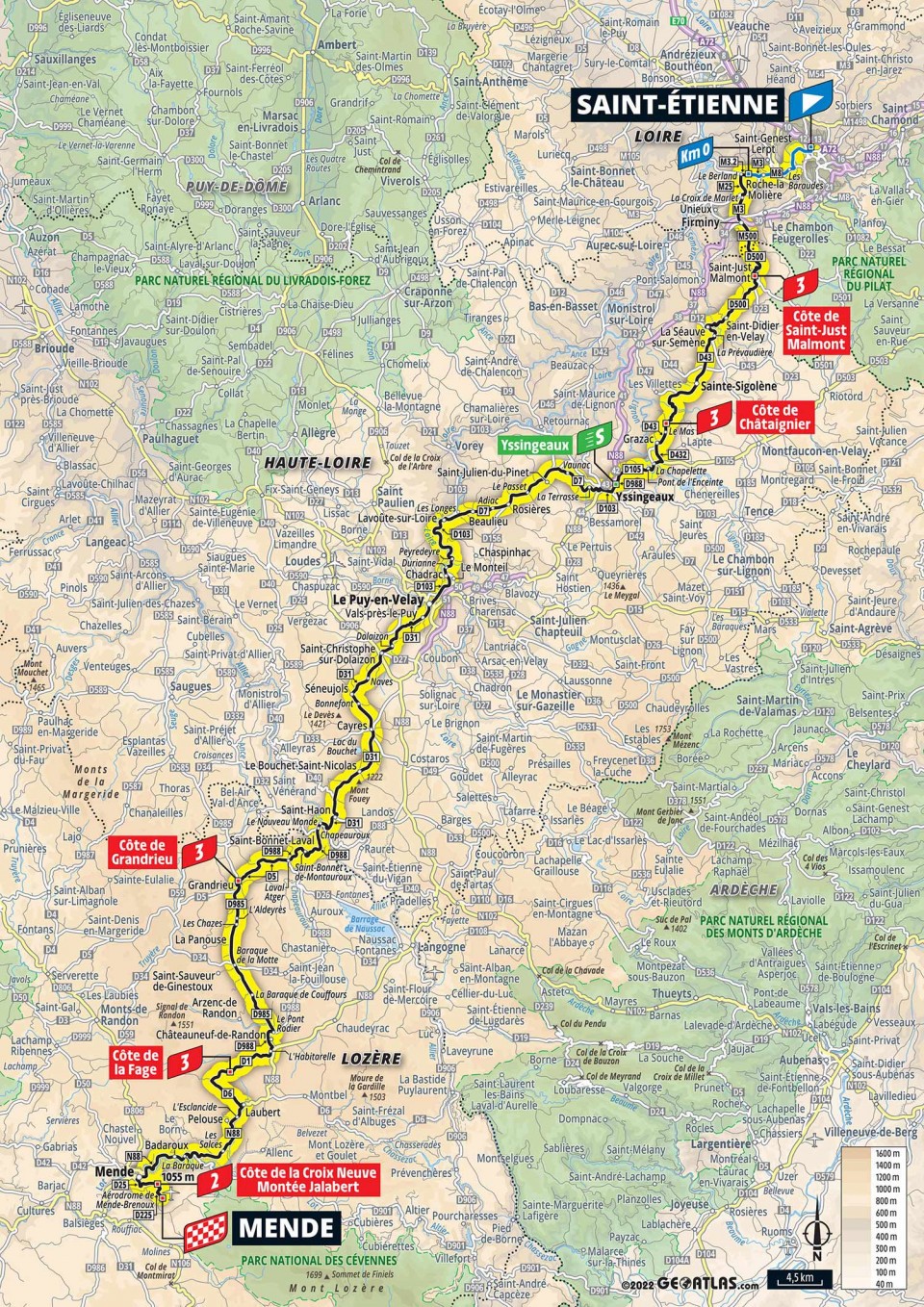 The heat will tighten, with over 30 degrees once again. There will be a small northern breeze, which shouldn't be meaningful however presents yet another point for the breakaway's chances. 
Breakaway chances: 95%
It's a certain win for the escapee group. Jumbo-Visma should have no interest to make the race hard, and are unlikely to take more time on Pogacar at the end of the day. Pogacar doesn't have a team to control the race, and again it's unlikely that he'd be able to take time on Vingegaard. No other teams should have interest of working. 
The heat, the wind and the tough uphill start make it a certainty that a strong group will go up the road which should be almost impossible to control. 
The Favourites
BORA – BORA don't have to stress to work for GC, so they will keep chasing they are yet to get. At their disposal are four riders with almost identical skillsets: Lennard Kämna, Max Schachmann, Patrick Konrad and Felix Grossschartner. A day like this is ideal for the team, with riders who can climb very well, roll very well and everything inbetween, they have the numbers, the form and freedom to make it happen. 
Israel – Hugo Houle has shown great form and can play a role as he did today with early attacks. However the team's main threat comes from Jakob Fuglsang and Michael Woods, both riders who haven't looked very good so far in the Tour, however both will love a climb like in Mende and can be of great danger. 
Groupama – Thibaut Pinot is obviously at the Tour with the goal of winning a stage, and although this isn't the most suiting day, he was very close to winning on this spot in 2015 which shows he's fit for the task. Valentin Madouas will be another weapon for Groupama, a very well suited rider for such an ascent. 
GC fight? – It will happen as the final climb is very hard. However it's unlikely that it will be for the stage win. Nevertheless it will be an interesting battle, it's an anaerobic effort which is different than most finales Pogacar and Vingegaard went head to head on so far, and can be more complicated for Jumbo-Visma to keep him under control. 
When it comes to the climbers or puncheurs who could take the win on such a climb it varies, riders such as Pierre Latour, Neilson Powless, Bob Jungels, Andreas Kron, Tom Pidcock, Nick Schultz, Andrea Bagioli and Alexey Lutsenko are all riders who should have freedom and also the climbing legs on their best day. 
However such a day may see an early attack in the breakaway succeed too. There will be clear favourites in those that can climb, and those that are in a vulnerable position have to attack early which means there should be a lot of mixing. Mattia Cattaneo, Matteo Jorgenson, Benjamin Thomas, Luis León Sánchez, Jan Tratnik, Stefan Küng, Silvan Dillier, Alberto Bettiol, Magnus Cort Nielsen, Tim Wellens and Bauke Mollema who could more likely take advantage of such a situation but still have a solid chance of taking the stage win. 
Inside The Bus
This morning I talk to…
#23 Jonathan Castroviejo  – It won't be an easy day but the task is to stay with Geraint and Adam. They'll be defending themselves in the end, so you make sure they have their water and food as it will be complicated to manage, and help them with positioning when needed. 
#35 Stan Dewulf – No need to be burning up energy here Stan. Stage 15 will be another chance, let's focus on that. 
#184 Mathieu Burgaudeau – It's not a bad day for you Mathieu. Form isn't as sharp mostly because of the early crash, but it's an opportunity to go for the win. We'll be trying to have several riders go up to the break, the climb will be too long for you, however you can anticipate, attacking early and trying to make it into the final climb with an advantage over the main climbers. 
Prediction Time
⭐⭐⭐Schachmann, Kämna, Madouas
⭐⭐Pinot, Fuglsang, Jungels, Pidcock
⭐Pogacar, Vingegaard, Grossschartner, Konrad, Woods, Kron, Lutsenko, Jorgenson, LL.Sanchez, Bettiol, Mollema, Wellens, B.Thomas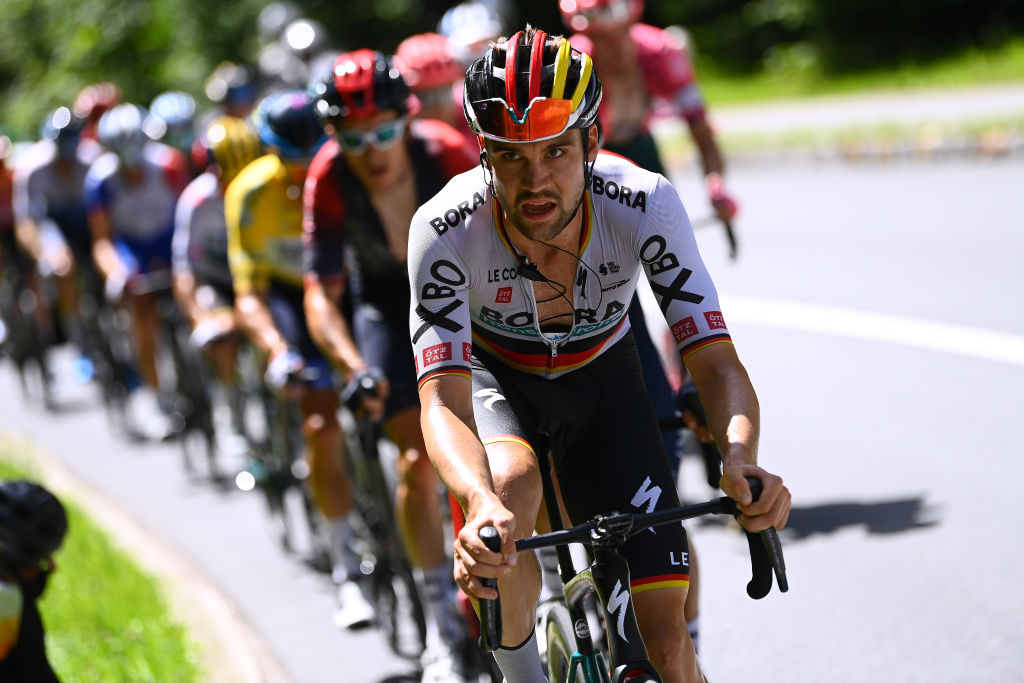 A win for BORA and my choice for it will be Max Schachmann. Has had some bad luck, but has shown to be back into great form, and I think the German team will be able to benefit from their depth. 
Zweeler is a fantasy sports game that includes many sports and cycling is no exception. I ask that you check it out, if you register with the link below you will not only be joining an exciting game but will also be personally supporting me and my work, and allow me to make more content for you!
Tomorrow's race has prizes of at least €800 and an entry fee of only €5. Make good use of your knowledge!
https://zweeler.com/game/cycling/FantasyTourdeFrance2022stage14/main.php?ref=790
Rúben Silva
Follow us on Twitter and Instagram
Join us on facebook: Ciclismo Internacional
Copyright © 2012-2022 Ciclismo Internacional. All Rights Reserved